What happens when some of the developers of Warcraft, Diablo, and Overwatch make a D&D setting? You get a 'rock-and-roll' high-powered world called Auroboros!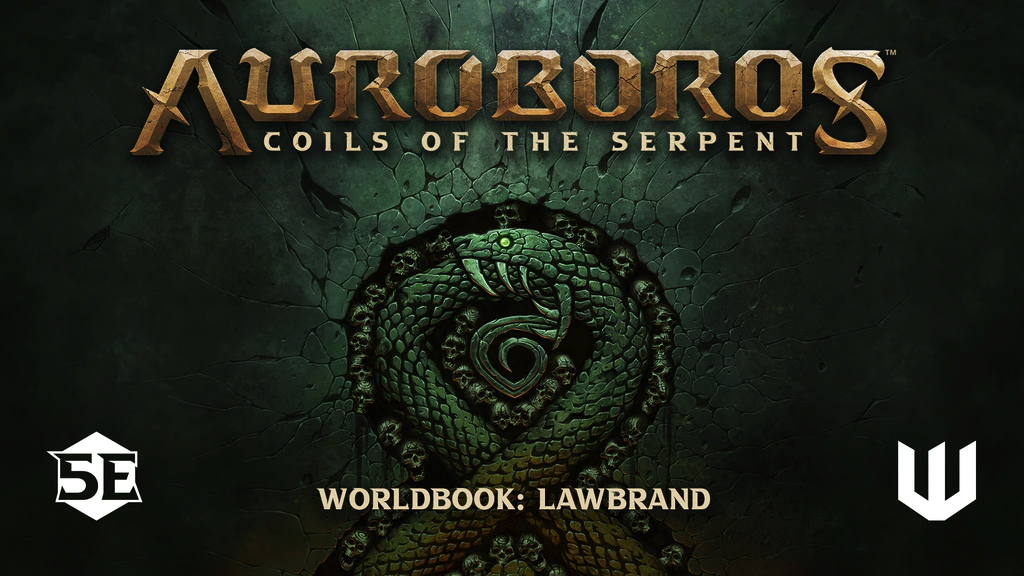 Coming to Kickstarter
on April 20th from Warchief Gaming,
Auroborus: Coils of the Serpent
is set in a land called Lawbrand. Players can wield immense power, able to shatter mountaintops. The Kickstarter is for the first 'Worldbook' which details Lawbrand.
"Ancient magic flows through the grimy streets of Lawbrand's bustling Trade-Cities. Tensions between the ruling Sularian Church and the new generation of upstart adventurers threaten to ignite a firestorm of societal upheaval. In the wilds beyond Lawbrand's borders, long-forgotten races and newly formed cults rise to claim their own territories – and exert their will upon civilization. And beneath it all, the ancient World-Serpent, Auroboros, awakens to devour all…"
The setting contains 5 new races (including the aquatic Atsaad), and 4 subclasses (including the fighter Wildkeeper).
As for that 'mountain-splitting" power? Here's what they say: "The ancient World-Serpent, Auroboros, coils throughout Creation; its vast power capable of birthing startling new life or annihilating all that is. By taking the dread Mark of the Serpent, players can wield the Auroboros' awesome power directly, gaining the ability to heal the sick and shatter mountaintops alike – but at great peril to themselves."
Last edited: