They say life is full of coincidences. Today is no exception. Today I received the final approved proof copies of all of the books that are going to be part of the
Chromatic Dungeons
Kickstarter that is launching next week (see the pre-launch page
here
). Why is this such a coincidence?
Because recently Ernie Gygax announced how they have restarted a new TSR company with the goal of creating products of that era where they could exclude modern views on equality and diversity and inclusivity. I won't talk about that (this is not the place, please don't) other to mention how it relates to
Chromatic Dungeons
.
You see, the impetus behind
Chromatic Dungeons
was in response to how many of the more well known personalities in the OSR community were espousing toxic and exclusionary behaviors, and that's not how I want my favorite era of gaming to be. So the goal is to take the feel of old school gaming during the TSR era, and apply modern sensibilities of design to it, and to present it so it represents all gamers of our community. To be inclusive. And welcoming. And diverse. Nearly all of the freelancers hired belong to underrepresented groups themselves. Sensitivity readers were hired. An OSR game, with an old school feel of game play and aesthetic, but to show how the OSR
can
be inclusive as well, and to act as a counter product to those OSR games who reject or ignore much of the gaming community, or actively endorse problematic attitudes. I love the OSR, I love old school gaming, but I am not going to sit by and let it be overtaken by toxic elements. Not if I can help it. Because I do believe there is a place in modern gaming to also enjoy the classics. This is a
good
game outside of all that, which is the most important thing. But it's also more than that.
Chromatic Dungeons
is the antithesis to what's been dominating the gaming news in the past week. And I am proud of that. So coincidence or not, fate seems to have aligned the timing of this product with what's been going on.
If you are interested in supporting this project, click the link above and follow it. Or head to the
Chromatic Dungeons FB page
for the most recent updates.
What it is:
OSR retro clone emulating the best aspects of B/X, 1e, and 2e, with modern design sensibilities (ascending AC, no dead levels, customized heritages, ancestries replace races, and alignment is very simplified and no intelligent humanoid has default alignments. Optional rules to add as much crunch as you want, or you can play streamlined.)
Inclusive. From hiring diverse freelancers, to depicting diverse people, everyone who picks this up should find themselves welcome to play. Because that's who we are a gamers.
Done. It's complete. That means if you back it, you will get it when the campaign ends. No year or two year, or five year delays. Our hobby has enough of those. And my word matters to me.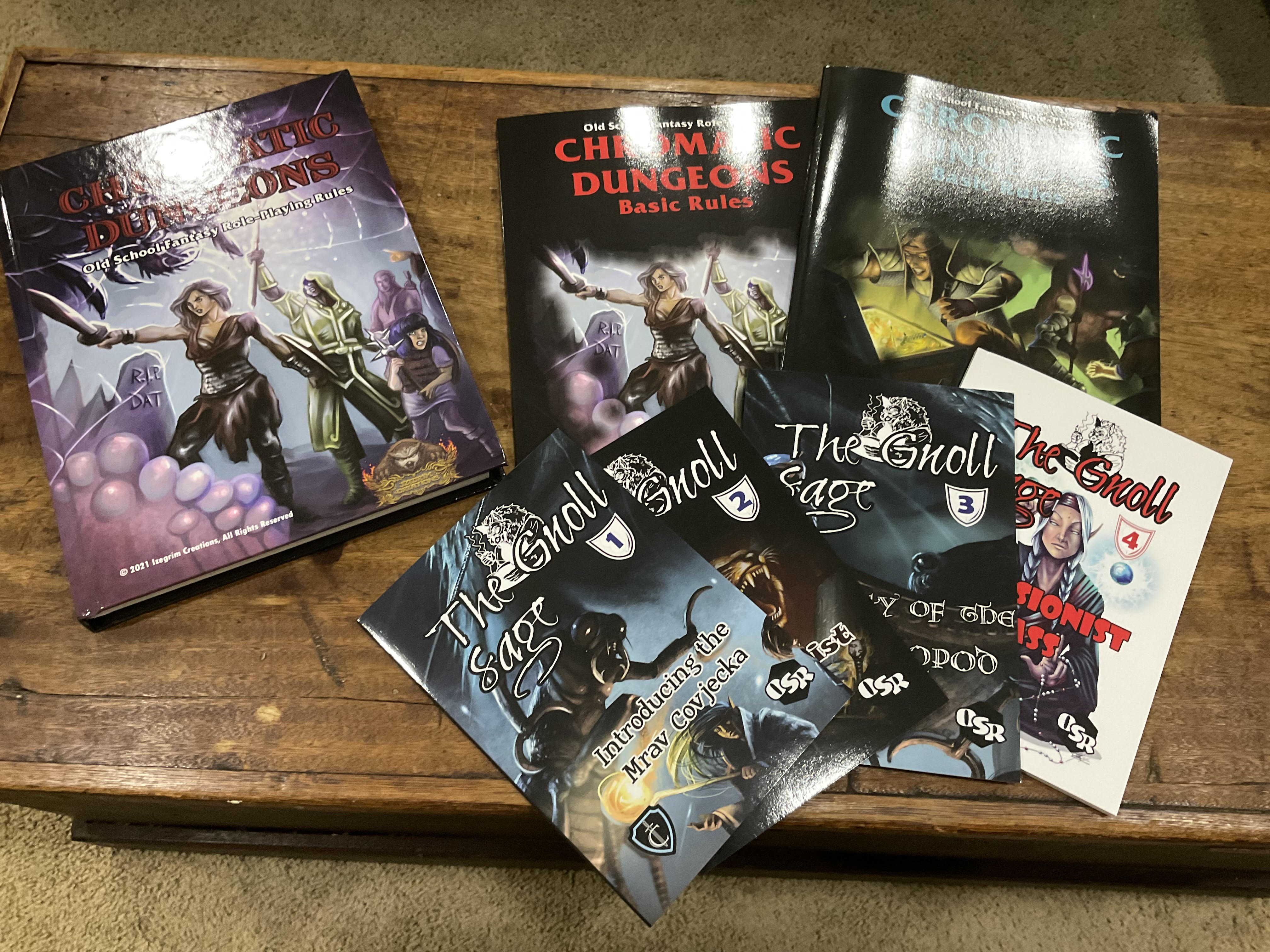 Last edited: