If you
really
want to max out on Dark Sun nostalgia, you can order a Print-On-Demand copy of the
2E Dark Sun Boxed Set from DriveThruRPG
. A hardcover book copy is on sale now for just $24. Having everything combined into a single hardcover book is different from having the separate booklets, but a crisp new book is better than a digital file, IMO. (But why choose? the PDF is free with the purchase of the hardcover POD.)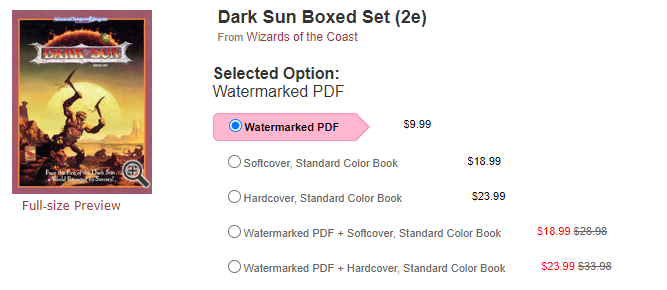 You can get a copy of
Dragon Kings
in hardcover as well, for $21 (two dollars more will get you a PDF copy as well.) I've ordered hardcover and softcover full-color prints from DTRPG before, and they are really good quality.
They also have the
2E Dark Sun Campaign Setting (Expanded and Revised Edition)
, but it's only available in PDF format at this time. And $10 is a bit steep for an electronic copy of 2E material. Same goes for the
Dark Sun Monstrous Compendium
and the
Dark Sun Monstrous Compendium 2
.
Other print-on-demand titles of Dark Sun material are thin on the ground, I'm afraid. You can get a softcover POD copy of
Beyond the Prism Pentad
for $6.50 (or $8.50 if you would like a PDF as well). And you can get a copy of
DSM1 Black Flames
for $12.99,
Forest Maker
for $11.50, and
The Will and the Way
for $8.99.

And if your favorite flavor is Fourth Edition, you can get the
4E Dark Sun Campaign Setting
in softcover POD for $20.00 (or $25, for the book + a PDF.) I'm not sure why the 4E PDFs are an extra $5 while the 2E PDFs are only an extra $2, but it might have something to do with the file resolution and whether or not the document is OCR.