Welcome back to our
DM Guild
Roundup! October is always the best time to delve into horror and the scary side of the role-playing game. With Halloween around the corner and the barriers between worlds thinning, DMs will be pulling the cobwebs off of their favorite horror rpg material. Do you have a favorite D&D adventure that is horror based, aside from the
obvious
of course? Mention it in the comments and share with it out! Are you creating a Halloween themed adventure for the DM Guild? Contact us here at
EN World
and let us know!
From the Guild Adepts
There is not as much new this month from the Guild Adepts. I suspect we may see something more towards Halloween itself and certainly a few bits as the Thanksgiving and Holiday seasons roll around. As it is, we have a very interesting supplement that can be used to beef up the options from
Mordenkainen's Tome of Foes
.
Mordenkainen's Tome of Marvelous Magic
by M.T. Black
This adds a bunch of magic items that you can used in your campaigns. This should please those players who are fond of those.
Halloween Sale
The DM Guild is having a
Halloween Sale
for some horror themed products. These include some AL adventures as well as third party products and some classics of previous editions. In particular I noticed a supplement from D&D 3e that I personally never picked up. A situation I will soon remedy.
Expedition to Castle Ravenloft (3e)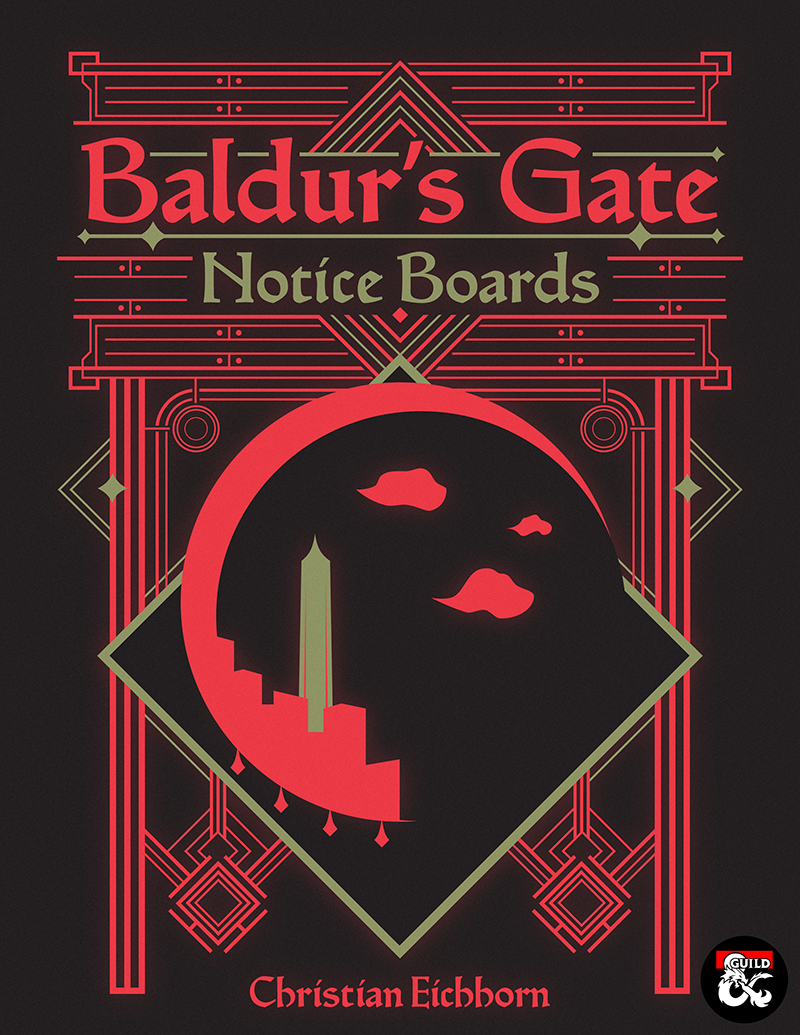 Top 5 Most Popular DM Guild Products (currently)
New at the top of the list this month is a supplement to your
Descent Into Avernus
campaign. If you are looking for more quests and locations within Baldur's Gate, you certainly will find a wealth of information here. The art and production values are top notch and it is a very attractive looking product. I especially like the look of the maps.
This Looks Neat
Just a couple interesting pieces this month that you might enjoy adding to your collection.
The Revenge
By: Marinos Filippou, Giorgos Filippou
Description:
Enter Oakwick, a remote village where after a long journey, you find yourself surrounded by the ravenous undead. Will you be able to survive, or even end their suffering?
"The Revenge" is a short horror adventure that happens in an ordinary village. The story may branch into different paths and there are multiple endings that can fuel your own zombie apocalypse campaign. The players performance and choices will affect the last stand.
Forest of Mysteries
By: Janek Sielicki
Description:
Forest of Mysteries is an adventure for 2nd level characters and it offers about 8-12 hours of gameplay. Using simplified hexcrawling rules, the heroes explore a dungeon full of undead monsters, find a kobold lair, negotiate with strange creatures, discover magic items and have many more amazing and varied adventures.
Moreover, Forest of Mysteries is designed for beginner DMs and players, introducing them to different rules of Dungeons&Dragons: for example, you'll learn the rules for jumping, using monster legendary actions, free exploration or mounted combat. Experienced groups are provided with tips and ideas to make challenges a bit more difficult!
If you have a product on the DM Guild you feel would make for a great review, please let us know! Until November…