Fantasy Grounds
has shared its usage stats going back over the last year. The recent pandemic has shown a massive boost of 150% in virtual tabletop game sessions!
Here's a look at the game system distribution. "MoreCore" and "CoreRPG" are generic ruleset modules which can be used for many games. D&D 5E leads the pack as usual, at a 63% share, followed by Pathfinder with a combined total of 13% divided between 1E and 2E.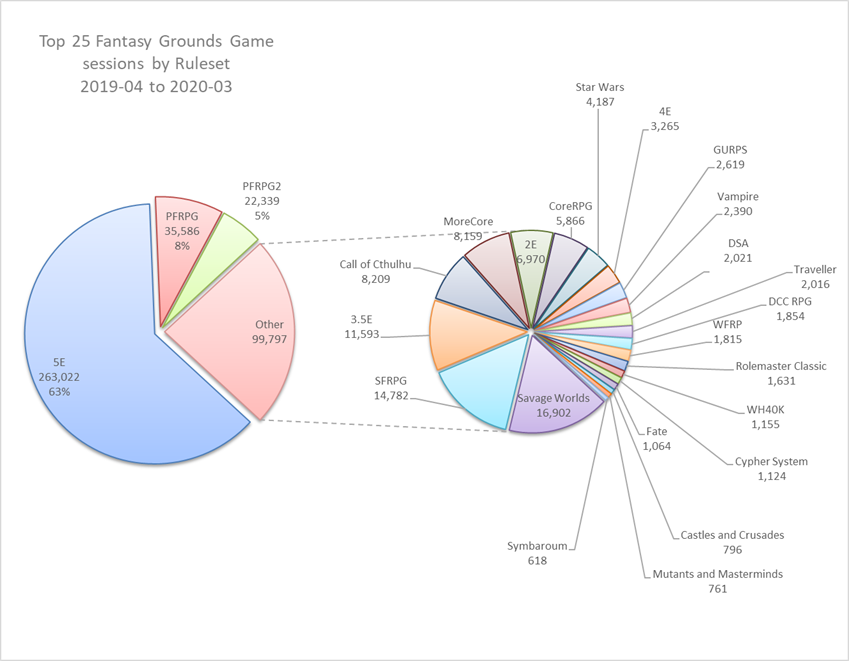 Here are the
stats for this time last year
. It's actually a drop in share for D&D (from 69% to 63%), which was also borne out by
Roll20's figures earlier this year
, where D&D dropped from 52% to 48%. (That doesn't mean less people are playing D&D of course). Pathfinder is harder to compare -- 2E was released halfway through the period measured, so a large bulk of it is 1E. We'll have a clearer picture on that towards the end of the year, when 2E has been out for a year.
Last edited: