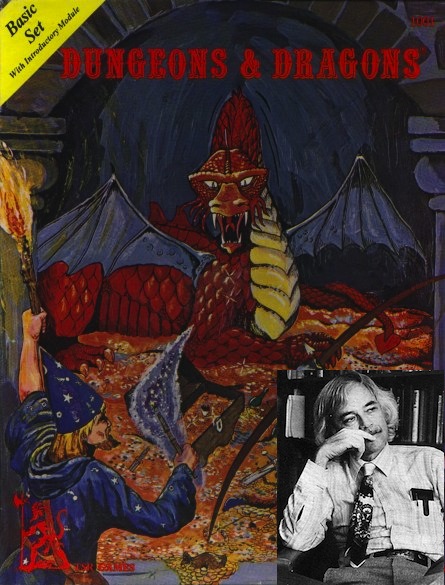 This past Sunday was the 90th (!) anniversary of the birth of
J. Eric Holmes
, editor of and content contributor to the first Dungeons & Dragons Basic Set, published by TSR in 1977. Many D&D players who started playing between 1977-1982 or so started with this Basic Set, including myself.
Holmes started playing D&D with his sons around 1975, edited the Basic Set rulebook for TSR in 1977, published a introductory book on RPGs in 1981, and published a D&D novel (the Maze of Peril) in 1986, which was his last major publication related to RPGs. He passed away in 2010 at the age of 80, so it has been almost a decade since we lost him. In 2017 a collection of his D&D fiction, including the Maze of Peril and short stories that had appeared in Dragon Magazine, was published by Black Blade publishing; I contributed an annotated bibliography of his work to this.
Holmes Basic Testimonials posted to the Zenopus Archives from previous years can be read
here
. Feel free to leave a new one there, or here in this thread.
I'm running several Holmes Basic/OD&D games at upcoming cons (Scrum Con II, Gary Con XII) as part of my ongoing tribute to Holmes. You can read more about my Holmes-related activities over the past year
here
.
Who else here started with Holmes Basic?