I have just uploaded
Fifth Age: A Hard Science Fiction conversion for 5e DnD
to the downloads area.
It is the dawn of the 24th century, and an interesting point in time for the human race. Fifth Age chronicles the dawn (perhaps more like early mid-morning) of humanity exploring the stars and getting into all manner of trouble, fraught with peril, excitement and drama. The science in this sci-fi is a little on the harder side than some might be used to and the adventure is a little pulpy, a perfect mix for the 5e DnD system.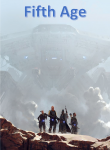 This release contains:
New Races
New Classes
New and expanded backgrounds (with mechanical relevance!)
New Skills
New Feats (along with rebalancing)
New Weapons
New Armor
Hi-Tech Gadgets
Downtime Shenanigans
Investments, Trading and Retirement Rules (Contribute to your retirement fund, or wind up eating catfood!)
Spaceship Rules
Note that this is a work in progress, expect ongoing balance tweaks and new content.
You can find the file
here in the downloads section
. Please use this thread for comments.
Additionally here are links for what I have so far:
View attachment Fifth Age (0.7).pdf
View attachment Hazard Handbook WIP.pdf
View attachment fifth age sheet char sheet 1.pdf
View attachment ship sheet.pdf
View attachment Fifth Age Spaceships.pdf
View attachment ship builder.xlsx
I have written my first Fifth Age adventure for general consumption, it is available here:
http://www.enworld.org/forum/rpgdownloads.php?do=file&fileid=5608
or here:
FA01 Welcome to Indra.pdf
I think it serves as a pretty good example of what a fifth age adventure can be, and I will be attempting to extend it out into a 12 adventure series to take characters from one to ten, as a good introduction to the rules-set and setting.
Last edited: