Since 2019, tabletop gaming based properties have made the leap from books to toys in the form of action figures.
In the first part of this two part gift guide
, I talked about what makes a toy an action figure as well as suggested the plastic versions of
Cyberpunk 2077
figures
,
McFarlane Toy's W
arhammer 40,000
figures
,
Bandai's
take on the
Warhammer 40,000
licence
, and
JoyTo
y's Warhammer 40,000
figures and vehicles
. In this article, I share the recent and upcoming toylines for
Dungeons & Dragons, The Legend of Vox Machina
, and an action figure line with its own RPG,
Mythic Legions
. If you're looking for a holiday gift, these might be the perfect toys for the gamer in your life.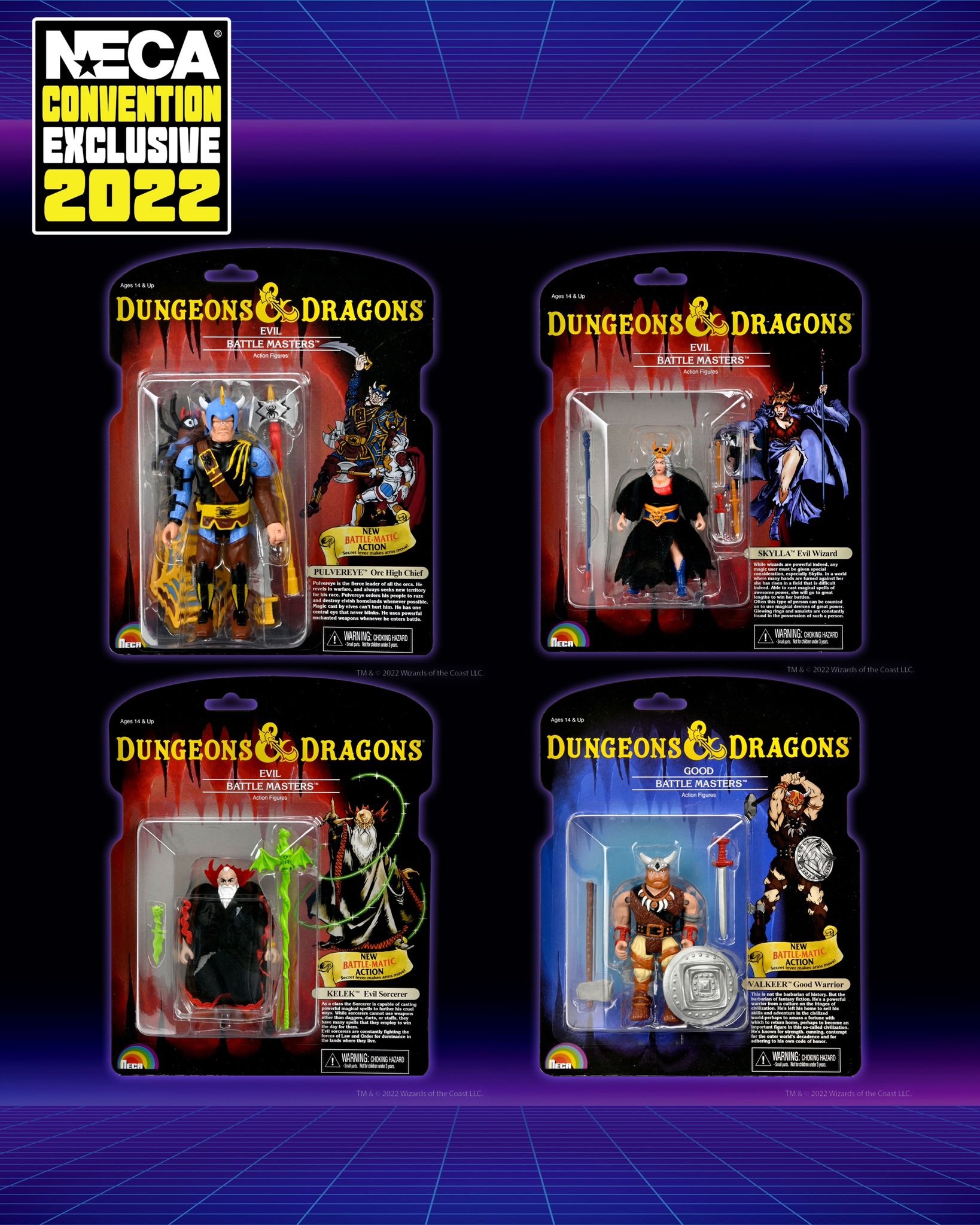 Dungeons & Dragons from NECA​
Let's lead with the toyline that most directly bridges the gap from the first RPG action figure line ever. Tying back into the
original 1980s
LJN Dungeons & Dragon
line
,
NECA
has two products. The first is a "
Lost Wave
" that creates some of the never produced
LJN Dungeons & Dragons
figures in their original scale, materials, and articulation. They're rough by today's toy standards, but it's neat to see figures created from 1980s preview photos and unrealized
LJN
package art from the first RPG action figure line. These lost figures were a special collection offered by
NECA
during
San Diego Comic Con 2022
.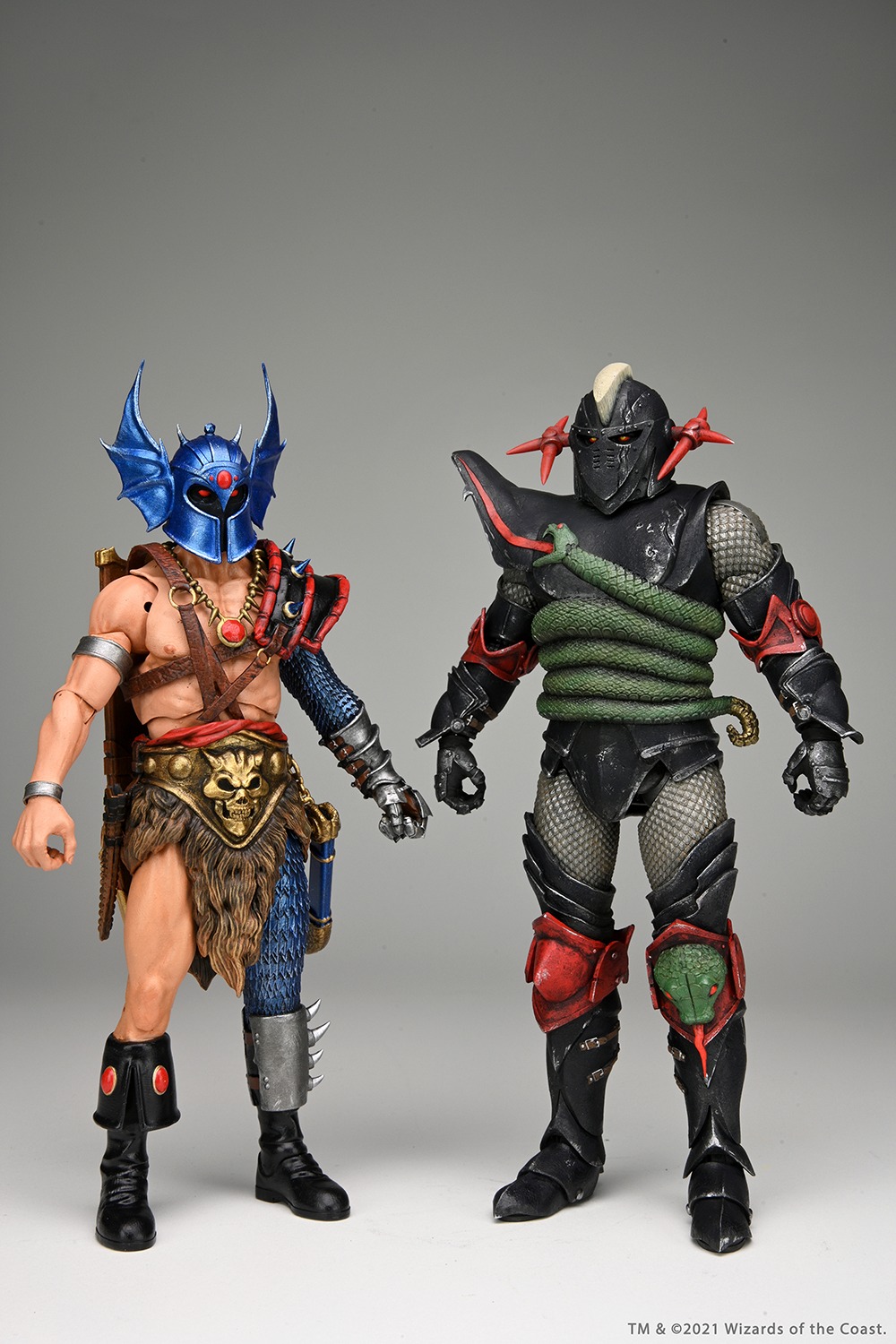 NECA's
second line takes the most popular characters from the
LJN
line and re-imagines them for today's collector market. Starting with Warduke and Grimsword,
NECA
is re-sculpting, re-sizing, re-accessorizing, and, generally, re-imagining how these key figures from the
LJN Dungeons & Dragons
line
would look in modern
1:12 scale
. Warduke's appearance is iconically
D&D
with his mismatched gladiator armor and hidden features. Grimsword rocks an almost
Marvel
supervillain amount of snake detail on his armor. These figures should be available either during the 2022 holiday season or shortly after. Either way, they're going to be sought after by gamers from the 1980s.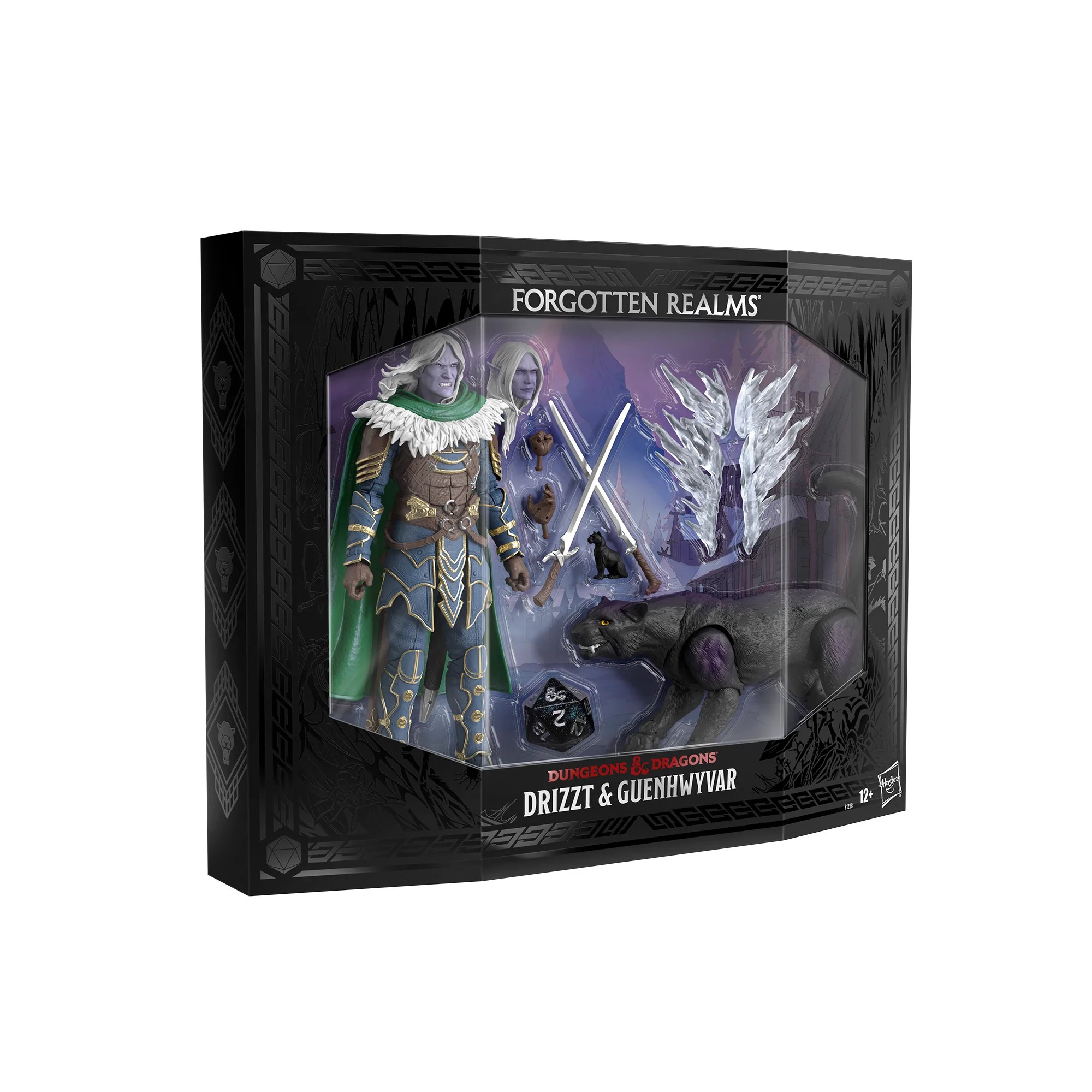 Dungeons & Dragons from Hasbro​
In 2020,
Hasbro
brought something new to the action figure market: a two-pack of
Dungeons & Dragons Forgotten Realms Drizzt & Guenhwyvar
. This
Hasbro Pulse (Hasbro
direct-to-consumers website) listed an exclusive set of the two characters in 1:12 scale. The figures feature great detail and articulation; they bring the characters to life with different accessories and a d20. Best of all, they're still
available on the site
as of this writing.
After that first experiment,
Hasbro
, the owners of
D&D
, took advantage of their position to license the
LJN
figures to
NECA.
However, they held onto the rights for the 1980s
Dungeons & Dragons
cartoon and the upcoming movie figures.
Hasbro
has a line of
Dungeons & Dragons
cartoon
figures based on the original
1980s
cartoon
. So far, they're offering Dungeon Master, Venger, Hank, Diana, Bobby, and Uni. These toys are true to the animation style of
Toei Animation
, and a great collectible for a show that's nearly 40 years old. These should be out by the time the
D&D
movie arrives in theaters, giving new and old fans something cartoony to display around the gaming table.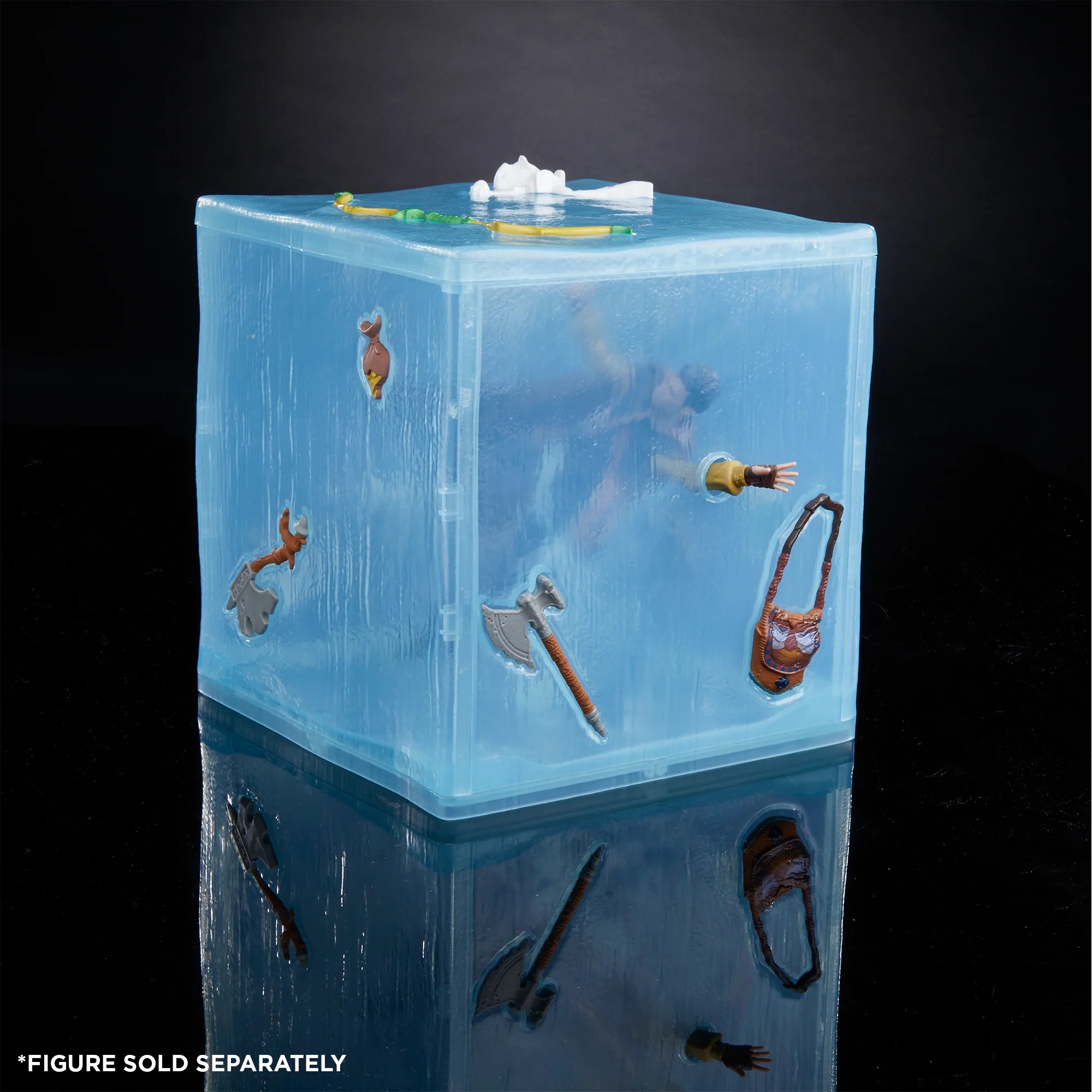 Beyond the original cartoon,
Hasbro
previewed a few items promised for around the time of the
D&D
movie (first quarter 2023). Their first movie offering is the
gelatinous cube
modeled on the one seen in their
Dungeons & Dragons: Honor Among Thieves
trailer. In addition, they're making figures based on the
look
of the
actors from
the
movie
.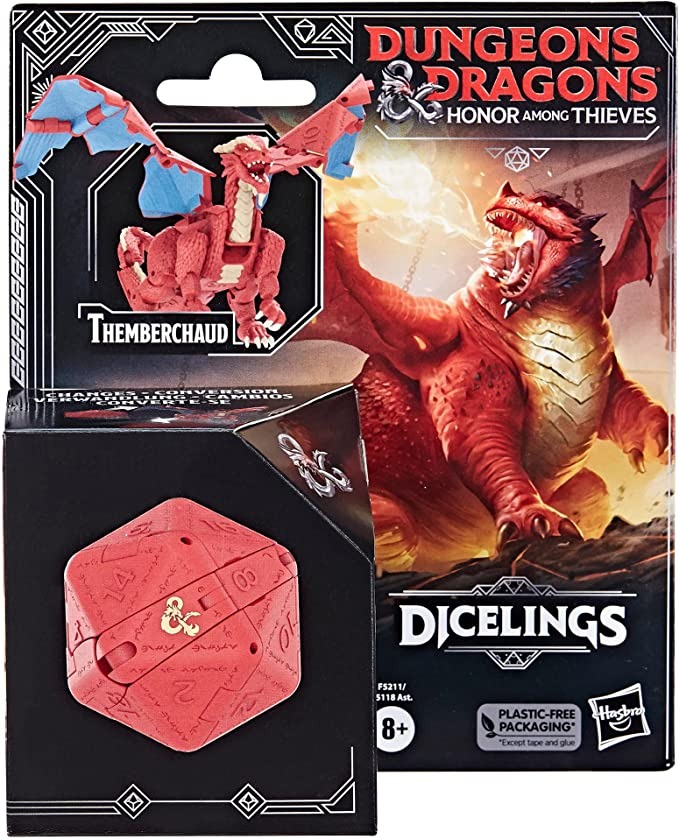 Expanding upon the movie toys,
Hasbro
is offering one of their best ideas to date:
Dungeons & Dragons Dicelings
. These are "dice" that transform like a, well,
Transformer
into a beholder, two different dragons, or an owlbear. These designs are a great meeting of tabletop's form plus toy's possibilities and I can't wait to get a set.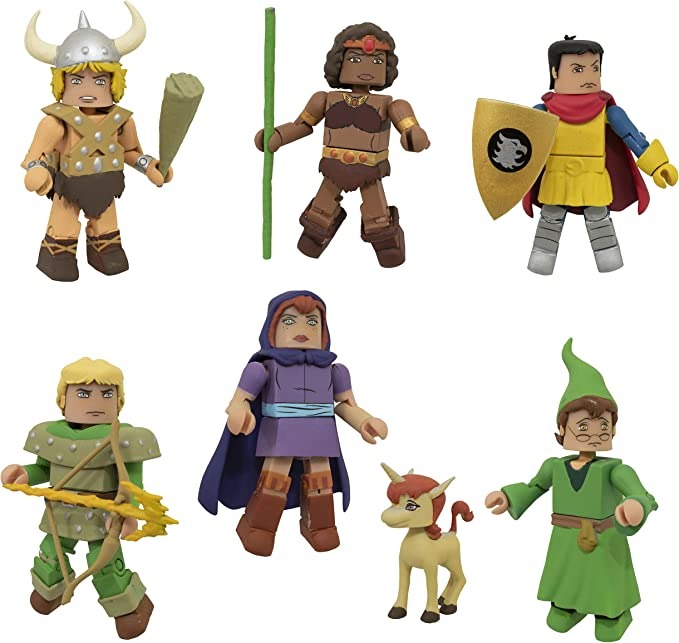 Dungeons & Dragons from Diamond Select​
Let's circle back to the 1980s
D&D
cartoon one more time as we look at one more
D&D
themed line, this time from
Diamond Select
:
Dungeons & Dragons Heroes Minimates
.
Minimates
are posable two inch figures, in this case recreating the core cast of the
D&D
cartoon. These blocky versions of the cast of the cartoon are similar to the
Pathfinder
offerings from half a decade ago, giving fans a full set of
D&D
characters that could be stood alongside
Pathfinder
characters.
Dungeons & Dragons from LEGO​
Not out yet, but coming soon:
LEGO Dungeons & Dragons
! This isn't truly action figures, but these
LEGO
sets will display nicely alongside figures like the
Dungeons & Dragons Dicelings
.
LEGO
does great work and I expect to see some worthwhile sets. That said, this isn't
D&D's
first building blocks toy,
KRE-O
holds that distinct
, obtaining the license during the
4e
era back in 2014. I'll be curious to see how the different sets compare.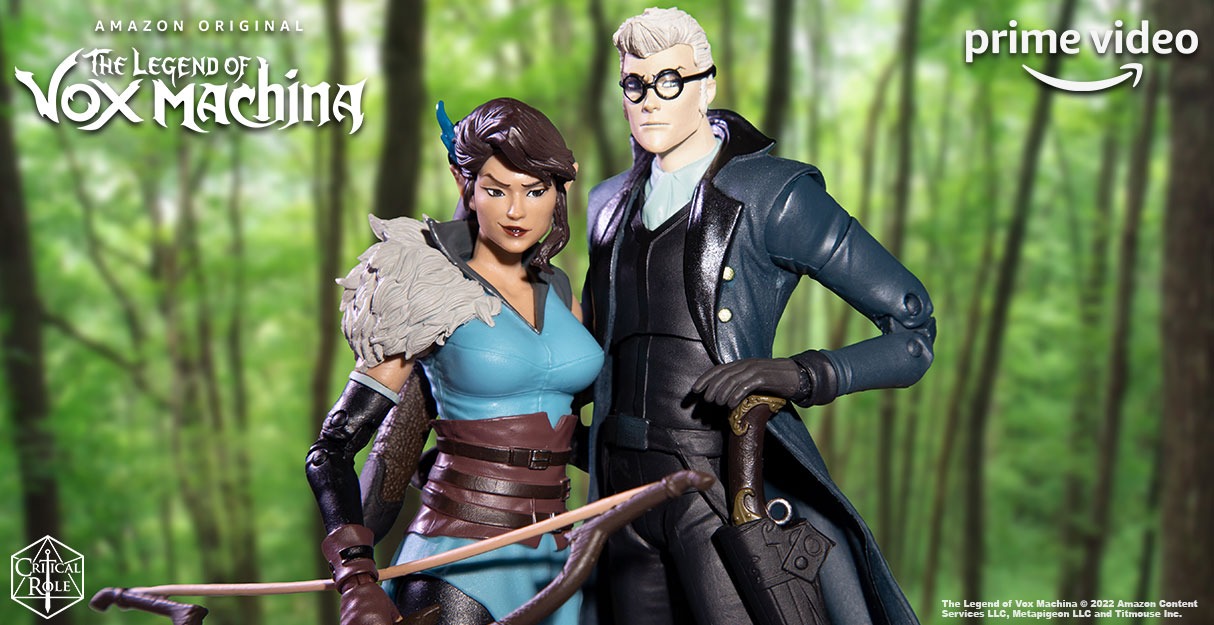 The Legend of Vox Machina from Mcfarlane Toys​
Going beyond official
D&D
, let's talk about
Critical Role's
toys. These RPG entrepreneurs managed to launch two toy lines taking their
D&D
characters from actual plays to action figures. First up is the 1:10 scale line from
McFarlane Toys,
The Legend of Vox Machina
. Out now, you can find Keyleth, Vax'ildan, Vex'ahlia, and Percy at
Target
and, of course,
Amazon
. Each character looks like they stepped out of the
Amazon Prime
animation
.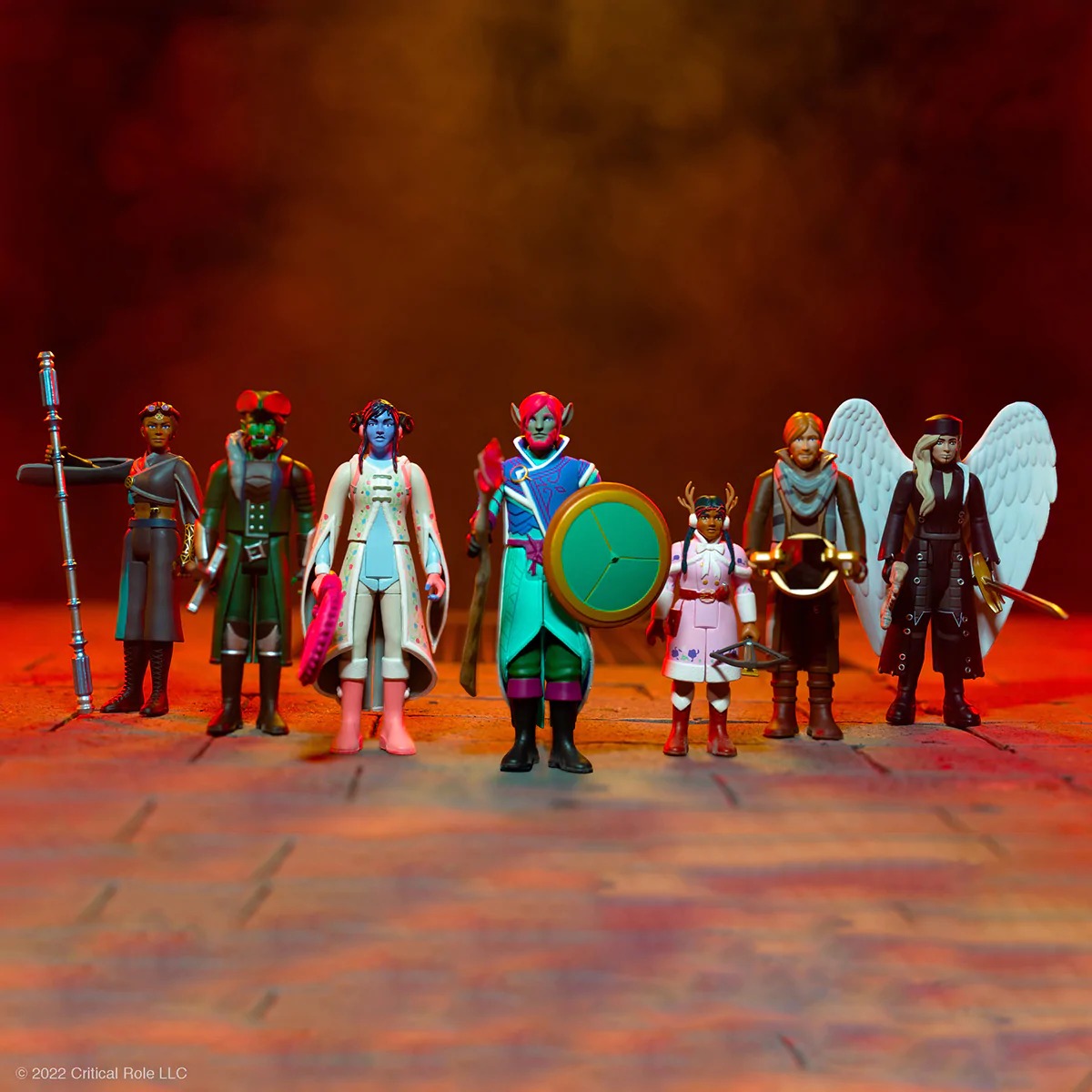 The Legend of Vox Machina from Super7​
Coming in at a different scale and POA is
Super7's
Critical Role ReAction Figures
for
Vox Machina.
ReAction Figures
are 1:18 scale options with five point of articulation figures, simplified to remind collectors of older toylines like the original
Star Wars
action figures. If you're looking for a simplified version of
Vox Machina
characters, this isn't a bad option as you can order all of the figures at once.
Mythic Legions from Four Horsemen​
As a bonus, I'm going to mention
Four Horsemen's Mythic Legions
toyline. I add them based on the strength of the toyline's comic/RPG,
Mythic Legions Book 1
. The book is hard to find, but it contains information about the
Mythic Legions
and a simplified RPG system to use for combat. Offered as an add-on with their first
Kickstarter
release, this book ties the
Mythic Legions
to their sword and sorcery RPG roots. If you're a fan of 1:12 scale fantasy action figures,
Mythic Legions
are a highly sought after line.
What Should You Get?​
All of the
Warhammer 40,000
lines, the
Cyberpunk 2077
figures, and some of the
Dungeons & Dragons
and
Vox Machina
figures are out now at major chains, certain FLGS, comic book, and independent toy stores. Others, especially the
D&D
figures, are coming in the first quarter of 2023 to take advantage of the hype around the
D&D
movie. If you have an action figure collector/gamer in your life and need something cool for them this holiday season, these figures may tie two of their geek passions into one great gift.
Egg Embry participates in the OneBookShelf Affiliate Program, Noble Knight Games' Affiliate Program, and is an Amazon Associate. These programs provide advertising fees by linking to DriveThruRPG, Noble Knight Games, and Amazon.