The ranks of the Fey continue to swell, as we turn to consider the
Meenlock
, a creature that is born of fear and exists to spread it.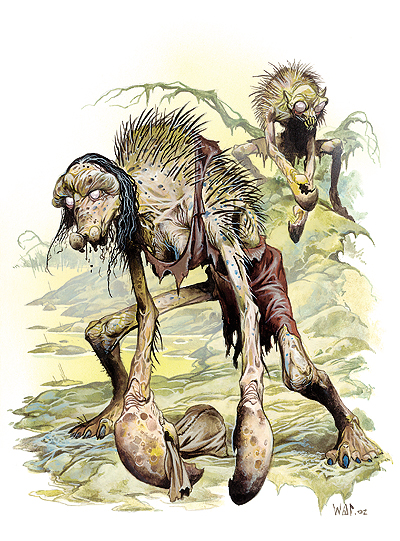 The art in Volo's is great, with the proportions and strange anatomy of the Meenlock fully on display. I like the left foot perched on a human skull as well - it's the kind of macabre detail that suits the flavour text of these guys.
The Fey society must be a strange one, as significant numbers of the sub-species simply pop into being around strong emotion - in the case of Meenlocks, fear brings them and their lair into being. This entry is one that essentially presents a complete story seed to the DM: some act of great evil and fear brings a hive of Meenlocks into being. They then kidnap people, telepathically torture them, and convert them into more Meenlocks. The players come into the situation presumably after someone important has been kidnapped, meaning that they need to hustle to rescue them, before it is too late. The flavour text devotes most of its time to discussion of the Meenlocks' telepathic abilities, their lair, and how they come into being; we don't learn a huge amount about about their culture, perhaps because they don't really have one beyond 'cause fear', despite them being essentially human in their statline.
The Meenlocks seem to be very strong contenders for an early-game horror experience. Their abilities are all focused around fear or darkness, and they actually get weaker in 'bright light', not just sunlight, so there is definitely potential for an Alan Wake / Doom 3 experience of using light to banish the darkness. They hide during the day, and only come out at night, as is appropriate for horror, and they are usually found in forests but can be found in underground and urban settings. The latter is a pretty interesting one, and I think that I'd really like to use some of these lurking underneath a magical university, preying on the students who study too late in the library.
The Meenlocks are reasonably weak creatures, whose solid statblock has good movement options (
Shadow Teleport
on a bonus action) and a single strong attack that does a paralyse for one minute, albeit on an easy save (since Constitution saves are generally favoured by everyone likely to be in the front line). However, as mentioned above, they have
Light Sensitivity
, which will make them a lot easier to fight once the players take advantage of that, depending on how generous you are with interpreting use of Light cantrips and the like. I think that this will allow you use to more of them than you might otherwise be able to: you can start with a single one, which is scary and powerful, and then have a climatic fight with several, when the players have learned and taken advantage of their weakness.