Today I'm going to cover the
Maw Demon
and the
Shoosuva
together. It seems that with Volo's Guide they were trying to provide complete 'ecosystems' of monsters for the DM to use: here is the Hag ecosystem, with their Banderhobbs and Covens and whatnot, here is the Goblinoid ecosystem, and so forth; these two demons form part of the Gnoll ecosystem, and pretty much everything about them reinforces that fact.
This Shoosuva image is hotlinked from Powerscore's blog, which I hope (s)he doesn't mind! The book Shoosuva is actually pretty nice. They managed to make the bizarre anatomy work, the yellow hints at foul and powerful magic lurking inside the beast, though it does make it seem like it has a breath weapon, and the matted and dirty fur is very well done. It's menacing, its detailed, it makes visual sense, a sense of the personality of the beast comes through, it really works for me. It certainly beats the above image!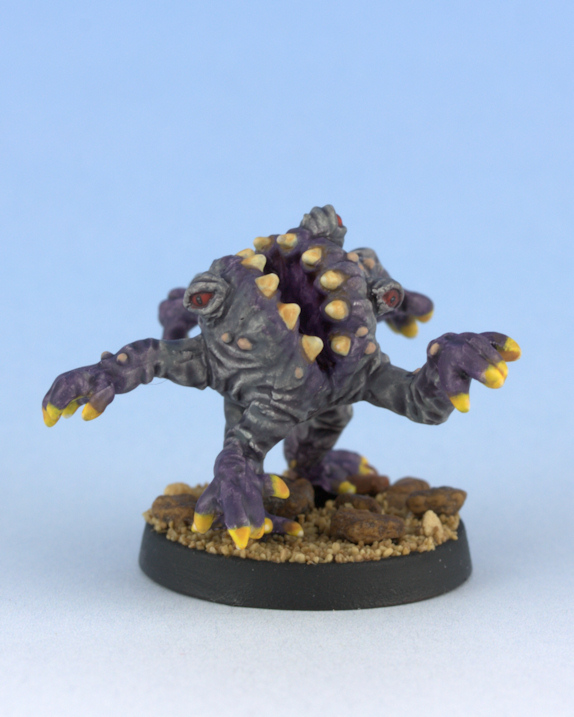 The above image is, rather sadly, the clearest one available for the Maw Demons. The art in the book is odd. This monster is just so inherently goofy, like a Warhammer Squig, that the image comes across as slightly amusing, despite the valiant attempts to make it horrific - the lascerated body, the drool, the perspective right down its maw. I suspect that the artist did as good a job as we could expect anyone to do on the subject. If I'd seen this picture without knowing what it was, I would have thought it was an aberration, actually, since its body structure reminds me of the Elder Things from Lovecraft.
Being part of the wider Gnoll ecosystem, both of these critters have
Rampage
, which I think is an ability that must only come up very rarely in actual play, requiring as it does the players to go down. Perhaps it is a good idea to include some NPC Guards to die and demonstrate this ability? The members of this ecosystem, for those keeping track:
Hyena - CR 0, MM 331
Gnoll Witherling
- CR 1/4, VGtM 155
Gnoll - CR 1/2, MM 163
Gnoll Hunter
- CR 1/2, VGtM 154
Giant Hyena - CR 1, MM 326
Gnoll Flesh Gnawer
- CR 1, VGtM 154
Maw Demon - CR 1, VGtM 137
Gnoll Pack Lord - CR 2, MM 163
Leucrotta
- CR 3, VGtM 169
Gnoll Fang of Yeenoghu - CR 4, MM 163
Shoosuva - CR 8, VGtM 137
Gnoll Flind
- CR 9, VGtM 153
Yeenoghu - CR 24, OotA 246
Every single one of these, except the humble Hyena, has the
Rampage
trait. That's a pretty impressive list, to be honest, and really gives the DM a range of options: it doesn't even include such honourable mentions as Ghouls, Trolls and Barlguras, who tend to accompany Gnolls warbands. The range of CRs is also instructive, suggesting that we should be willing to consider Gnolls as a viable threat to a party for many levels, especially if you start swapping the Gnolls for Demons further into the campaign. The Gnolls are about as simple a bad guy as they come - a ravenous horde that sweeps in and murders everyone - making them a pretty easy bad guy to introduce to your campaign, and even easier for the players to understand 'why do we care?' The built-in Demon hook, especially with Yeenoghu as a perfect end-of-campaign boss fight, also means that you can ramp up the tension without needing to just have millions of combatants in every combat after level 5. In short, I think that the Gnolls are the perfect bad guys for a 'war campaign', with the players able to fight them across levels, and their sheer evil is actually a benefit there, letting your players struggle with the political stuff: do we go and form an alliance with the Hobgoblins, who we hate but not as much as the Gnolls? There has been
some
controversy around here on the subject of the Gnolls, but I'm really happy with what I got from Volo's, not being interested in them as a PC option anyway, and I think that they are a versatile and fun race to have in the DM toolkit.
So that was a pretty hefty digression on the subject of Gnolls, but I guess that we were going to need to discuss them sooner or later. Let's return to the Maw Demon. This fella is, well, a giant football that bites people. It resists or is immune to the usual Fiendish options - poison, fire, cold, lightning - and has deeply average AC, but it's HP is actually pretty high. They do one thing, and one thing only: they run up and they make a
Bite
attack, for very respectable damage. I don't really have much more to offer here; run them towards your players, invite them to laugh at it, then watch them stop laughing when it starts tossing D8s around. Apparently whatever they eat gets transported magically into Yeenoghu's stomach after eight hours, which is… nice, I guess? You could perhaps have the players asked to retrieve some important item, message, or corpse from one of these guys after a battle, which might be entertaining: sneaking around a Gnoll camp, killing and dissecting the Maw Demons as they go. Maybe more fun for you than for your players.
The Shoosuva is a much more engaging fellow. In story terms is mostly an animal companion for a powerful Gnoll NPC, but that doesn't mean that it cannot have some screen presence of its own. I can definitely see the potential for establishing one of these as a famous bad guy in the enemy ranks at the start of the campaign - Jawrender, the Beast of Ruin, he who slew the Warden of the Eastern Marches - and having it pop up with its owner throughout. It's a demon, so you can get away with the Gnolls summoning it again (more powerful, obviously) if the players kill it early. It's not very smart, but it is about as not very smart as the Gnolls themselves, and it has the ability to talk, so there is potential there for dialogue with it.
In terms of stats, it has lots of resistances, as a Demon, and so its HP is not that huge as a result. Its attacks are fun though: a bite and a sting, doing powerful damage together, and more importantly with the ability to Paralyse someone with the Tail Stinger. I've mentioned before the awesome power of paralysis, and you should absolutely try and arrange it that the Shoosuva does that right before a Fang or Flind then rips the victim into pieces. Oddly, the stinger actually gives the Poisoned condition, with the paralysis being worded as being the secondary effect that is applied as long as the Poisoned condition is; the only reason to care about that in rules terms is to note that Dwarves will have advantage, some classes might be immune to it, and it doesn't work on most powerful fiends.
So, the Maw Demon is just a combat encounter, while the Shoosuva has some potential for character-driven story elements, but neither are likely to turn up without a bunch of Gnolls as well. Make sure to use the madness and regional effects from Out of the Abyss for Yeenoghu, if you do have a Gnoll campaign; they should add an interesting touch to the proceedings.
Last edited: