My recent
D&D session at Boy Scout camp
forced me to make some hard choices about what maps I could realistically bring with me. So which maps work best?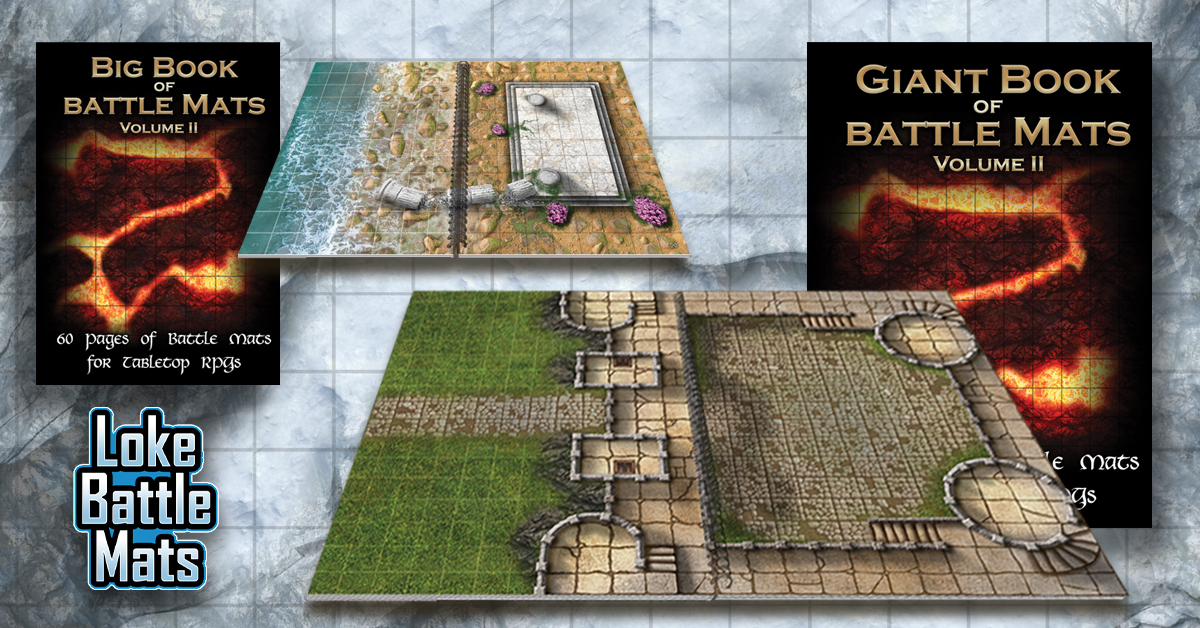 Book Maps​
I'm a big fan of large, book maps. I have the two major brands, Loke and Yarro, and they differ in important ways.
Loke Battle Mats
are clean, digitally drawn maps of a wide variety of locations, grouped together by genre. They are spiral bound, which is important in keeping them flat. Some of the maps can encompass two pages. At 16" by 12", the Giant Books can cover quite a bit of ground, opening two a two-page spread of 16" by 23".
Yarro Battle Maps
are similar, but the maps are hand drawn. Unlike Loke mats, Yarrow maps are perfect bound, which can cause some issues with flattening out the map when you two page spreads. Additionally, you can't help but use the entire spread, because the book needs to lay open to turn to any page.
The key to both these sorts of maps is that they are fixed art that will only apply to particular situations in a campaign, so the GM needs to know which map will apply to which encounter ahead of time. In this regard, an index to what each map represents is key; without it, flipping quickly to a map becomes a chore. Yarro has an index built in, Loke features small thumbnails.
Beyond that, your utility with these maps really depends on what encounters you plan to use. With all the basic settings covered (a camp site, a tavern, a dungeon, a castle), the maps' usefulness depends on what a GM plans to use in their campaign.
One thing that's missing from all these maps are thematically-connected maps that detail the same area from a different perspective. There's lots of village rooftops and village interiors, but there aren't a sets of maps of the village rooftop, the interior, and their basements. In my experience, an encounter can end up in any of those three locations.
The downside of book maps is they're awkward to store and heavy to carry. I didn't bring these maps along on the camping trip for that reason.
Board Game Maps​
Board game maps use the fold-up board game format that's popular these days with boxed games, in that it four quadrants of the map fold down into one quarter of its size. This increases portability and makes the map easier to store.
There are tradeoffs however. The cardboard maps are individually heavier than a roll-up map or a book map, meaning the more you carry, the more it weighs. Sizes vary too. Some are the size of regulation chess boards, like
The Master's Atlas
, which are much heavier than customized versions that are the size of a typical
Dungeons & Dragons
hardcover.
I'm partial to the smaller board game maps, like the
Ultimate Battle Grid Game Board
and
Hexers Role-Playing Game Board Mat
.
But when weight is a consideration their limited flexibility can make them as impractical to carry as one of the heavier book maps.
Flat Maps​
The other format is the folded or rolled-up map. Both have a significant advantage in their size. Unlike book maps, most maps of this type tend to be of a large swath of terrain, with the assumption that the GM will overlay unique features on it. The most common maps are dungeon stone, grasslands, and swamp features.
These maps are usually meant to be drawn on or have scatter terrain added to it, like the
Dungeon Craft's Ocean Battlemap,
which folds up to neatly fit with your books. Others are much larger, like
Melee Mats
.
From a utility standpoint, these maps can be rolled up for easy transport. There are limits though, as a very wide map won't easily fit across your backpack.
I ended up choosing
Tidy Boss's Battle Game Mat,
which solves several problems: it comes with its own carrying case, it uses plastic straightening clips to keep the map flat, and it covers a wide range of terrain that I might use in a game: beach, grassland, snow, stone, wood, and parchment. This was the map I ended up taking with me on the camping trip.
Your Turn: Which types of battle maps do you prefer?
Last edited: