Avatar Legends
leads the pack in an exclusive club -- Kickstarters for tabletop roleplaying game products which have broken the $1M barrier! It is currently the most successful TTRPG Kickstarter in history with a funding total of nearly $10M, and over 80,000 backers.
Only 13 TTRPG campaigns have ever achieved this, only 6 TTRPG campaign have done so without offering miniatures, and only 4 which aren't D&D-related.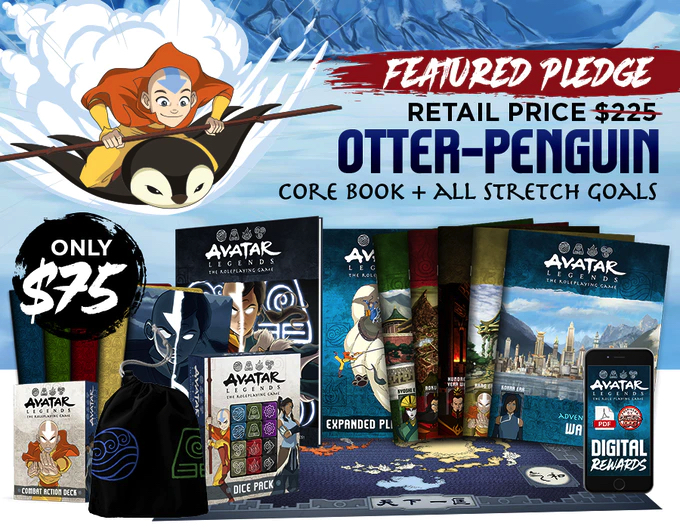 This list comprises Kickstarters specifically for tabletop roleplaying games or supplements which have exceeded $1M. It does not include Kickstarters for miniatures, software, dice, or other accessories.
The first TTRPG Kickstarter to break $1M was 7th Sea: Second Edition (2016) by John Wick.
The first to break $2M was Strongholds & Streaming (2018) by Matt Colville.
The first to break $9M was Avatar Legends (2021) from Magpie Games.
7/13 in the list included miniatures in their campaigns.
9/13 in the list are designed for D&D 5E.
In the 12 years since Kickstarter's creation in 2009 until the start of 2021, 4 TTRPG projects beat the $1M mark. In the months since March 2021, until the time of writing, a further 9 projects have done so.
$1M+ TTRPG Kickstarters: The Official $1M TTRPG Kickstarter Club
| #​ | Kickstarter | Creator | Date Ended | Backers | Amount | Average Pledge |
| --- | --- | --- | --- | --- | --- | --- |
| 1​ | Avatar Legends: The Roleplaying Game | Magpie Games | September 2021 | 81,549 | $9,533,258 | $117 |
| 2​ | Strongholds & Streaming*^ | Matt Colville | March 2018 | 28,918 | $2,121,465 | $73 |
| 3​ | Tanares RPG - 5e*^ | Dragori Games | October 2021 | 9,403 | $2,100,242 | $223 |
| 4​ | The One Ring Roleplaying Game, Second Edition | Free League | March 2021 | 16,591 | $2,025,288 | $122 |
| 5​ | Heliana's Guide to Monster Hunting^ | Loot Tavern | July 2021 | 18,082 | $1,845,422 | $102 |
| 6​ | The Seeker's Guide to Twisted Taverns^ | Eldermancy | March 2021 | 17,921 | $1,650,076 | $92 |
| 7​ | Kingdoms, Warfare & More Minis!*^ | Matt Colville | November 2019 | 19,033 | $1,372,685 | $72 |
| 8​ | Grim Hollow: The Monster Grimoire*^ | Ghostfire Gaming | May 2021 | 15,530 | $1,348,160 | $87 |
| 9​ | 7th Sea: Second Edition | John Wick | March 2016 | 11,483 | $1,316,813 | $115 |
| 10​ | Dungeons of Drakkenheim*^ | Dungeon Dudes | August 2021 | 13,376 | $1,279,240 | $96 |
| 11​ | Auroborous: Coils of the Serpent*^ | Warchief Gaming | May 2021 | 10,218 | $1,260,863 | $123 |
| 12​ | Coyote & Crow the Roleplaying Game | Connor Alexander | April 2021 | 16,269 | $1,073,453 | $66 |
| 13​ | Humblewood Campaign Setting for 5e*^ | Hit Point Press | April 2019 | 14,604 | $1,001,085 | $69 |
*includes miniatures
^D&D-related​

​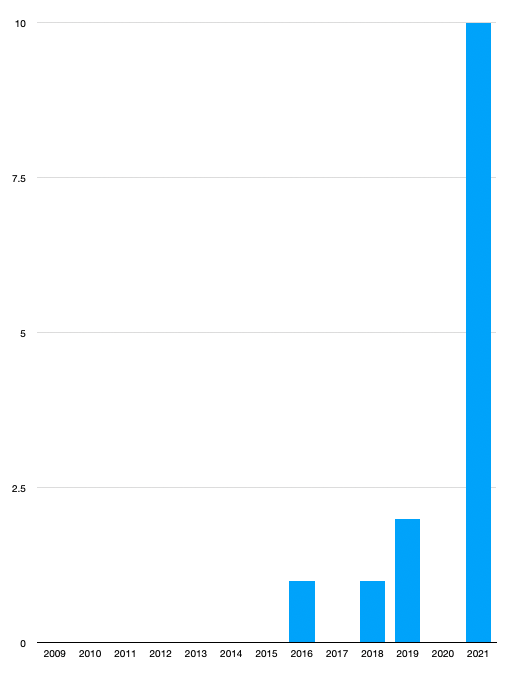 ​
Last edited: