Hello everyone, Darryl here with this week's gaming news! April Fools products and posts from across the industry, TSR co-founder Brian Blume passed away, entire cast of
Far Veronia
quits over an incident during a stream, and more!
Don't forget, you can catch up on all the news every weekend with
Morrus' Unofficial Tabletop RPG Talk
podcast! This week, Morrus and Peter are joined by Shawn Rourk to talk about his cyberpunk roleplaying game,
Identeco
!
In case you missed it elsewhere on EN World this week…
April Fools was this week and, as is usual for the internet, many "prank" fake products came out from your favorite publishers.
EN World posted a collection of the comedy sketches from Morrus' Unofficial Tabletop RPG Talk
and, in the comments,
reminisced about the 2004 prank where Gary Gygax led a mutiny among the mods to take over the site
.
Paizo released a collection of foolish monsters, mostly based on typos made during the writing process
. Creatures include the Blarghest, Demom, Cacaodaemon, Skittergoblin Deckcutter, Squirrelwind, and Weredigo. The Wizards of the Coast prank slightly backfired in the tradition of Think Geek, as they announced a new set for
Magic: The Gathering
titled
Secret Lair: Wizards of the Coast Presents: After Great Deliberation, We Have Compiled and Remastered the Greatest Magic: The Gathering Cards of All Time, Ever
. The cards, as expected, are not actually that special and include the Goblin Snowman, Mudhole, Squire, and Storm Crow. Due to actual demand for the alternate art on these foil cards, Wizards of the Coast have instead requested that those looking to purchase the set instead donate to the American Red Cross Coronavirus Relief Fund, and stated that they would print cards at some point in the future for free distribution to Wizard Play Network game stores to sell (similarly to the reprints of the
Magic: The Gathering Mystery Booster
announced last week).
Catalyst Game Labs released the sequel we've waited years for,
BattleRun II: The Quest for the Thing for use with Shadowrun Sixth World Edition and MechWarrior Destiny combining the company's two biggest game lines
into the Eighth World setting (and a whole lot of nonsense). Games Workshop announced it's time
to declare Exterminatus on breakfast with the new Aquilos breakfast cereal
complete with commercial. Beadle & Grimms also went with a commercial
to announce the new platinum edition boxed set for Schrodinger's Cat
. I'm sure there's many others I've missed so please add them in the comments. Because we're going to need all the laughs we get…
TSR's Brian Blume passed away on Friday
. Blume joined TSR shortly after it formed by offering a $2000 investment in printing
Dungeons & Dragons,
gaining an equal share in the company. He and his father and later his brother served as majority shareholders for TSR on the Board of Directors until he retired from the company in 1985. Blume passed away at the age of 70 due to complications from Lewy Body Dementia and Parkinson's disease.
Artist Juan Gimenez passed away this week from COVID-19 coronavirus
. Gimenez, along with writer Alexandro Jodorowsky, created the science fiction comic book series
The Metabarons
, which was adapted into a roleplaying game by West End Games in 2001 by the same name. He also created custom art for the cover and interior of the three game books released for the series. Gimenez was 76 years old.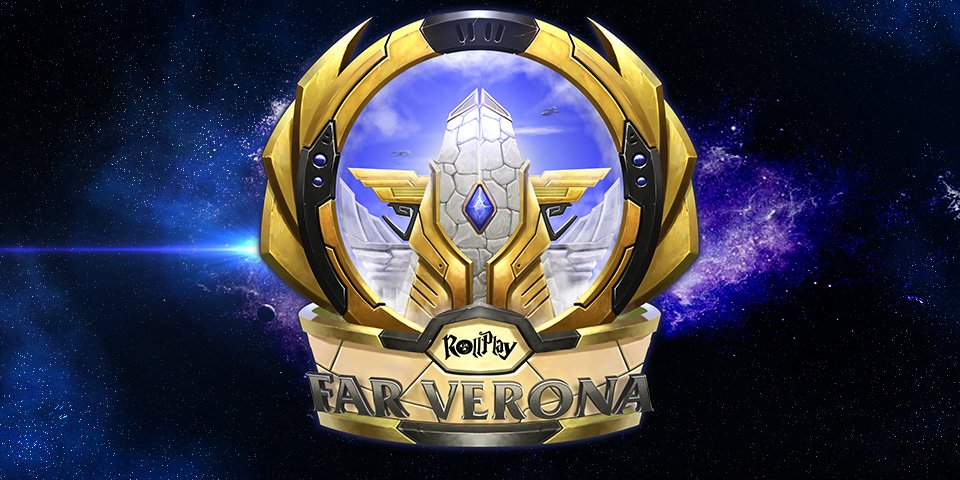 The live stream
Far Verona
produced by Rollplay and hosted by Adam Koebel has been canceled following an incident during a stream last week. The scene closing the Season 2 Episode 18 live stream involved the sexual assault of one of the player characters by an NPC which was described for over two minutes by Koebel, who grinned and laughed during the scene which had no participation or agency from the player. The entire cast of players for the show, including Elspeth Eastman, Marcus "DJ Wheat" Graham, Mark Hulmes, and Havana "Vana" Mahoney, quit the show following the live stream.
The cancellation announcement came via a Patreon Q&A video update which was live-streamed on the Rollplay channel and later uploaded to YouTube
, in which Koebel admitted he had no safety measures in place for objectionable or triggering content during the live-streamed games. Elspeth Eastman, the player whose character was assaulted,
posted a video to her YouTube channel explaining her reasoning for quitting
. Rollplay has stated they intend to go forward with the rest of their schedule with new safety measures in place. This includes the
Dungeons & Dragons
live stream Court of Swords also hosted and DM'd by Koebel (though the first scheduled episode after the incident on March 31 was canceled for unrelated reasons).
So enough terrible news, let's talk about some of the good things the industry is doing in these dark times.
Gaming accessory maker Ultra Pro announced they are creating special water-resistant covers for tablets and iPads provided free to medical institutions
. The sleeves cover the tablet and can be removed and disinfected to prevent spreading disease between uses. As many patient records and other documentation moves digitally in hospitals and other healthcare providers, these sort of protections can prove invaluable to help prevent the spread of disease.
The Game Manufacturer's Association (GAMA) has launched a new addition to their Friendly Local Game Store Locator
. In addition to store information and hours of operation, stores can list their current operating status such as whether they are offering curbside pick-up, local delivery, the availability of gift cards, and more to help support stores affected by shelter-in-place, lockdown, and quarantine orders.
GAMA has also created a Google Doc with a detailed list of game companies that are offering assistance to local game stores
. As previously reported, many publishers have created special programs to do mail-order fulfillment on behalf of stores affected by the current crisis, either by facilitating orders directly or by offering a cash payout to stores of a percentage of online sales if the customer lists the store when checking out.
Humble Bundle announced the Conquer COVID-19 Bundle which features over $1000 in products for only $30
. All proceeds from the bundle will go to supporting charities working to stop the spread of the coronavirus. The bundle features 45 video games, 13 ebooks (including the
Starfinder
sourcebook
Pact Worlds
), 2 audio books, 9 graphic novel or comic collections, and the Music Maker EDM software package. The bundle has already raised over $3.6 million for charity and will be available until Tuesday, April 7.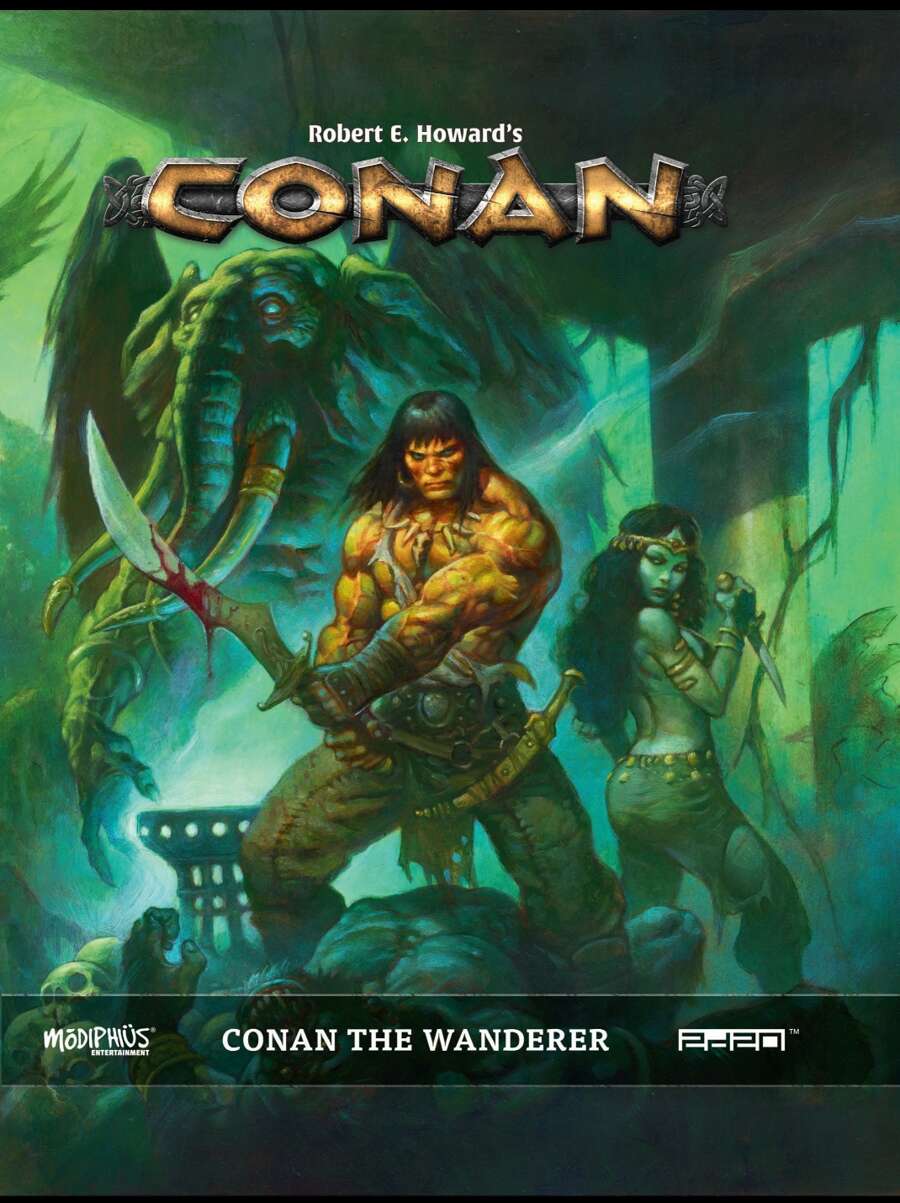 Modiphius released Conan The Wanderer sourcebook for the Conan: Adventures in an Age Undreamed Of roleplaying game
. This sourcebook focuses on the Eastern region of the world of Hyboria (yes I know technically it's an unknown age of earth that's called the "Hyborian Age", but it's a difficult concept to describe and most people call it that anyway). The book features a gazetteer covering the kingdoms of Ghulistan, Hyrkania, Iranistan, Kosala, Vendhya, and Khitai plus new character archetypes, homelands, talents, backgrounds, stories, and gear. The 120-page PDF is available for $15.00 while the physical version (like most products) has been delayed.
Additionally,
Modiphius opened pre-orders for the miniature skirmish wargame The Elder Scrolls Call to Arms
. Due to the ongoing crisis, shipments cannot be made at this time, but all purchasers will receive PDF versions of the game and the files to 3D print miniatures and terrain.
Modiphius has also made the Elder Scrolls Call to Arms Core Rulebook, the quest Escape from Helgen, and a set of print-and-play dice free in PDF format on DriveThruRPG along with a discounted $5.00 for the full Questbook
.
Project Aon released a large library of books from the Lone Wolf series available for free
. The release includes more than 40 game books along with a trove of related articles, artwork, and more. The downloads are covered by the Project Aon License which allows free download for personal use but no redistribution of the files. The books themselves can be read directly on the website or downloaded in HTML, EPUB, MOBI, PDB, and several other formats.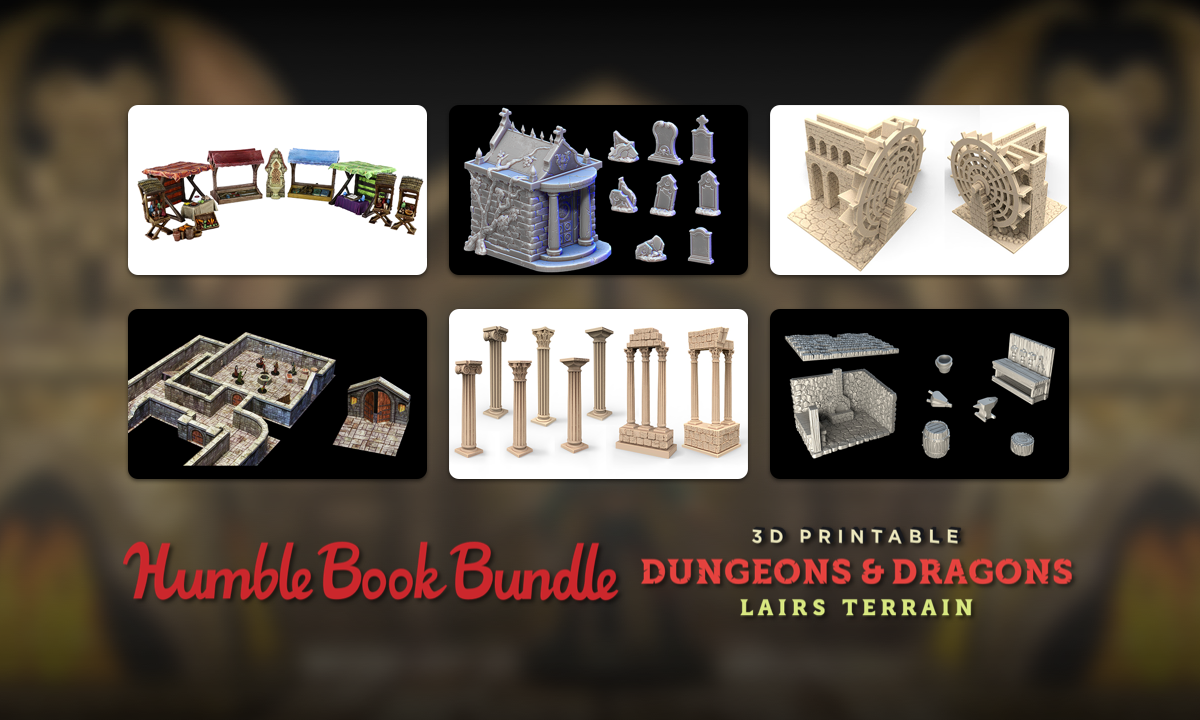 Humble has another bundle benefitting the COVID-19 fund for Direct Relief, this one perfect for roleplayers stuck at home and looking for a project.
The 3D Printable Terrain Lair Bundle doesn't actually require a 3D printer to enjoy
. While the bundle includes project files for 3D printers, it also contains files for normal, plain old inkjet and laser printers to use cardstock and create amazing full-color terrain. Either way you go, you'll end up with dungeon walls and floors, buildings, merchant stands, trees, statues, and more. This bundle runs until Wednesday, April 22.

We really could use some silly fun right now. And honestly, nothing out there right now looks more like silly fun than these two projects currently on Kickstarter.
The first is the 5e supplement The Ultimate Guide to Hair from Quantum Ogre Publishing
. Yes, it is exactly what it says on the tin, a sourcebook for hair. Come on, don't tell me you've never spent half an hour painstakingly creating just the right hairstyle for your
Skyrim
character, so why not bring that fun to D&D? The book features new subclasses for every class along with new spells, backgrounds, monsters, magic items, deities, and more all around the theme of hair. The PDF is available for a $15 pledge, while the softcover is $35 and the hardcover $45. This Kickstarter is fully funded and has several stretch goals to unlock before it ends on Thursday, April 9.
While many wrestling promotions have continued their scheduled shows to empty venues, it's just not quite the same thing.
Don't worry, World Wide Wrestling 2nd Edition is here to fill that sports entertainment hole in our lives
! This Powered by the Apocalypse game not only lets you roleplay wrestlers through the ups and downs of their career, but also makes the promotion itself is a character that evolves as the storylines progress. The PDF is available for $15, the print version for $28, or add on custom move cards for $38. This Kickstarter is fully funded and runs until Monday, April 13.
That's all from me for this week! Don't forget
to support our Patreon
to bring you more gaming news content. If you have any news to submit, email us at
news@enworldnews.com
, and you can get
more discussion of the week's news on Morrus' Unofficial Tabletop RPG Talk
every week. You can
follow me on Twitch where I'll be playing Gabriel Knight this Sunday,
subscribe to Gamer's Tavern on YouTube for videos on gaming history, RPG reviews, and gaming Let's Plays
, or you can listen to
the archives of the Gamer's Tavern podcast
. Until next time, may all your hits be crits!
Note: Links to Amazon, Humble Store, Humble Bundle, and/or DriveThru may contain affiliate links with the proceeds going to the author of this column.