Hello everyone, Darryl here with this week's gaming news! More
Spelljammer
previews plus big Gen Con announcements from Paizo, Green Ronin, Critical Role, and more!
For a quick summary of the week's news, Jessica Hancock will bring you up to speed with
EN Live's This Week in TTRPG every Friday
.
Don't forget, you can keep up with all the week's gaming news in detail with
Morrus' Unofficial Tabletop RPG Talk
. This week, Morrus, Peter, and Jessica talk about playtesting a new game.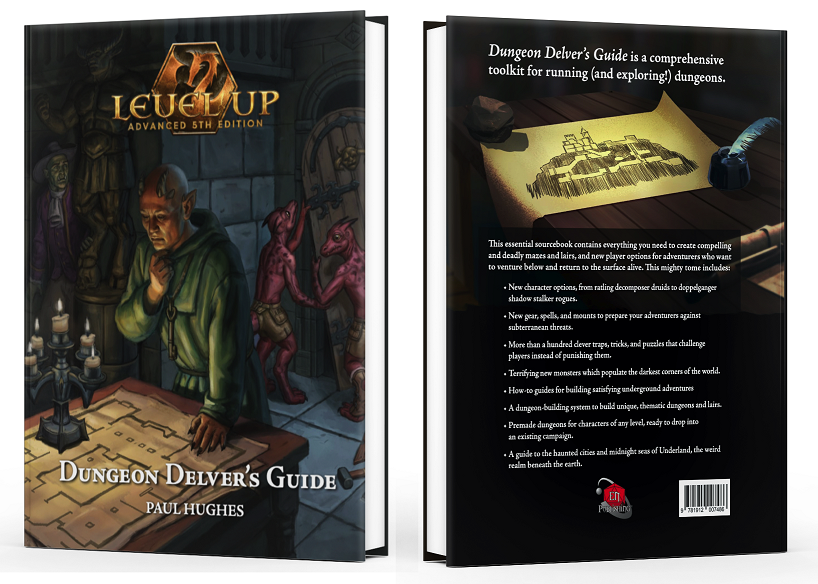 In case you missed it elsewhere on EN World this week:
Before we get into all the news coming out of Gen Con, Wizards of the Coast had some more previews and a big announced. First more
Spelljammer
with D&D Beyond previews of
the monsters scavvers, space eels, space hamsters (go for the eyes!), space mollymawks, and space swine
. Like previews D&D Beyond previews, this does not include any game stats but does feature new artwork and a general description of the monsters. Over on the D&D YouTube channel,
Chris Perkins talked about space clowns
(which is as frightening as it sounds) and
Boo, the miniature giant space hamster
. And Morrus has collected together several of the art previews and photos of the boxed set.
The boxed set for Spelljammer: Adventures in Space is set for release on August 16 with a retail price of $69.99
.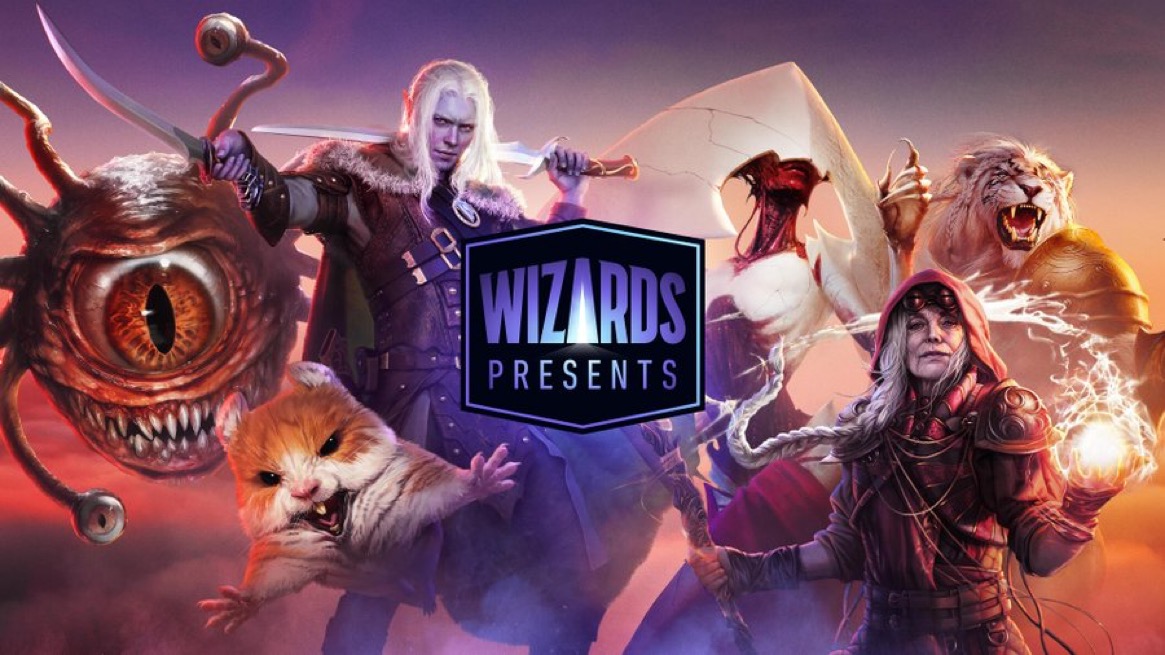 Bart Carroll also announced in the closing article for Dragon+ that Wizards Presents will take place on August 18
. We don't know a lot about the event yet other than we'll "learn more of the brand's future plans". The event will also cover
Magic: The Gathering
releases and will likely also include other announcements from the digital entertainment segment of Wizards of the Coast (though the latter has not been confirmed). The event will be live streamed, though no time has yet been announced. And just to feed fire to the speculation, "Wizards Presents" was the title of the line of D&D products released after
Dungeons & Dragons 4th Edition 3.5 Edition
closed but while
Dungeons & Dragons 5th Edition 4th Edition
was still in playtest with system-neutral setting content.
Corrected with the proper editions for the "Wizards Presents" series
.
And now it's time for the Gen Con news!
Free League announced the upcoming Kickstarter for a new edition of the classic Swedish RPG Drakar och Demoner published for the first time in English as Dragonbane
. The game was originally published in Sweden in 1982 and kicked off the Scandinavian TTRPG industry. Loosely translated as "Dragons and Demons", the first edition was a Swedish translation of the
Basic Role-Play
system by Steve Perrin used in games such as
RuneQuest
and
Call of Cthulhu
, but ended up with several modifications over the seven previous editions of the game including a move from percentile dice to a 20-sided die. The rights to the game changed hands several times over the decades, most recently with RiotMinds who used the system to back up their setting
Trudvang Chronicles
. Free League acquired the rights to
Drakar och Demoner
in 2021 with RiotMinds retaining the rights to
Trudvang
. The new edition will be designed by Free League CEO Tomas Härenstam along with a team of writers which will include historical fiction author Niklas Natt och Dag and art from Johan Egerkrans.
From the press release
:
We call this playstyle "mirth and mayhem roleplaying" – great for long campaigns but also perfect for a one-shot if you just want to have some quick fun at the table for a night. The core set will include at least one complete adventure and we hope to unlock many more as stretch goals, offering a complete campaign to play even in the core game set.
And if you needed more incentive to be interested: The game includes anthropomorphic ducks.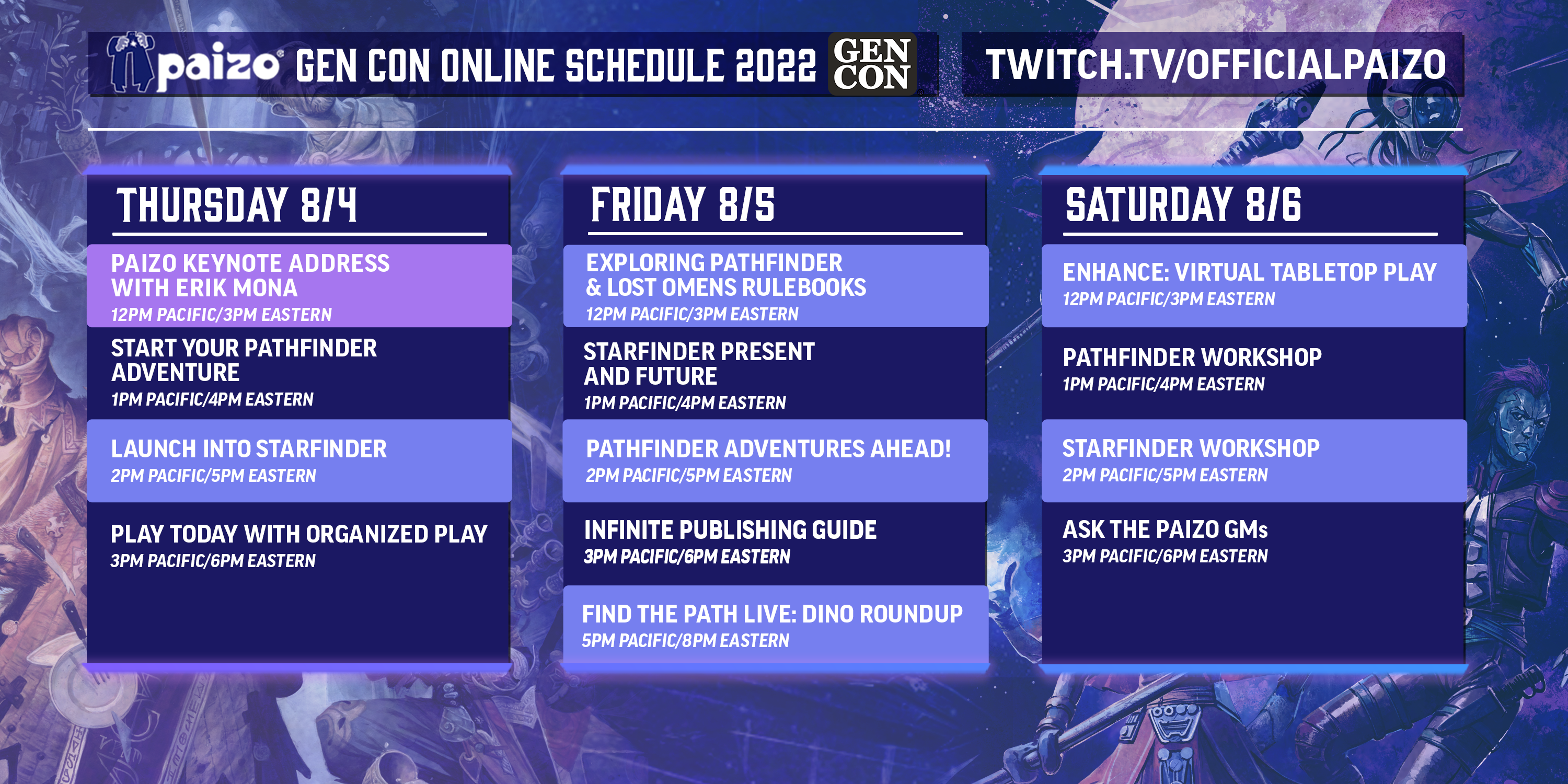 Paizo announced their streaming schedule for Gen Con with multiple live streams over the weekend
. Thursday included the Paizo Keynote Address with Erik Mona along with introductions to
Pathfinder, Starfinder,
and organized play. Friday will include new product announcements for
Starfinder
at 4 PM Eastern (1 PM Pacific, 9 PM BST), for
Pathfinder
at 2 PM Eastern (5 PM Pacific, 10 PM BST), and a stream about the Infinite third-party publishing program at 3 PM Pacific (6 PM Eastern, 11 PM BST). Saturday's streams will focus on workshops and introductory panels for virtual tabletops and gamemastering. And speaking of the Infinite program,
Paizo announced a new slate of community creators into the Infinite Masters program
of active and influential creators of the
Pathfinder Infinite
and
Starfinder Infinite
programs.
Evil Genius Games announced that Owen KC Stephens will be joining the company as Editor-in-Chief
. Evil Genius made waves recently with their Kickstarter for
Everyday Heroes
as a 5e reinvention of the
D20 Modern
system along with a slew of licensed tie-ins. Which makes Owen a great fit for the role considering he worked on the original
D20 Modern
for Wizards of the Coast along with
Dungeons & Dragons, Star Wars, Pathfinder, Starfinder,
and many others over the years. Owen will also maintain his role as Lead Developer on
Fantasy AGE
for Green Ronin Publishing.
Speaking of Green Ronin, they released a slew of physical reprints and new releases at Gen Con. The links below are for the PDFs on DriveThruRPG, but check your local game store soon if you want physical copes.
First up for Modern AGE is Cyberpunk Slice: Near Futures & Hackable Selves
featuring a collection of setting-neutral cyberpunk and post-cyberpunk material both from previously-published material and all-new rules and options.
Next is Six of Cups, an adventure anthology for Blue Rose featuring six new adventures
for characters of varying levels with resources for Narrators to create their own adventures.
Finally we have Danger Zones, a collection of urban settings for superhero adventures in Mutants & Masterminds 3rd Edition
fully detailed with descriptions, special rules, and NPCs ready to populate your encounters.
The OP (formerly known as USAopoly) announced the release of Clue: Critical Role this week
. This licensed adaptation of the classic board game
Clue
(or
Cluedo
in the UK) featuring licensed material from
Critical Role Campaign 2
. The game takes place during the Harvest Close Festival in Zadash as one of the members so the Mighty Nein is being targeted by a plot against them. Players must determine WHICH member of the team is being targeted, WHO is responsible for the plot, and WHERE the scheme is set to go down. The game will feature seven stand-up cardboard pawns of the Mighty Nein – Fjord, Caduceus Clay, Caleb Widogast, Jester Lavorre, Beauregard Lionett, Nott the Brave, and Yasha – seven sculpted tokens representing the target of the attack – Cloven Crystal, Cadeceus' Tea Cup, Frumpkin the Cat, Sprinkle the Weasel, Beauregard's Goggles, Nott's Mask, and Yasha's Mini Bone Harp – along with a game board featuring nine locations from the city. The game is available for purchase now for a retail price of $44.99.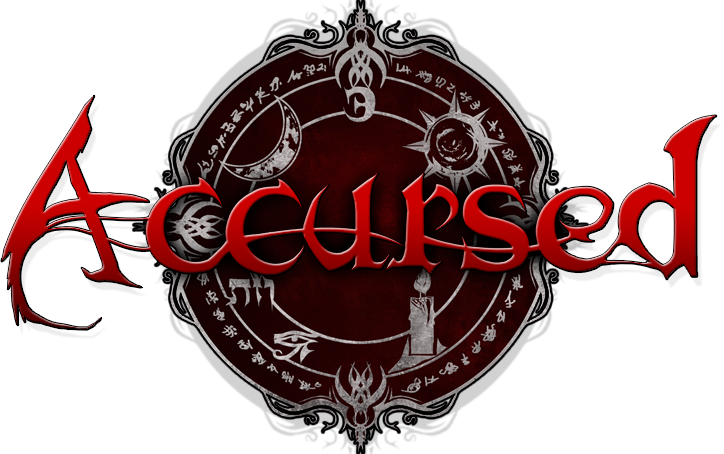 Ross Watson announced a new edition of the Savage Worlds horror setting Accursed
.
The dark fantasy setting described by someone as "…you secretly slipped
Ravenloft
some PCP". Okay, it was me covering the setting's original 2013 Kickstarter. The dark fantasy setting takes place in a world where powerful Witches conquered the land and plunged it into darkness where all manner of horrors have been unleashed. But the Grand Coven has been sundered, leaving the world split and the Witches' former agents, the Accursed, unable to return to their old lives as they attempt to atone for their past sins. The new edition will be an officially licensed
Savage Worlds
setting published by Sigil Entertainment Group with lead designer Ross Watson returning as Line Manager. More details will be available about the upcoming release in 2023.
Disclosure: Ross Watson was the host of the Gamer's Tavern Podcast which the author of this column produced and co-hosted from 2013 to 2016
.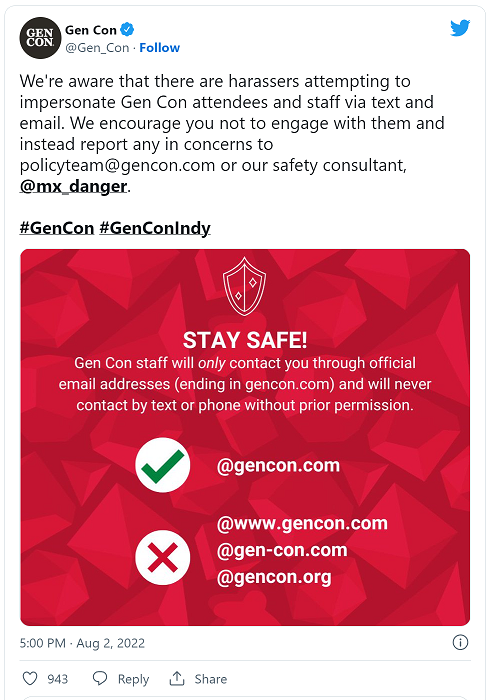 In the run-up to Gen Con, several women and BIPOC reported harassment from individuals claiming to be members of Gen Con staff and/or volunteers
. One harassing message sent to LaTia Jacquise of Monte Cook Games called her an "uppity black woman" and threatened to assault her as a member of Gen Con security along with the text "I have everyone's numbers because I am part of the safety team. Oopsie doodles. I guess your con isn't as secure as you weaklings would want it." Gen Con's safety consultant Kelsey "Magpie" Danger confirmed that none of the phone numbers of the affected people were in Gen Con's system and the convention does not believe that there was any information leak from within the convention nor any insider collusion at this time. In response to concerns voiced on Twitter, Mx. Magpie stated "It's not legitimate. They're being contacted by means that aren't in our system."
That's all from me for this week! Don't forget
to support our Patreon
to bring you more gaming news content. If you have any news to submit, email us at
news@enpublishingrpg.com
, and you can get
more discussion of the week's news on Morrus' Unofficial Tabletop RPG Talk
every week. You can
follow me on Twitch to get notifications when I go live,
subscribe to Gamer's Tavern on YouTube for videos on gaming history, RPG reviews, and gaming Let's Plays
, or you can listen to
the archives of the Gamer's Tavern podcast
. Until next time, may all your hits be crits!
Note: Links to Amazon, Humble Store, Humble Bundle, and/or DriveThru may contain affiliate links with the proceeds going to the author of this column.
Last edited: