Hello everyone, Darryl here with this week's gaming news! New errata for
Genesys System
, a new
Adventure Zone
game announced, a look at
Starfinder
on Alexa,
Call of Cthulhu
comes to Roll20, and more!
Don't forget you can get all of this week's news in podcast form at Morrus' Unofficial Tabletop RPG Talk. This week, Morrus and Peter take a look at the Alien RPG.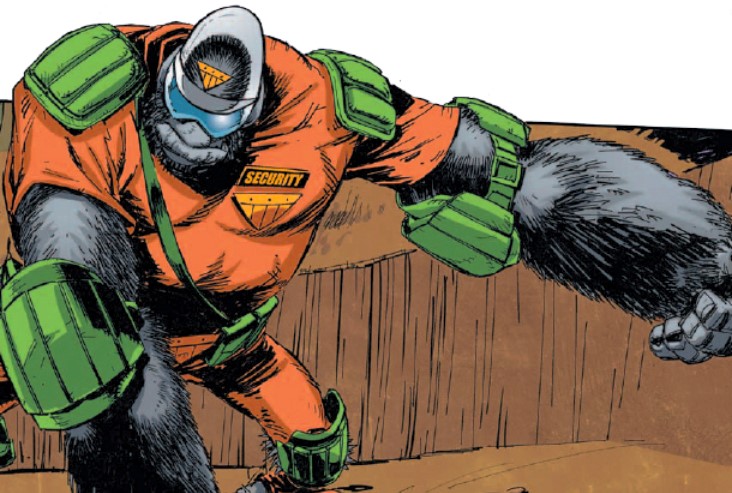 ​
In case you missed it here on EN World this week: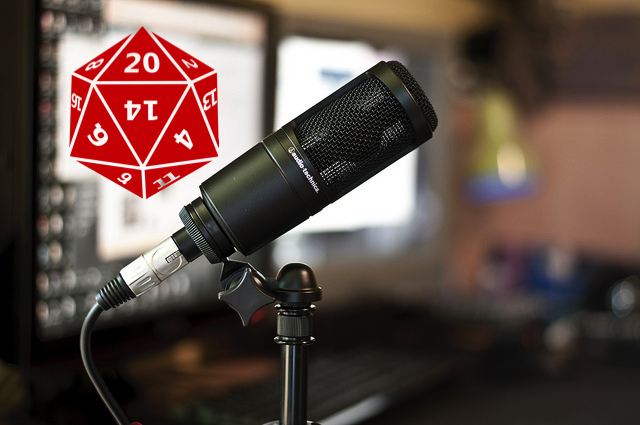 A reminder that it's that time of year again, time to vote on your favorite roleplaying game podcasts of 2019! The polls are open and you can vote for as many as you like. Like last year, the polls are split into two categories –
one for Actual Play podcasts
(recordings of people playing roleplaying games) and
one for Talk podcasts
(people talking about gaming news, advice for gaming, discussing lore, etc.). Polls are open until January 1, 2020, and we'll reveal the winners on our own podcast, Morrus' Unofficial Tabletop RPG Talk (which is also nominated for Favorite RPG Talk Podcast, not that I'm campaigning or anything…) after the polls close and results are verified.
The Starfinder app for Alexa is now available on Amazon Alexa enabled devices. If you have an Amazon Echo, Kindle Fire, or similar device, all you need to do is say "Alexa, Play Starfinder" to start. If you want a full review,
Ben Reece has a detailed look at how the app works and what the adventure is like
. I've played around a little with the app and the production values are high, using a combination of Alexa's own voice command functions and professional voice acting to tell the story. Just make sure to speak clearly and don't have your TV on when you say "Alexa, Play Starfinder" because one time when an old episode of
Gunsmoke
was on in the background, it started playing the song "Seekers and Finders" by Gogol Bordello.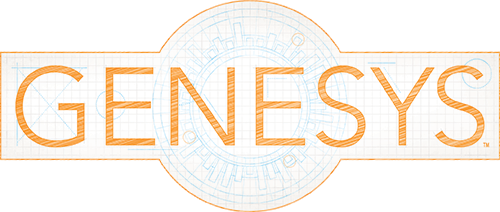 Fantasy Flight Games released version 1.1 of the errata for the Genesys System books covering the entire game line
. While much of the errata features the standard…for lack of a better term, "bug fixes" like adjusting stats or rules slightly for clarification or fixing typos, the errata also includes two large sections. The first is updated FAQs for both the campaign setting
Shadow of the Beanstalk
and the recently-released rules expansion
Genesys System Expanded Player's Guide
. The latter of those books included a new encounter building and balancing system, and this FAQ also includes three entire pages of charts to bring every single NPC, monster, beast, and creature in all existing
Genesys
products in line with that system by giving each Combat, Social, and General Challenge Ratings.
The PDF of the errata can be downloaded directly from Fantasy Flight at this link
.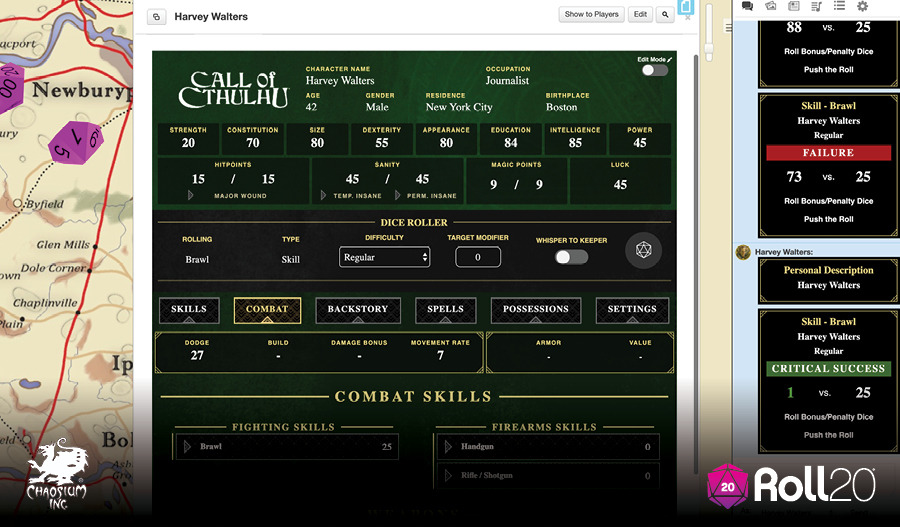 Chaosium and Roll20 announced that Call of Cthulhu 7th Edition is now officially available on Roll20
. The update to the virtual tabletop includes a free
Call of Cthulhu
character sheet available in the drop-down when you create a new game. You can also use the free QuickStart module to immediately load all the assets for the included quickstart adventure. The
Call of Cthulhu Keeper Rulebook Bundle
is available for $54.95 and includes the full rules compendium, over 30 NPCs and monsters, six maps with a GM layer and dynamic lighting support, stat blocks for mythos monsters and deities, over 100 spells and 700 items, two scenarios (
Amidst the Ancient Tree
and
Crimson Letters
), and a character art pack. There is also the free scenario
The Lightless Beacon
, which was included with Chaosium's free release tribute to founder Greg Stafford. Chaosium and Roll20 have promised further support for the system leading into 2020.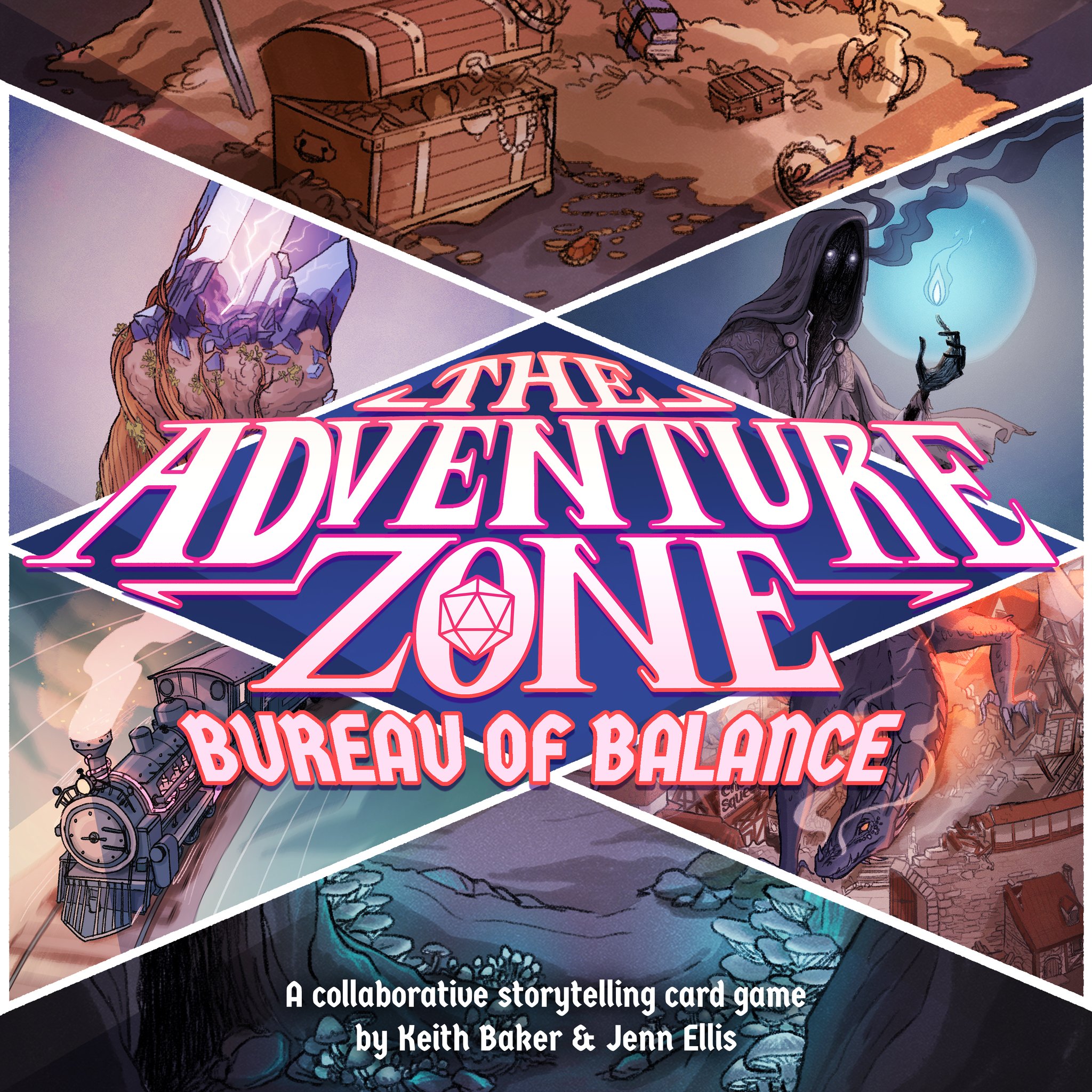 Twogether Studios launched a preorder campaign for The Adventure Zone: Bureau of Balance, a new cooperative storytelling game
designed by Keith Baker and Jenn Ellis in cooperation with
The Adventure Zone
podcast. The game features a card-based plot generation system to create a DMless RPG experience for 2-5 players that takes a little over an hour to finish. The base game is available for pre-order for $39.95, and there's a limited edition version with upgraded components available for $59.95. While not exactly a crowdfunding campaign, the pre-order campaign does feature unlockable stretch goals with bonus exclusive cards to expand gameplay unlocked as more pre-orders are secured. The pre-order campaign runs for a bit more than a month at the time of writing while the game itself will be available in August 2020.
Wizards of the Coast announced a big change to the way they handle Restricted and Banned card announcements for Magic: The Gathering starting immediately
. Previously, new banned or restricted card announcements would be made on a regular schedule and in advance of the ban taking effect. Starting this week, updates to the banned and restricted list will take effect immediately. From the announcement:
"We understand that there is value to players knowing in advance when B&R changes can or cannot happen. But as Magic continues to grow, this change will help us strike a better balance of providing the best play experiences at the right pace. We want to emphasize that this will not result in a difference in the number of changes or the philosophy behind them, only when we choose to implement those changes. And as always, we'll be watching and listening to community feedback."
The first two cards affected by this update are Oko, Thief of Crowns and Nexus of Fate, both of which were banned from the Pioneer format.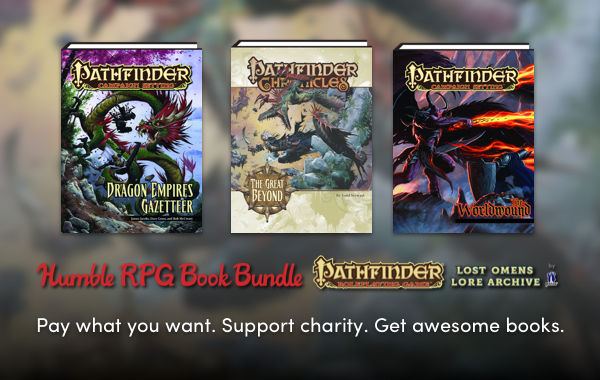 The Pathfinder Lost Omens Lore Archive Bundle is still live on Humble Bundle
. Featuring setting and lore books for the world of Golarion, the DRM-free books in this bundle are useful regardless of what edition of
Pathfinder
you're playing. The bundle features fifty books spread over five different tiers from $1 to $40. This Bundle runs until Monday, December 30. For those looking to get into creating content themselves in the new year, now's a good time to grab a couple of bundles to get you a head start, like
the Graphic Design and Visual Art Bundle featuring instructional books
on graphic design, art, layout, and more. And for those looking to get into video production,
the Filmmakers Bundle features over $1600 in post-production software for video editing and special effects
including not just libraries of pre-made effects ready to plug into your videos but also software to create your own effects from scratch with the top-tier including video editing software for just $30. This is one of those "seriously, get this deal because you almost never see this type of software and assets available this cheap" deals so make sure to check this out if you're looking to get into video creation!

So Sherlock Holmes Baker Street Irregulars has probably the most intriguing description of their game I've seen in a while: "A cooperative Graphic Novel adventure"
. The game features four 96-page softcover comic books that are written in a Choose Your Own Adventure-style (my words, not theirs, so no trademark suits ChooseCo) putting each of the 1-4 players in the role of the street urchins assisting Sherlock Holmes known as the Baker Street Irregulars. Each tale has multiple endings and multiple paths to each ending, plus each of the four Irregulars has their own unique abilities they bring to helping solve the mystery. You can get the core game for $30 or add on the graphic novel
Sherlock Holmes: The Beginning
for $45. This Kickstarter is fully funded and runs until Monday, December 23.
For those DMs who frequently find themselves needing to come up with a last-minute game idea, the Dungeon Down Time Adventure Collection is for you
. Each of these ten adventures features a dungeon map and generic description of enemies written to be system-neutral no matter what fantasy RPG or edition you play. Just plop in the appropriate stat blocks and you're ready to go! The PDF is available for $15 (though there's still a few Early Bird slots left for $10) or you can get just the maps for $5. This Kickstarter is only about halfway to its $1600 funding goal but has until Thursday, December 26 to cross the finish line.
You know, I've been playing RPGs so long and in so many game systems it can sometimes be difficult to come up with a unique backstory for my characters that I haven't used before.
So something like Better Backstories is perfect as it's a deck of cards to help you create your backstory
. Simply shuffle the deck and deal out a few cards (the recommended number is five) to create a backstory for your character. The cards are written just generically enough that you can fit them in most campaigns and there are several ways to interpret each card (so just because you and another player get the "Unpopular" card doesn't mean you'll end up with the same background). There are also several cards that include random tables as well, so if you get the Hobby card, you can pick the one you want or roll a d10 to find out what your hobby is. The sixty-four card deck is available for $10 though there are options for a limited number of upgraded holofoil cards for $45 or a personalized deck with your name on it for $55. This Kickstarter is blowing through stretch goals until it funds on Monday, December 30.
That's all from me for this week! Don't forget
to support our Patreon
to bring you more gaming news content. If you have any news to submit, email us at
news@enworldnews.com
, and you can get
more discussion of the week's news on Morrus' Unofficial Tabletop RPG Talk
every week. You can
follow me on Twitch where I'll finish up The Outer Worlds before starting a special Holiday stream of Skyrim,
subscribe to Gamer's Tavern on YouTube for videos on gaming history, RPG reviews, and gaming Let's Plays
, or you can listen to
the archives of the Gamer's Tavern podcast
. Until next time, may all your hits be crits!
Note: Links to Amazon, Humble Store, Humble Bundle, and/or DriveThru may contain affiliate links with the proceeds going to the author of this column.