Twas the night before Christmas when all through the net, game companies were silent, their announcement quotas met. But Darryl searched all over for more gaming news stories to inform you on all the RPG categories. So read on for all the updates and product reviews in 2021's final tabletop gaming news.
Don't forget, you can get all the news every week with
Morrus' Unofficial Tabletop RPG Talk
! This week, Morrus and Peter count down the Top 20 favorite RPG podcasts as voted on by you, EN World readers!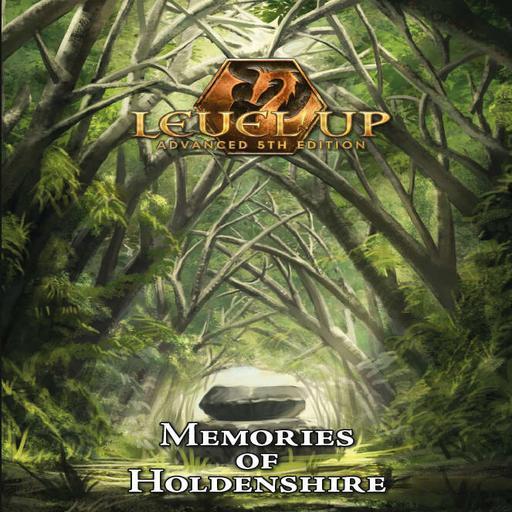 In case you missed it elsewhere on EN World this week:
After many long delays
including a lawsuit
, we finally have a cover reveal and a release date for the new
Dragonlance
novel.
Listed on the cover as Classic Dragonlance: A Dungeons & Dragons Novel: Dragons of Deceit: Dragonlance Destinies: Volume 1
(because we got to get all the branding in) by Margaret Weis and Tracy Hickman, this new novel in the
Dragonlance
series will be out on August 9, 2022. From the product description:
Margaret Weis and Tracy Hickman return to the unforgettable world of the New York Times bestselling Dragonlance series as a new heroine—desperate to restore her beloved father to life—sets off on a quest to change time.

Destina Rosethorn—as her name implies—believes herself to be a favored child of destiny. But when her father dies in the War of the Lance, she watches her carefully constructed world come crashing down. Not only does she lose her beloved father but the legacy he has left her: the family lands and castle. To save her father, she hatches a bold plan—to go back in time and prevent his death.

First, she has to secure the Device of Time Journeying, last known to be in the possession of the spirited kender Tasslehoff Burrfoot. But to change time, she needs another magical artifact—the most powerful and dangerous artifact ever created. Destina's quest takes her from the dwarven kingdom of Thorbardin to the town of Solace and beyond, setting in motion a chain of disastrous events that threaten to divert the course of the River of Time, alter the past, and forever change the future.
The book is available for pre-order on Amazon in hardcover, Kindle ebook, and Audible audio book
.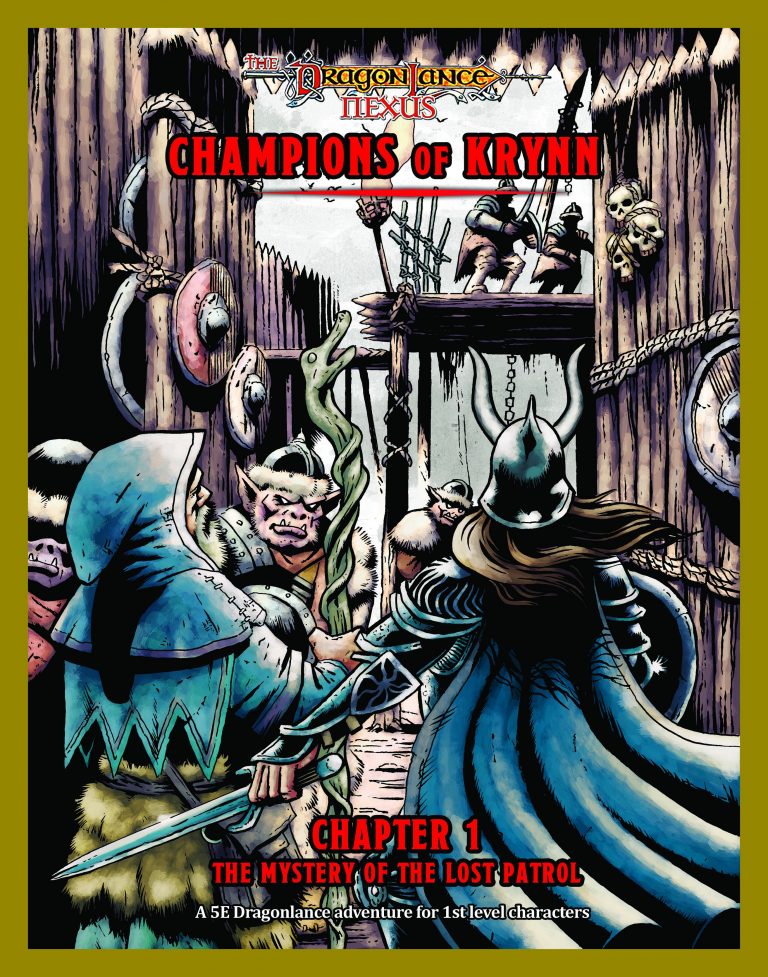 If that's not enough Dragonlance for you, the Dragonlance Nexus released a free 28-page adventure for 5e, Champions of Krynn
. The adventure is inspired by the classic Gold Box video game of the same name from Strategic Simulations, Inc. released in 1990. The adventure is split until four sections, each one taking about an hour to play. And to answer a common question that comes up with the Dragonlance Nexus, they are allowed to create material for the
Dragonlance
setting by Wizards of the Coast so long as they don't sell them. Two further chapters are currently in development, which will also be free on the Dragonlance Nexus website.
If you want more free Dungeons & Dragons adventures, Wizards of the Coast have made a preview version of Dragons of Icespire Peak available for free
.
Dragons of Icespire Peak
is
the adventure included in the Dungeons & Dragons Essentials Kit
,
the second of the starter sets released for 5e. The preview includes a quick introduction to the adventure and a dungeon to explore along with a selection of pre-generated characters, monsters, and magic items. For those curious about
Dungeons & Dragons
but don't want to spend any money before testing it out, the preview may be a good option before investing in one of the starter sets.

Steamforge Games announced a new tabletop roleplaying game based on the Dark Souls video game franchise
. The announcement came through a Twitter post:
Roll your dice beside the bonfire and link the flame [flame emoji] Dark Souls: The Roleplaying Game is coming. If you, too, would like to learn what lies in the heart of Lothric, add your name to the ranks of the Unkindled!
The
Dark Souls
franchise along with its predecessor
Demon Souls
and sister title
Bloodborne
inspired the genre of video games known as "Soulslikes" for their difficult combat focusing on strict management of stamina and other resources. The setting is a dark fantasy world where much of humanity suffers from an undead curse causing them to perpetually resurrect after death until they lose their minds. In the game, you explore these cursed lands to defeat various boss monsters in order to either preserve or damn the world. The tweet contained a link to
a website where you can sign up for email updates
. No further details have been announced at this time.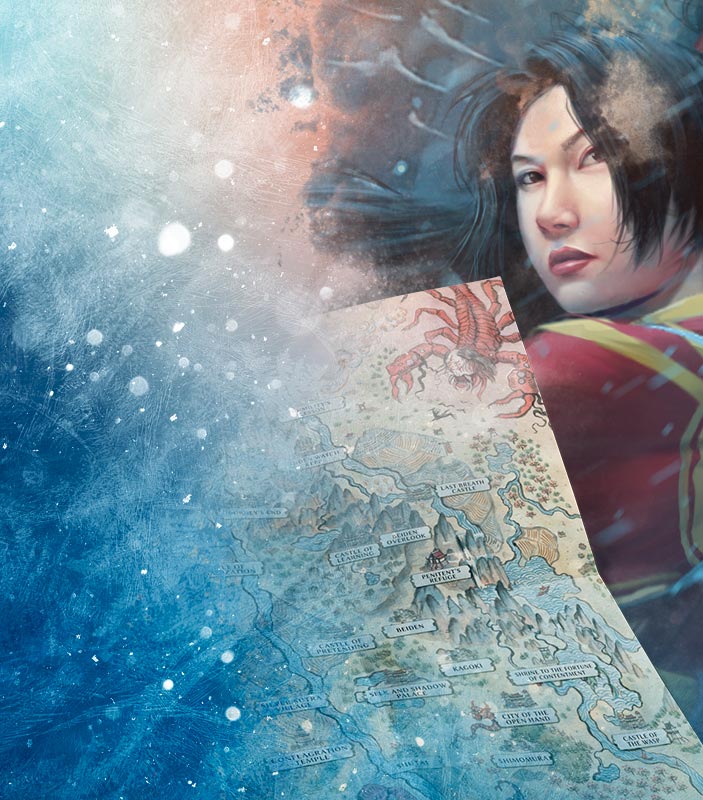 Edge Studio released a free holiday gift to fans of Legend of the Five Rings, two maps
. The two maps are for the territories of the Unicorn and Scorpion clans at a high resolution suitable for printing at 17 x 11 inch ledger size. Edge Studio also teased more map releases before the end of the year.
We also got a tease at the upcoming Embers of the Imperium, the new roleplaying game based on the Twilight Imperium board games from Fantasy Flight
. The post includes information about the development of the Keleres and the Agents of the Galactic Council.
Embers of the Imperium
will be a setting book for the
Genesys
system core rules and is set for release in 2022.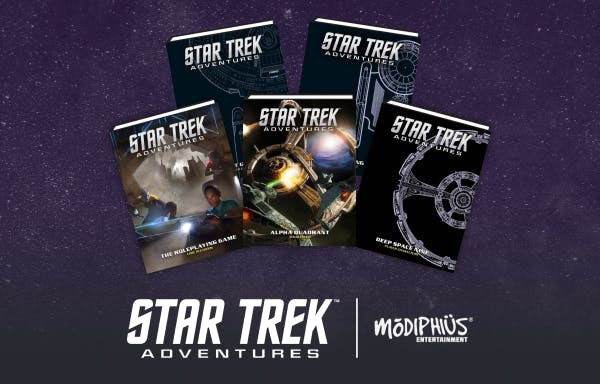 For those needing some very last-minute gifts, there are several tabletop roleplaying bundles from Humble Bundle available now and all of them can be gifted via email for immediate delivery.
Get ready to explore strange new worlds and seek out new life and new civilizations with the Star Trek Adventures Bundle
. The top tier of this bundle for $18 features DRM-free digital copies of the
Star Trek Adventures Core Rulebook
, the three supplements for
Operations, Science,
and
Command
divisions, sourcebooks on the Alpha and Beta quadrants, several collections of adventures, map tiles for Starfleet and Klingon ships and outposts, and character sheets for the crews of
Star Trek
(original series),
The Next Generation, Deep Space Nine,
and
Voyager
. This bundle benefits National Park Rescue and runs until Friday, January 7.
Paizo still has two bundles currently live for just a bit longer.
The Pathfinder Second Edition Beginners Bundle includes digital copies
of the
Pathfinder Second Edition Core Rulebook, Pathfinder Second Edition Bestiary, Starfinder Core Rulebook,
and a large collection of sourcebooks, setting books, maps, adventures, and more plus a physical copy of the
Pathfinder Second Edition Beginner Box
(though this option has been so popular that the
Beginner Box
is currently on back-order so expect a delay in shipping if you choose this tier). This bundle benefits the Trevor Project and Tabletop Gaymers and runs until Saturday, January 1.
The other bundle is the Ultimate GM Kit for Pathfinder featuring 29 items for Fantasy Grounds Unity
at the top $50 level including a 3-month subscription to Fantasy Grounds Unity Unlimited and a large selection of
Pathfinder 1st Edition
rulebooks, adventures, map packs, sourcebooks, and more. This bundle benefits Extra Life and also runs until Saturday, January 1.
There's also a deal to pick up both bundles for $100 and receive an additional $10 credit toward purchases on the Humble Store
.
If your tastes spin more toward the near-future, then listen up you primitive screwheads because the Cyberpunk Bundle is back
. This bundle features 30 items at the top $18 tier including a library of books for
Cyberpunk 2020
including the aforementioned
Listen Up You Primitive Screwheads
, all four
Chromebooks
,
Solo of Fortune, Night City
, and more plus the Jumpstart Kit for
Cyberpunk Red
. However, you'll need to kick in your reflex boosters as this bundle only has a few days left until it ends on Monday, December 27.
Finally, there's the Digital Dungeon Maps, Tokens, & Assets Bundle featuring a large collection of maps, tokens, and more ready for use in your virtual tabletop games
. The bundle features not only overland maps, tactical maps, and tokens for both PCs and monsters, but also includes collections of terrain and decoration to customize the maps for your games. The top tier is $30 and features 44 bundles of digital assets ready for use with any virtual tabletop. This bundle benefits the Navy-Marine Corps Relief Society and runs until Thursday, January 6.
That's all from me for this week! Don't forget
to support our Patreon
to bring you more gaming news content. If you have any news to submit, email us at
news@enpublishingrpg.com
, and you can get
more discussion of the week's news on Morrus' Unofficial Tabletop RPG Talk
every week. You can
follow me on Twitch to get notifications when I go live,
subscribe to Gamer's Tavern on YouTube for videos on gaming history, RPG reviews, and gaming Let's Plays
, or you can listen to
the archives of the Gamer's Tavern podcast
. Until next time, may all your hits be crits!
Note: Links to Amazon, Humble Store, Humble Bundle, and/or DriveThru may contain affiliate links with the proceeds going to the author of this column.