Hello everyone, Darryl here with this week's gaming news. New
Dragonlance
novels officially confirmed, new goth
Unearthed Arcana
for D&D, big Kickstarter growth in 2020, and more!
Don't forget, you can get all the news every week with
Morrus' Unofficial Tabletop RPG Talk
! This week, Morrus and Peter are joined by Tom Parkinson-Morgan to talk about
Lancer
and
Kill Six Billion Demons
.
In case you missed it elsewhere on EN World this week…
In separate but identical announcements, Tracy Hickman and Margaret Weis announced a multi-year licensing agreement with Wizards of the Coast to produce three new Dragonlance novels
. From the press release:
The new trilogy will return fans to the most beloved characters from the original novels along with introducing a new strong protagonist. The books will be published by Del Rey Books, an
imprint of Penguin Random House. Although a publishing date has not yet been formally set, they anticipate announcing when the first book will be released later this year.
While it has been well-known since
the lawsuit between Hickman and Weis against Wizards of the Coast
that a new
Dragonlance
trilogy was on its way, this is the first official announcement as the lawsuit was filed before the novels were announced. Like with most legal settlements, there appears to be a gag order on discussing the terms as the press release says Hickman and Weis "will not comment on the past dispute other than to say it has been resolved."
Hickman shared a picture on Twitter of manuscripts for the first two novels
, indicating that they are still using the original drafts (though likely with changes) from the original publishing deal. There's no announced release date, but
Amazon UK still has a placeholder page up with a July 29, 2021, release for "Dragonlance 1 Paperback"
.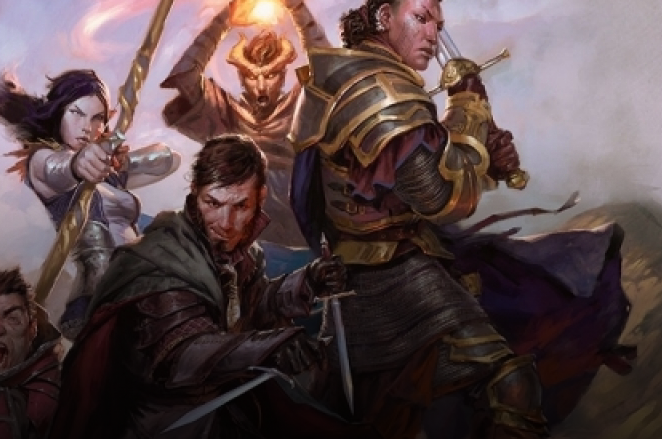 Wizards of the Coast released a new Unearthed Arcana playtest packet for Gothic Lineages, three new undead-inspired races
. The first race is a new version of the Dhampir with a selection of eight hungers (such as blood, flesh, dreams, or life energy) and eight origins (survived a vampire attack, incomplete transformation into a vampire, a pact with a being that shares their hunger with you, and others). The Hexblood is similar to the dhampir but for hags rather than vampires, with illusionary magic abilities and the ability to create magic tokens. The Reborn are undead or constructs that have returned from the dead that have lost their memories of their past life.
Additionally, a sidebar was added to the PDF on the changes to race based on
Tasha's Cauldron of Everything
. From this point forward, D&D races will no longer have ability score increases, languages, alignments, or "any other trait that is purely cultural". Racial traits will only include "the physical or magical realities of being a player character who's a member of a particular lineage" such as darkvision, breath weapons, or innate magical abilities. The term "race" will also be restricted solely to the "suite of game features used by player characters".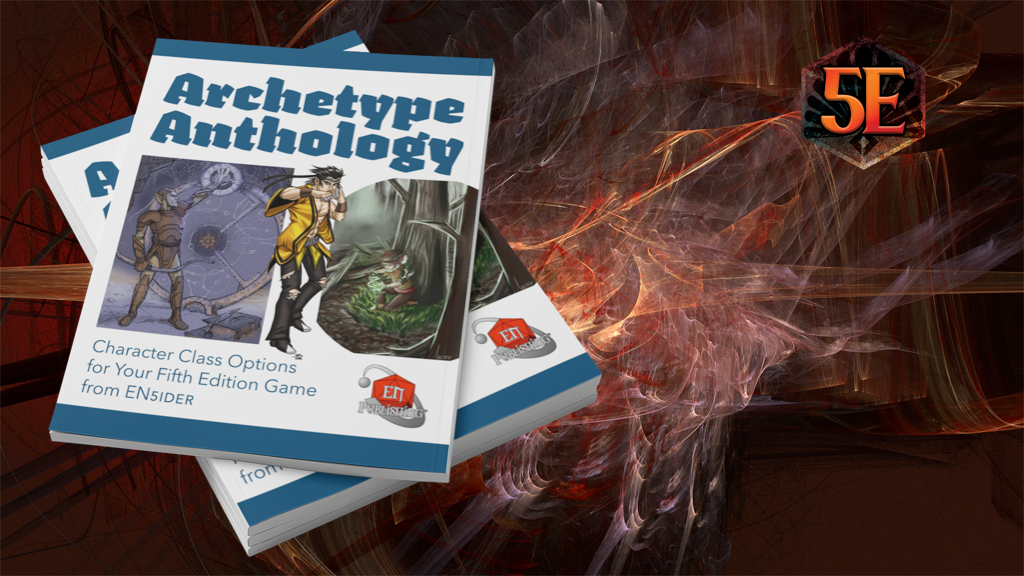 EN Publishing has a new Kickstarter for Archetype Anthology, over a dozen new subclasses, feats, fighting styles, and spells for 5e
. The archetypes include three new subclasses for the druid, two for the ranger, one for the barbarian, one for rogues, three for warlocks, and two for monks. There are also three new fighting styles, eleven new spells, three new feats, and six new warlock invocations. The 28-page book is available in PDF for £7 and softcover for £20 plus pledge levels to get all seven EN Publishing "quickstarter" books in PDF or softcover. Don't forget that EN Publishing Kickstarters fulfill immediately after the campaign ends, though I don't think Morrus is going to beat his record of sending out links one second after it closes, so you may have to wait as much as ten or fifteen seconds for your digital rewards this time around. This Kickstarter is fully funded and runs until Tuesday, February 9.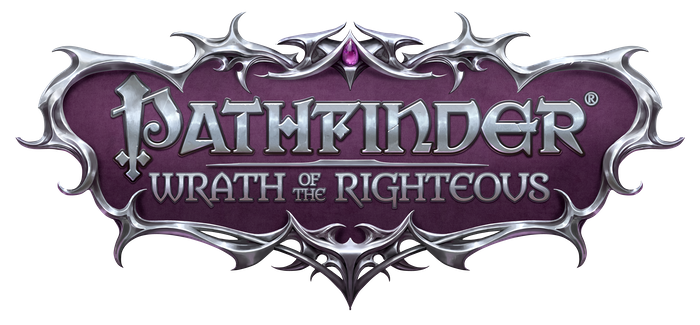 Owlcat Games announced via Kickstarter that the beta for the Pathfinder: Wrath of the Righteous video game begins on February 2
. The beta will include three completed chapters of gameplay with a fourth incomplete chapter plus some of the new added features. The new beta build will be previewed during a live stream on February 1 at 11 AM Eastern/8 AM Pacific on
the Owlcat Twitch
and
YouTube channels
. Backers of the Kickstarter at the Early Access tier or higher will get access to the beta via the Owlcat Games website. The Kickstarter for the game funded on March 11, 2020, with 35,092 backers raising over $2 million.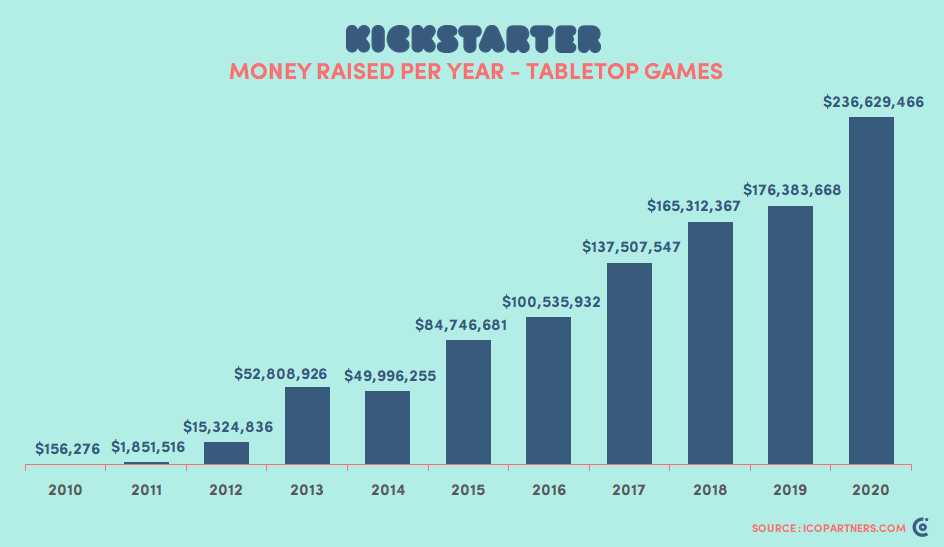 ICO Partners posted Kickstarter statistics from last year on Medium showing growth over the previous year there as well
. Overall Kickstarters grew from $615 million funded in 2019 to $730 million in 2020, an increase of $115 million and the largest year-on-year bump since 2014 for the platform. An entire section of the report focuses on tabletop games, which grew from $176 million in 2019 to $236 million in 2020, a 33% increase representing almost a third of all money raised on Kickstarter. This seems to be pushed not only by more projects launching but also that more of those projects are funding. While the number of projects per year that do not fund has stayed pretty steady since 2014 with between 1008 (2014) and 1326 (2018) projects failing to meet their goal, the number of projects successfully funding has increased year-on-year during the same time period with 2020 being the highest at 3163 successfully funded projects.
Essen Spiel organizer Friedhelm Merz Verlag announced that the massive European tabletop gaming convention will happen in person this year
. The convention in Essen, Germany, will take place on October 14-17, 2021, citing the prospect of widespread vaccination programs making it safe to have an in-person convention by that date. In the case that the event cannot be held safely, Verlag stated, "we will act responsibly as early as possible, as we did last year". The last in-person convention in 2019 had a turnstile attendance (meaning attendees are counted per-day attended and not per pass sold) of 209,000 with over 1200 exhibitors. Tickets for the event will go on sale in August.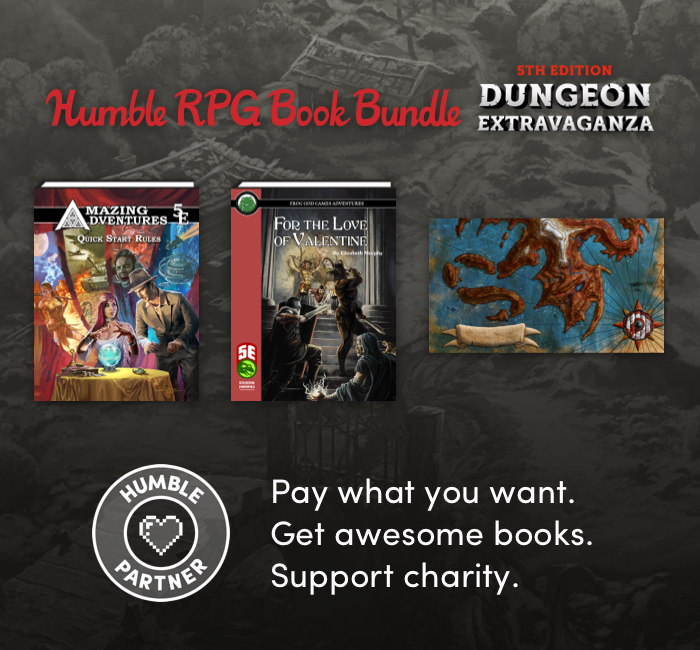 Humble Bundle released the 5th Edition Dungeon Extravaganza Bundle featuring over $400 worth of digital third-party 5e books
. The bundle features more than thirty adventures, sourcebooks, campaign setting books, map sets, and more available in three tiers ranging from $1 to $15. This bundle benefits the Navy-Marine Corp Relief Society and runs until Wednesday, February 17.
There's also one week left to get in on this month's Humble Choice selections featuring twelve video games
, including the tabletop-based
Vampire: The Masquerade Shadows of New York
and
Warhammer Chaosbane
. You get your choice of three games at the Basic subscription level of $14.99 per month and all twelve games at the Premium level of $19.99 per month. The subscription renews automatically, but you can cancel anytime and keep all the games you're previously purchased, but to get this month's games you have until Friday, February 5.
That's all from me for this week! Don't forget
to support our Patreon
to bring you more gaming news content. If you have any news to submit, email us at
news@enpublishingrpg.com
, and you can get
more discussion of the week's news on Morrus' Unofficial Tabletop RPG Talk
every week. You can
follow me on Twitch where I'll be streaming this Sunday,
subscribe to Gamer's Tavern on YouTube for videos on gaming history, RPG reviews, and gaming Let's Plays
, or you can listen to
the archives of the Gamer's Tavern podcast
. Until next time, may all your hits be crits!
Note: Links to Amazon, Humble Store, Humble Bundle, and/or DriveThru may contain affiliate links with the proceeds going to the author of this column.