Hello everyone, Darryl here with this week's gaming news. Ex D&D Designer posts accusations of hostile work environment, Gen Con Online registration live, Critical Role addresses consultant controversy, disclaimer added to classic D&D products, and more!
Don't forget, you can find out all the week's RPG news at
Morrus' Unofficial Tabletop RPG Talk
. This week, Morrus and Peter are joined by Mike Myler to talk about the current EN Publishing Kickstarter, Mythological Figures & Maleficent Monsters.
In case you missed it elsewhere on EN World this week…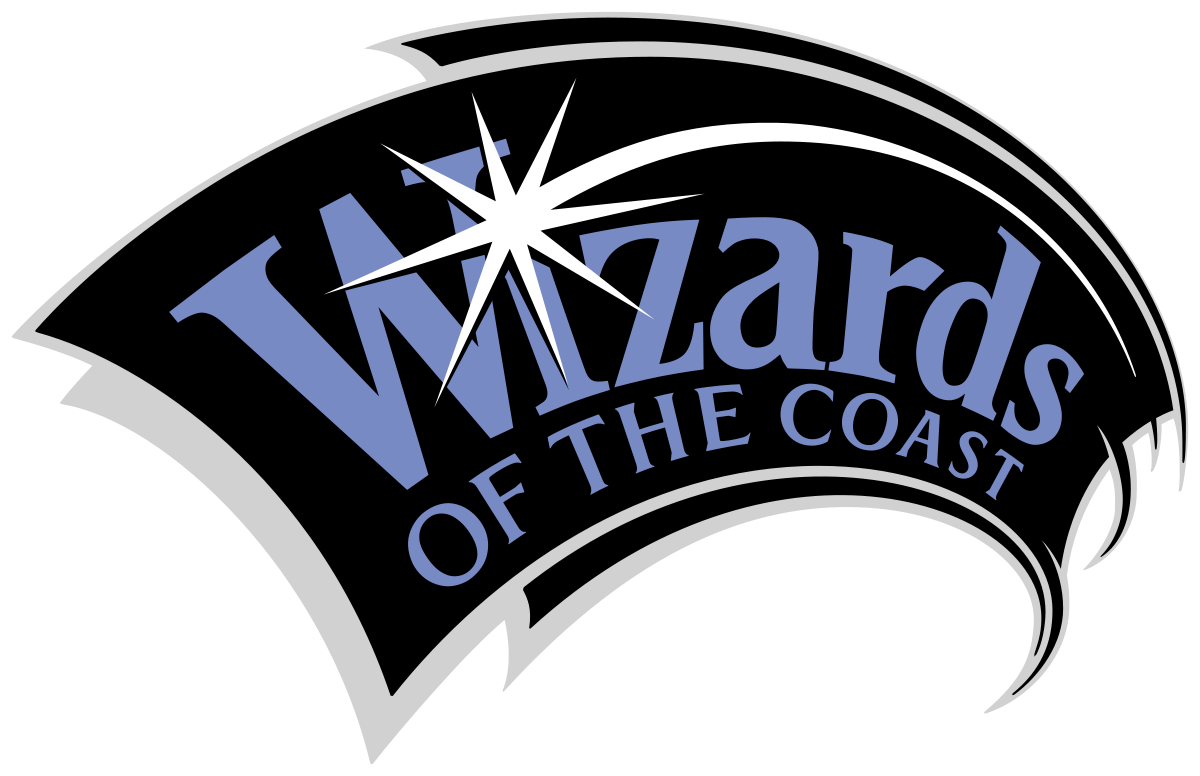 Orion Black (also known as DungeonCommandr) announced they were no longer employed by the Wizards of the Coast Dungeons & Dragons team
. Black released a long statement following their departure from the company with claims of racist hiring practices, a hostile work environment, silencing of dissent, and plagiarism. The full statement has been reproduced in the link above
and is still available on TwitLonger
, a website that allows long Twitter threads without character limits.
The claims made echo those of former Wizards of the Coast Magic: The Gathering employee Zaiem Beg in his June 8th post, "The Wizards I Know"
. Black's statement ended with calls not to judge creators still working in the
Dungeons & Dragons
space, saying
"A lot of BIPOC and other marginalized people are trying to make their way by using D&D. Dont [sic] shame them for that. Think about how much, and when you wield your anger, that it is done righteously. That said, I dont [sic] recommend to anyone, working for the D&D department of Wizards of the Coast."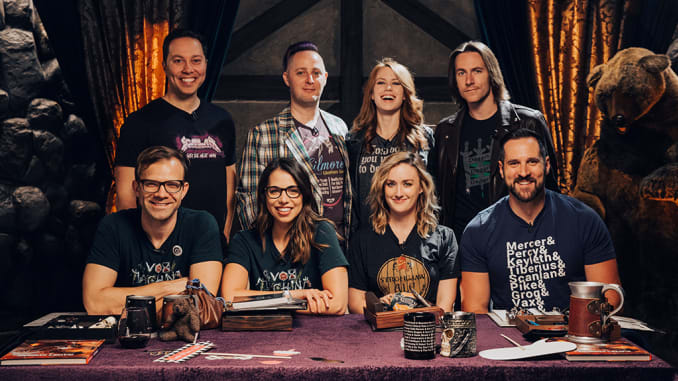 Critical Role also addressed a controversy involving employment this past week
. On June 25, a Twitter user posted claims backed by Discord screenshots of conversations with an employee of Critical Role where he volunteered as a sensitivity consultant for the company. After fulfilling that role for four months, he asked to be paid as a consultant for the work he was doing to help Critical Role counter toxic bullying among their fanbase. After this request was made, the person states that the Critical Role employee "ghosted" him, cutting off all communications.
On July 6, Critical Role released a statement with the conclusions of an internal investigation of the allegations. The statement confirmed the majority of the details, though framed the consultation work claimed as a normal fan interaction with a staff member. The only significant detail disputed between the two accounts is the poster claims Critical Role initially accepted his offer to work as a paid consultant before cutting off communications while Critical Role states they were firm there was not an offer of paid work. The person who made the initial claims has stated that he was not contacted by Critical Role or any representative of the company at any point during the investigation.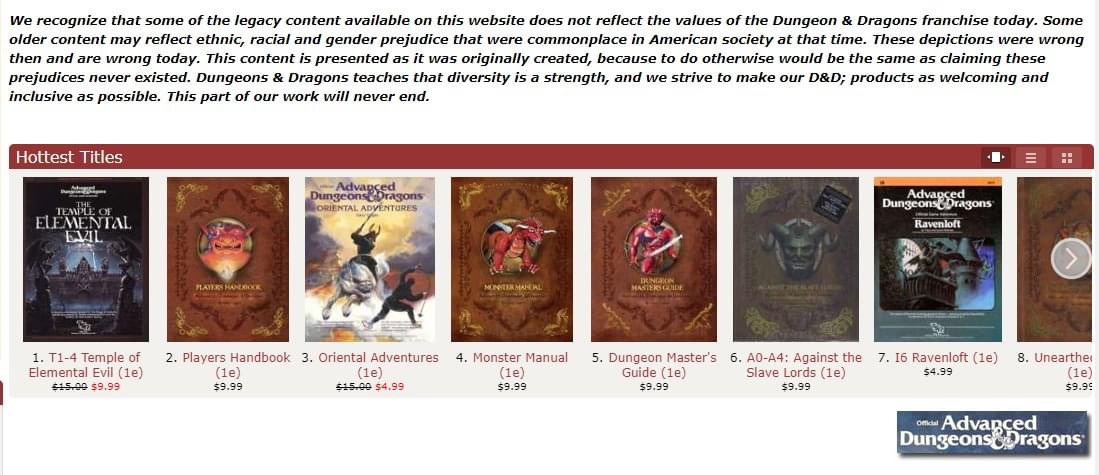 Wizards of the Coast have added a disclaimer to several products from previous editions of Dungeons & Dragons available for sale on Dungeon Masters Guild
. This disclaimer appears at the bottom of the product description of all classic titles on DMs Guild, but also appears at the top of the description of certain products including the AD&D 1st Edition
Oriental Adventures
sourcebook.
We (Wizards) recognize that some of the legacy content available on this website does not reflect the values of the Dungeons & Dragons franchise today. Some older content may reflect ethnic, racial, and gender prejudice that were commonplace in American society at that time. These depictions were wrong then and are wrong today. This content is presented as it was originally created, because to do otherwise would be the same as claiming these prejudices never existed. Dungeons & Dragons teaches that diversity is a strength, and we strive to make our D&D products as welcoming and inclusive as possible. This part of our work will never end.
This wording does not appear in the PDFs themselves for these products as the files themselves have not been updated through DMs Guild's system. Similar warnings have been used in the past for problematic media, including several movies with racist content but most well-known are the DVD and Bluray collections from Warner Bros. of
Looney Tunes
and
Merry Melodies
cartoons
.
Tabletop gaming Kickstarters have continued to grow despite the chaos of the ongoing pandemic
. Based on analysis from ICO Partners, tabletop gaming Kickarters continued to grow for the first half of 2020 with pledges totaling over $117 million (up from just short of $96 million in the second half of 2019 and over $80 million for the first half of 2019). However, there has been a distinct decline in the number of projects offered and the number of individual pledges month-to-month from 2019 to 2020, with a 24% decline in projects launched between March 2019 and March 2020, 34% decline for May between the two years, and 30% for May. While some credit can go to the massive campaign for the board game
Frosthaven
which raised $13 million, as you can see from the numbers, even discounting that total there would still be growth over the previous two six-month periods.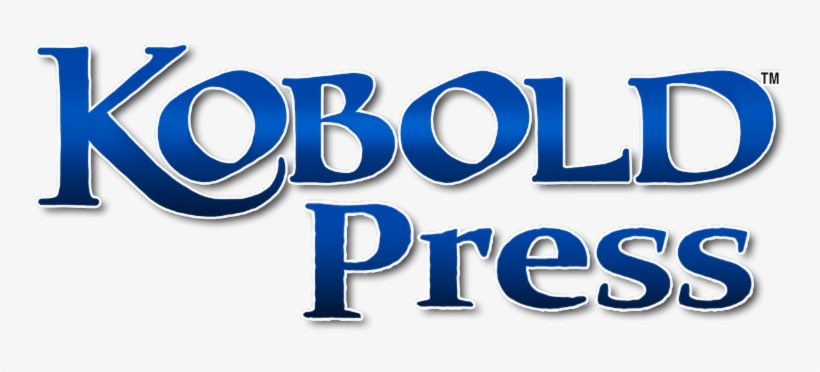 Paizo said goodbye while Kobold Press said welcome home to designer Amanda Hamon. Hamon previously served as the Managing Developer for
Starfinder
as well as several other roles over the previous five years.
Paizo Managing Developer Adam Daigle posted a farewell message to Hamon on their blog wishing her luck in the future
. Meanwhile,
Hamon herself posted "A Kobold Comes Home" to announce her new role as Editorial Director for Kobold Press
. Hiding in the announcement is a forthcoming live stream set in Kobold Press's 5e setting
Midgard
with Hamon as the GM.
The Gen Con Online Event Calendar is now live with over 4600 events scheduled
. Based on the category listings, there are over 2500 RPG events, over 1200 board game events, over 200 seminars, 112 entertainment events, 81 workshops, and 13 entries in the film fest plus other categories. Registration requires a free badge in order to sign up for any event and there are many free events, but most require a fee per event. The vast majority of paid events are $2 (similar to the cost of events at the physical Gen Con) while others range from $4 to $12. Be warned that a few are much pricier, such as a charity Eberron Adventure League event DM'd by Wizards of the Coast's Chris Lindsay for $300. Some events will require third-party software or accounts as well, so make sure you're aware of what you need before you sign up. Gen Con Online takes place from July 30 to August 2.
Friend Computer demands your attention for a new product for Paranoia from Mongoose Publishing, Project Infinite Hole: A R&D Sourcebox
. This boxed set includes new devices designed by the brilliant and loyal Research & Design team for Troubleshooters to make sure of and test, along with a deck of 120 new cards representing those devices. For those of Ultraviolet Clearance (also known as "Gamemasters"), a Service Book will inform you of the inner workings of how R&D works while the R&D Mission Book features several missions to send your Troubleshooters on. The Red Clearance Level pledge of £30 (about US$38) allows you access to PDF versions of the book while the Orange Clearance Level pledge of £50 (about US$63) provides you with the physical boxed set. There are also more pledge options for those of you who aren't Commie Mutant Traitors to choose from as well. This Kickstarter has been fully funded (as if there was any doubt Friend Computer's Kickstarter would not fund) and will unlock more stretch goals until Sunday, July 19. (Sorry, I just can't resist anytime
Paranoia
comes up.)
The 5e Character Cards are unique spell trackers for the various casting classes of 5e
, but calling them just "cards" is a grand disservice. Each card is carved from solid wood of your choice including cedar, cherry, maple, and walnut or more exotic woods like bloodwood, padauk, and purpleheart. Each tracker has a carved inset for a die so you can track how many spell slots or level-based abilities you have left. The classes included are: Bard, Cleric, Druid, Fighter (Battlemaster), Fighter (Eldritch Knight), Sorcerer, Paladin, Ranger, Rogue (Arcane Trickster), Wizard (both generalist and the Abjuration, Divination, Necromancy, and Bladsinger schools), Artificer, and the Blood Hunter (Mutant, Ghost Slayer, Lycan, and Profane Soul subclasses). The Class Tracker is available in domestic wood for $15 or exotic woods for $25 (though read carefully if you're outside the United States due to shipping requirements). This Kickstarter is fully funded and runs until Thursday, July 16.
That's all from me for this week! Don't forget
to support our Patreon
to bring you more gaming news content. If you have any news to submit, email us at
news@enworldnews.com
, and you can get
more discussion of the week's news on Morrus' Unofficial Tabletop RPG Talk
every week. You can
follow me on Twitch where I'll stream something soon I swear no matter if I can get this new capture card to work or not,
subscribe to Gamer's Tavern on YouTube for videos on gaming history, RPG reviews, and gaming Let's Plays
, or you can listen to
the archives of the Gamer's Tavern podcast
. Until next time, may all your hits be crits!
Note: Links to Amazon, Humble Store, Humble Bundle, and/or DriveThru may contain affiliate links with the proceeds going to the author of this column.