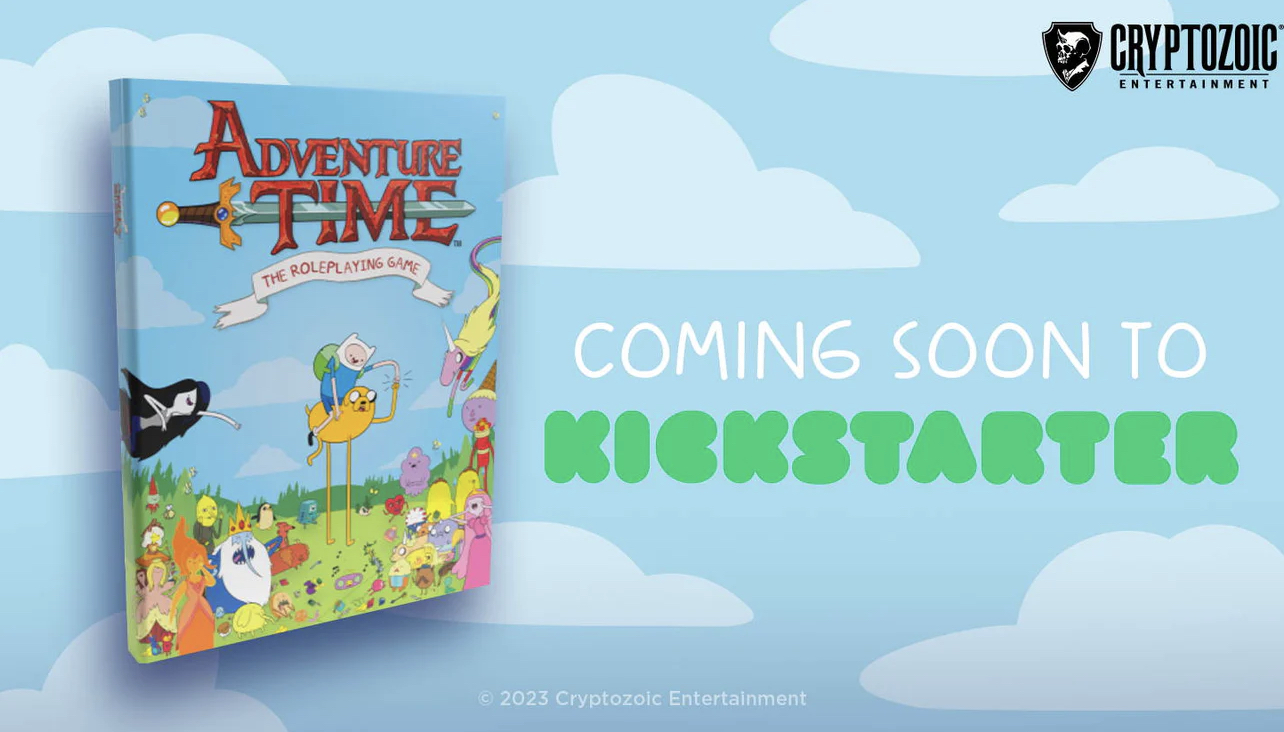 Fans of the popular Adventure Time cartoon will be pleased to hear that the official TTRPG is on its way--using a new game system called the 'Yes And' system, which features custom dice and a storytelling approach. It's coming to Kickstarter in late summer, and also includes an introductory adventure design to teach the system.
Publisher Cryptozoic Entertainment is also working with other publishers to bring the game to additional rule systems. There's no details yet on what those systems are.
Cryptozoic Entertainment, leading creator of tabletop games, trading cards, and collectibles, in collaboration with Warner Bros. Discovery Global Consumer Products, today announced the upcoming Kickstarter campaign for the Adventure Time: The Roleplaying Game. Fans can sign up to be notified upon launch.

Based on Cartoon Network's Emmy and Peabody Award-winning animated series, Adventure Time, this innovative roleplaying game offers an immersive and accessible experience for both novice players and seasoned RPG enthusiasts ages 12 and up. At the heart of the Adventure Time: The Roleplaying Game is the "Yes And" game mechanic, developed in partnership with Forever Stoked Creative. The "Yes And" system determines success and failure via a custom set of dice, while encouraging collaborative storytelling and ensuring that players are always engaged. The game's intuitive storytelling approach will eliminate the need for complex calculations and allow players to focus on the narrative itself.

"Adventure Time is one of our favorite properties, so it was the perfect choice for our first roleplaying game," said John Nee, CEO of Cryptozoic. "The series is rich with stories and characters with real heart, and we cannot wait to let players lose themselves in the world, whether they are RPG experts or this is their foray into the genre."

The game allows players to get as silly or heartfelt as they please, offering a wealth of character customization options. Players can choose from a diverse range of abilities, mixing and matching to create unique characters that suit their playstyle. Alternatively, fans can step into the shoes of beloved Adventure Time characters like Marceline with ready-made character sheets.

The game launches with a variety of adventures, including a learn-by-playing introductory adventure that allows new players to dive into the world of Adventure Time in minutes. As they progress through the initial adventure arc, players will create and explore their own stories.

"We're excited because the customization options make the possibilities endless," said Matt Fantastic, Creative Director of Forever Stoked Creative. "Adventure Time fans will love it, but so will anyone who loves to dive headfirst into the world-building and problem-solving that comes with a quality RPG."

As part of this ambitious project, Cryptozoic Entertainment has partnered with renowned designers and publishers to create zines and supplements that enable players to incorporate different core rule systems. This enables fans to explore Adventure Time using alternative popular roleplaying engines and play with an incredible array of optional rules.

The Kickstarter for the Adventure Time: The Roleplaying Game will launch in late summer. Fans can sign up to be notified when the campaign launches. For the latest campaign news and sneak peaks, including reveals of some of the amazing talent that will be adding content to the campaign, fans can follow Cryptozoic on Facebook and Twitter.
Last edited by a moderator: