Artist
: Keith Parkinson
Source
: Unknown
Class
: Fighter
Next is the Fighter – yes, I love all playing all (1E) character classes (except the Illusionist and the Monk).
Raised walking in forests and visiting medieval and late-medieval villages, castles, fortresses, churches, and monasteries ruined and still intact all over Western Europe whenever we were on holiday (and reading all histories, fables, and stories medieval I could get my hands on), I have always loved the archetypal noble knight – the hero of song and legend, such as Roland and his sword
Durandal
at Roncesvalles and king Arthur and the knights of the round table, except Lancelot coz you don't do that and, obviously, Richard-
lamping-
Gere.
So I started out playing Paladins until I found it increasingly difficult to reconcile them being lawful good with killing creatures in dungeons left and right and veered towards heroic fighters not of lawful good alignment – and not evil because heroic.
I suppose the first piece of art that inspired me to love heroic fighters was the
Suske en Wiske
* album
De Ringelingschat,
Willy Vandersteen's take on the hero Siegfried and the saga of the Nibelungen, in which Lambik effectively played the role of Siegfried (Bikfried), slayed the dragon, but was treacherously killed after that. I remember being genuinely impressed by the funeral scene, which a the time sort of epitomized all that a heroic fighter is about – fighting for a good cause against the odds, knowing full well that the cause is more important than one's life, with his eventual death serving to further cement the notion and being the poets' cue to start writing their ballads and songs.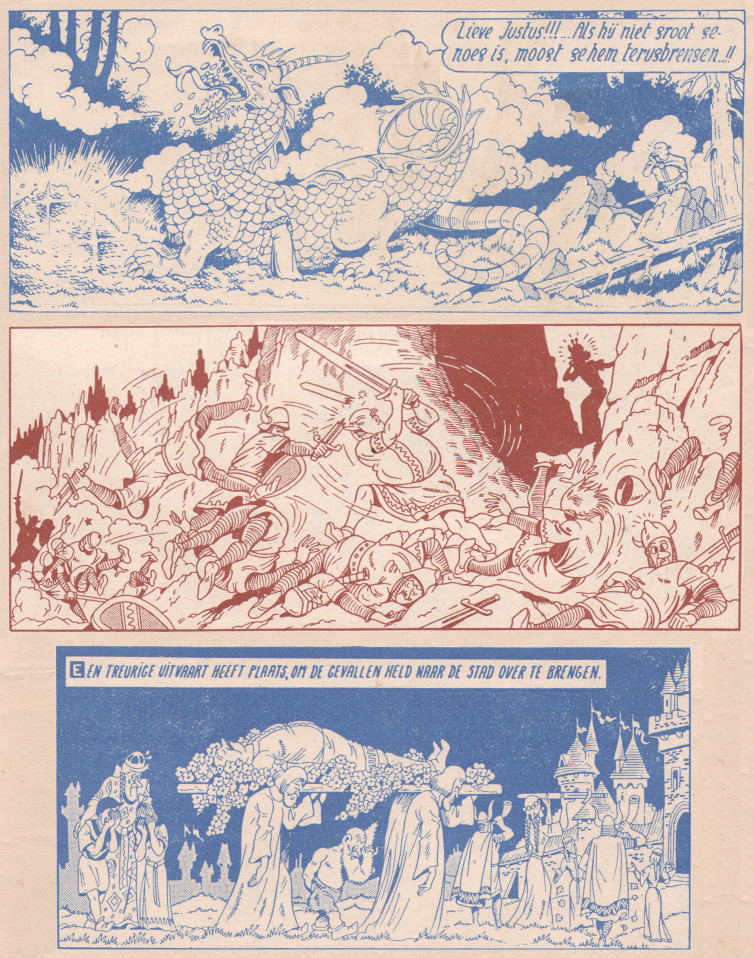 From: Willy Vandersteen, Suske en Wiske – De Ringelingschat (Standaard Uitgeverij, 1951)
So, when, years later and after playing many other classes, I saw the picture below by Keith Parkinson, I think in an issue of
Dragon
magazine, the memories of Lambik's funeral scene came flooding back and my love of heroic fighters was rekindled.
* Known as
Bob et Bobette
in France and as
Spike and Suzy
in the UK.