The great city of Xirr is a heaving cesspit of humanity. The diseased heart of a nation that has long since given up on the gods and turned to the worship of their tormentor Xall Lord of plagues, The Scaberous One.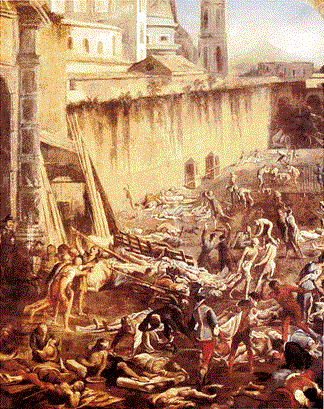 ​
The people of Xirr tend great open temples feeding their dead to seething pits of maggots and leeches, tending to the needs of great black clouds of flies. Only those most devout remain free of disease, and despair hangs thick in the air a palpable and hideous stench.
But there are still good men in the city, the priests of Alira do their best to tend those they can in secret hiding in catacombs beneath the city. But lately the Priests have seen signs that something even more terrible approaches the city from below...
| | |
| --- | --- |
| OOC: | A 5th level PF game set in an undefined and non canonical area of the Living Pathfinder world of E'N in order to allow me to explore some ideas and oil rusty DMing muscles. The idea is to run the game in small segments giving each both a satisfying conclusion and potential for expansion. |
20 Point Buy.
Core and APG only, no monsterous races.
HP max at first, choose rolled or maximum possible per hit die - 2 thereafter.
2 Traits, which must be official.
Wealth of 10500gp.
No Item Creation.
Using fast XP progression.
Character Sheets should be posted in the Rogues Gallery.
The Pantheon will use the Living Pathfinder Divine Archetypes system see
HERE
for details.
What can you expect?
Expect tough challenges, some character death, some horror style play, and a largely hostile society. I'll be experimenting on you a little and definitely using some custom monsters, etc. It will probably be preferable to attempt a reasonable level of optimization.
Maps with keys will be used for battles so you will need to provide an icon for your character. These maps will either be nice ones stolen from the internet and photoshopped to fit our needs or knocked up on Dungeon Crafter III and again photoshopped as necessary.
I am looking for 4-5 applicants who can post at least once a day except on weekends.
Applications are currently closed.
Last edited: