Hey, my investigative time travel game for Pelgrane Press is Kickstartering-off on Tuesday 1/21/14 at noon. I'm setting up immediate access to the playtest manuscript and the character creation tools to all pledgers, and I could not be happier with how it's turning out.
EDIT:
The Kickstarter is live, so come see! Link here! https://www.kickstarter.com/projects/kevinkulp/timewatch-gumshoe-investigative-time-travel-rpg
Also? Spiffy cover.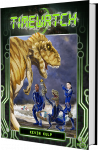 I'll post the link once we're ready to roll Tuesday. Hooray!
Last edited: