While under quarantine,
virtual tabletops have grown in popularity
as they became the main way tabletop gamers connected. On Kickstarter, a new option,
Role
, is funding. I spoke with
Role
CEO, Logan Dwight, to learn more about the system and what differentiates their product from the others on the market.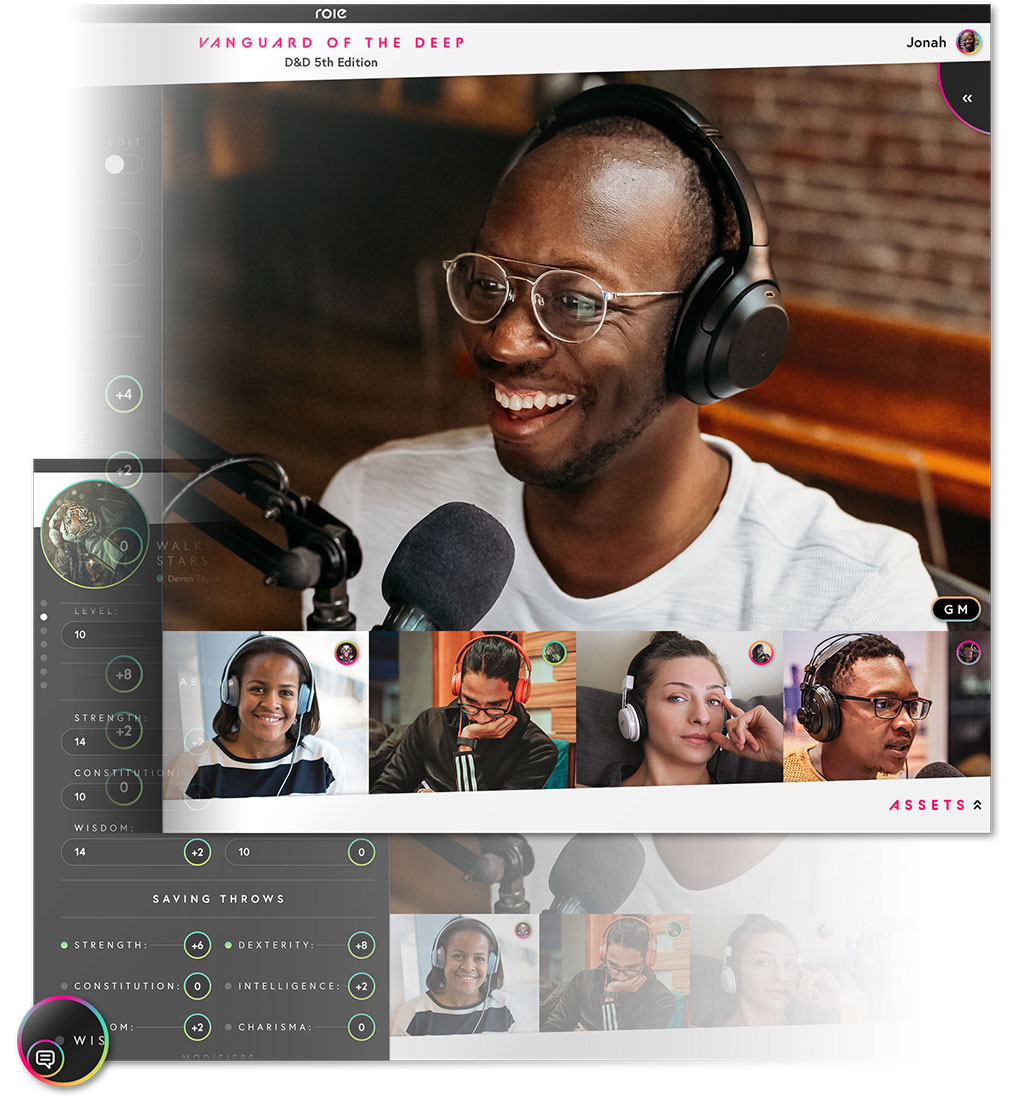 EGG EMBRY (EGG): Thanks for taking time from your
campaign
to talk with me. Tell us what
Role
is?
LOGAN DWIGHT (LD)
:
Role
is a community platform for TTRPG players and creators – both veterans and newcomers alike. We wanted to create something new, a set of tools and spaces that we felt weren't already out there today. The idea actually started six years ago, when we designed a simple mobile app around the idea of streamlining RPG play in a way that was easy to learn and quick to enjoy. That app went on to reach over 100,000 players - and that's when we knew we were onto something! From there, we went back to the drawing board and designed a whole new web product from the ground up. Combining powerful and intuitive video play tools, a modular code-free interface, player matching services, and a premium modern marketplace -
Role
is a new kind of people-centric platform for the RPG community.
EGG:
Fantasy Grounds
,
Roll20
,
Astral Tabletop
,
D20PRO
, and more occupy this space. What differentiates Role from these products?
LD
: We looked at all the tools available today, and felt that we needed to focus differently. For one, our primary features are not designed around complex battle maps, database management, and encounter builders. We asked ourselves "what's the most common, delightful thing every game has in common - regardless of rules or complexity level?" The answer to us was obvious: it's the joy of playing with great people and seeing the reactions on their faces as you tell a story together. To that end, we've gone all-in on making
Role
the best video-centric play tool it can be. That means premium, full-screen, stable, high-resolution video chat for all players and all games. Our play interface is designed like a video call, but with all the added tools needed for TTRPGs built into the frame. It's all meant to be simple, modular, and fun. We want the process of getting online and playing with friends to be fast, reliable, and easy. Now, that doesn't mean we won't support tactical maps and encounter builders eventually - but when we do we'll be taking the same user-first approach that we've taken with everything else!
The goal of
Role
is to make TTRPGs as approachable and fun as possible. In order to do that, we felt the focus needed to be on the people - and on what we can do to make their lives easier. This also carries through to our marketplace and player matching tools. Our marketplace is creator-focused first and foremost. That means we're putting our best foot forward and trying to design tools that are easy for creators to use to get their games online, supported, and sold to the larger community. More than just PDFs, our creator tools will allow people to upload and sell their games' custom digital card decks, dice, reference assets, and more - all without ever having to write a single line of code or wrangle things with our engineering team. Everything about
Role
is meant to empower people by increasing quality and reducing complexity where it isn't needed.
EGG: Out the gate, what RPGs will your system support?
LD
: It may sound like hyperbole to say this, but…
nearly everything
. One of the unique things about
Role
is that our tools are all designed around a standard library of assets that cover the needs of nearly every TTRPG we could get our hands on. It doesn't matter if a game is from a major publisher or a solo indie, we continue to review every game we can find as we build our tools. We knew from the start that we didn't want a platform where players and creators had to wait around for "official" support for their favorite game. Everything on
Role
is modular and code-free, meaning you can spin up templates for any game you want to play - even your own home brew games or hacks. Players and creators will be able to create character templates using a simple drag-n-drop interface, choosing which form fields, token counters, pools, buffs, note sections, etc. they want and in what order. Everything is also automatically indexed in our system, creating a Table of Contents on the fly for you as you create the templates you need. Creators and publishers will be able to distribute "official" templates for their games by saving them to their store pages, and players will be able to craft their own to share with each other. It's a fully open system designed to make wrangling PDF form-fields or writing custom-coded character sheets a thing of the past. When you come to
Role
- even if your favorite game isn't sold on our marketplace yet - we want you to feel like you have the tools you need to jump right in and play.
EGG: The system will support Dungeons & Dragons, Pathfinder, and other RPGs. When designing the software, what are some of the range of RPG engines that you benchmark Role against?
LD
: We have reviewed literally dozens of games from both large publishers and indie creators. A big part of our process is continuing to measure our tools against what's out there in the community today. As I said, everything is designed to be modular in a way that allows you to play any game you want. As such, we can't rely on just one or two popular titles as a benchmark.
Role
is so much more than just another place to play
D&D
(which you can certainly do!) - it's a place where all TTRPGs can be supported.
EGG: IT projects are released in iterations/versions. Before this Kickstarter, how much development has already been completed? How much of the project do you hope to fund via this crowdfunding campaign?
LD
: We've been working on the current version of
Role
for about a year now - from conception, design, and development. Our team comes from an extensive background in tech and gaming, and much of what we've designed for
Role
is based on our past experience launching premium online tools and marketplaces. This kind of work has been our bread and butter for a decade now, and we're incredibly excited to bring that expertise to the TTRPG space. This
Kickstarter
campaign serves two purposes for us: First, it helps us get that final development push done - so that we can launch into Early Access by the end of this year. Second, a portion of our campaign funds are going towards the production of six brand-new game supplements from independent creators. For us, it's not just about launching great tools (which we do hope everyone will enjoy!) - it's also about getting resources in the hands of more creator voices and helping their games get out into the world.
EGG: When do you hope to launch an open beta/early access?
LD
: We're targeting the end of this year (2020) for Early Access. Backers of our campaign will get to try our tools first, of course!
EGG: There are a lot of features including multi-cam setups, asset trays, dynamic character sheets, and player/GM matching. When Brenna Noonan, Role's Brand Manager, reached out, several items stood out to me. Let me ask you what "accessible online play" means for Role?
LD
: One of the biggest challenges TTRPGs face is the perceived complexity of their systems and tools. For many people, the idea of learning to play can be overwhelming! Even if you're an experienced player, many tools that exist today still have a high learning curve and can be hard to manage. One thing that's always been important to us is a user-first approach to platform design. This means bringing our expertise building learnable, premium, engaging software and using that to craft tools that remove as much of the intimidation factor as possible. Our tools are designed to be easy to understand, fast to learn, and delightful to interact with. Whether it's shopping in our marketplace, meeting new people via player-matching services, or playing online in our video play tools - everything should feel approachable to both veterans and new players. The more people who can play, the larger our community becomes! We know the power of TTRPGs, and we want to create tools that make it easier for more people to discover that joy. This is an ethos that guides us beyond just our launch, and will be part of how we iterate on the
Role
platform for years to come.
EGG: "Meaningful connections with other players" was brought up by Brenna. Is Role meant to be both a virtual tabletop and a social media option?
LD
: One thing that we felt was sorely missing from the TTRPG space was a way to easily and confidently meet players with matching interests and play styles. A video game-style "lobby" system just doesn't work - no one wants to be dropped into a random room with a bunch of strangers when they play online. TTRPGs are too personal and intimate for the kind of quick matchmaking we see in other forms of online gaming. To that end, we decided to take a step back and ask "how do we help people meet?" What we landed on is almost like a dating app - but instead of dating, you're meeting players like you! Our Player Matching service will allow people to surface optional information about their tastes, play style, rule complexity they like, GM experience, and favorite games. From there, they'll be able to "match" with other players whose profiles have similar interests. If two players both choose to connect, they can then chat, schedule game sessions together, and hopefully build meaningful relationships. We want
Role
to be more than just an online tabletop - it should be a place for the community to gather and forge lasting friendships.
EGG: The last one I want to ask about, "championing diverse voices in the creator community," is something I've seen on your blog. Who have you showcased so far?
LD
: We have a slate of six creators who will be part of our
Kickstarter
campaign, including the Afropunk fantasy of
Swordsfall
, the intimate identity exploration of Filipino creator
Sword Queen Games
, and new work from the popular
Lancer
creators Miguel and Tom at
Massif Press
. In addition to that, we have a growing community of indie designers and small publishers in our
Creators Program
- over 60 creators and counting! Our
Creators Program
community is a diverse mix of people representing a huge range of perspectives, game ideas, and identities. Many of these creators are from LGBTQ and POC communities themselves, and bring those perspectives into their work. At
Role
, we believe that the only way for the TTRPG community to grow is by elevating these voices and creating safe spaces for a wide range of players and creators to tell their own stories.
EGG: Thanks for talking with me. Where can fans learn more about your crowdfunding campaign?
LD
: Check us out [
here
]! We can also be found on
Twitter
at
@roleapp
,
Facebook
, and
Twitch
. Our campaign launches June 2, and we hope to see everyone there!
Role: A New Kind of Platform For The RPG Community
"Discover new games from passionate creators, meet new friends, and adventure together. Anyone can play, everyone is welcome."