Lots of new adventures are available this week. Three adventures each statted out for
D&D, Pathfinder
, and
Swords & Wizardry
. Another adventure for
Unknown Armies
. A one shot horror adventure and three adventures featuring the Cthulhu Mythos. Moving on past adventures is a card driven box set of adventures in a neo-futuristic world. All rounded out with NPC and animal cards for any fantasy RPG.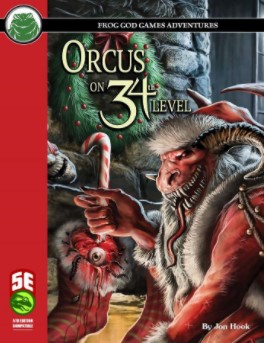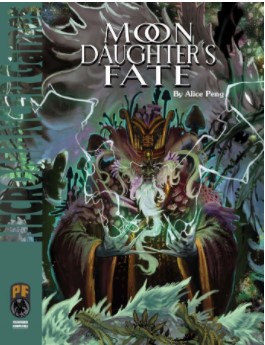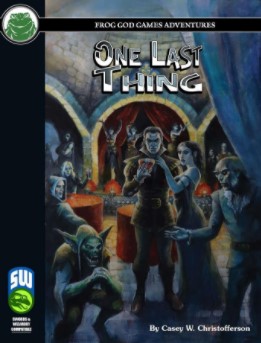 Orcus on 34th Level (5E
|
Pathfinder | Swords & Wizardry) | Moon Daughters Fate (5E | Pathfinder | Swords & Wizardry) | One Last Thing (5E | Pathfinder |
Swords & Wizardry) by Frog God Games
SYSTEM: D&D, Pathfinder, and Swords & Wizardry
PRODUCT TYPE: softcover adventure
RETAIL PRICE: $20
DESCRIPTION: Orcus on 34th Level can be the lowest level of a high-level mega-dungeon's lowest level — the 34th level or an isolated within the peaks of any frozen mountain chain. In the Candy Crypt the foul demon, Orcus's Claws, manufactures bittersweet treats and poisoned dreams. Sages scream in terror as Gorgon Major rises in the east. Orcus' Claws won't be alone anymore. Nohell Claws, his beloved estranged wife, banished by the Forces of Law into a pocket dimension beyond the stars, is about to be released. The PCs must thwart his summoning ritual at any cost. Moon Daughter's Fate brings PCs to the province of Sheng Xi Gui, "Whisper Valley," where divine matters have taken a dangerous turn. The gods are fighting and the PCs' skills at negotiation and solving mysteries are critical to solve the problem along with their fighting skills. In One Last Thing, a friend of the PCs has died and a funeral has been conducted. Something is wrong, however. The ceremony and burial seem hollow. Something damning has trapped their friend in the Underworld and only his closest friends can help him so the deceased can finally find a final and lasting rest. An adventure designed for characters of 7th-10th level that moves from a familiar town to eventually the edges of Styx and the entrance to the Underworld itself. The characters explore the plains of the dead as they journey to the forbidden Necropolis of Ankev. In the city of corpses the PCs face demons, devils, and dreaded liches while they track down the spirit of the dearly departed to discover that crucial one last thing.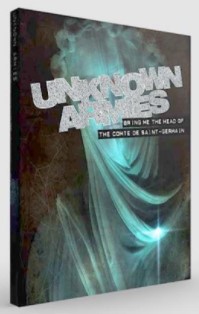 Bring Me the Head of the Comte De Saint Germain by Atlas Games
SYSTEM: Unknown Armies
PRODUCT TYPE: softcover adventures
RETAIL PRICE: $19.95
DESCRIPTION: A three-part series of adventures in which PCs swap roles between antagonists and protagonists, a handy brochure reveals the deepest secrets of the universe, and the fate of the universe has to be determined. In 2003, the universe got rewritten and the most important human to have ever existed had his brain scrambled and his memories locked up in a huge stone head. The head was dug up by a bunch of clueless archaeologists and stuck in a museum in Quebec. There are four groups fighting over it not including the PCs. The PCs get involved fighting with themselves.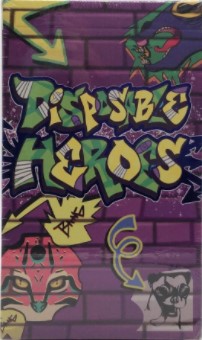 Disposable Heroes by Sandy Pug Games
SYSTEM: unique
PRODUCT TYPE: core rules boxed set with 60 cards.
RETAIL PRICE: $40
DESCRIPTION: You play as PCs are package delivery people with incredible abilities in a near-future fantasy world city named Neo-Francisco. To survive, the PCs do their best to get that 5 Star rating so they get to eat that week. Each PC is a card from a deck each with an ability, a weapon, stats and an animal. When their character takes damage, the player draws a new character. Players roleplay as this character until they take any form of damage, then that character is discarded and a new one drawn from a deck. Game play is high energy. Character examples include the Badger Fighter and the Soul Tamer Elephant. Visually the game has a funky electro-funk art style similar to Jet Set Radio and Lethal League.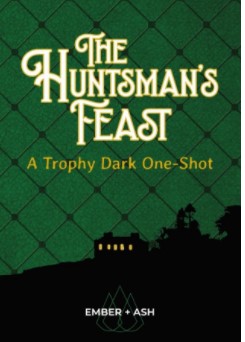 The Huntsman's Feast- A Trophy Dark One Shot by Ember + Ash
SYSTEM: Trophy RPG (Dark One Shot)
PRODUCT TYPE: softcover one shot adventure
RETAIL PRICE: $12.99
DESCRIPTION: PCs go on a one-shot three hour adventure of dark fantasy for 2-4 players. Bounty hunters, including the PCs, are hunting for the criminal Balen Doen who is fleeing toward The Forest. The PCs corner him in the supposedly-abandoned hunting manor of the Marquess Niral on the border of The Forest. Terrifying horrors lurk within the manor related to hunting, taxidermy, and animal mutilation.
Bayt Al Azi Magazine #3 for Call of Cthulhu by Bayt Al Azi
SYSTEM: Call of Cthulhu, Trail of Cthulhu, and The Fall of Delta Green
PRODUCT TYPE: softcover magazine
RETAIL PRICE: $18
DESCRIPTION: Details three adventures dual-statted for Call of Cthulhu and GUMSHOE (Trail of Cthulhu/The Fall of Delta Green): PCs investigate the mysterious murders plaguing the industrial workers of Berlin (1920s), the PC military team investigates a radio signal in the arctic (Cold War), and the PCs attend an early opening of an exhibit by a famed glass blower (Modern). Also includes an overview of every Cthulhu Mythos 2019 RPG release, an interview with Sandy Petersen (creator of Call of Cthulhu), advice, history, comics, and more.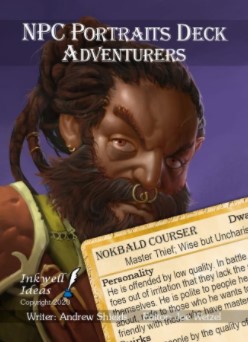 NPC Portraits Deck (Adventurers | Coastal Townsfolk | Frontier Townsfolk | Henchmen and Hirelings | Animals) by Inkwell Ideas
SYSTEM: systemless fantasy
PRODUCT TYPE: deck of cards
RETAIL PRICE: $12.95 each
DESCRIPTION: Each deck has 54 cards with 51 being NPCs or animals. Each of the 51 cards has a portrait on the front and detail on the back like primary and secondary roles or personality traits, quirks, and quotes help to quickly get into character and make each memorable. The NPC cards feature a range of ethnicities and fantasy races. The creatures can be mounts, companions, and familiars. Some have weird quirks like a hedgehog that predicts the weather.