Campaign support and adventures for
Swords & Wizardry
kick off this week's new RPGs. Exalted Funeral has new supplements for the
DCC RPG
. River Horse has new Equestria material to make your Pretty Pony that much better. There are four new adventures for
The Fantasy Trip
. And for
Alien RPG
Game Mothers, there is a box of Aliens to plague your PCs with. Give a PC a face hug today.
Please Note: RPG Print News
covers new RPG releases and some classics and sales available from online retailers. It does not cover products that are only available to customers through kickstarter, directly from a publisher website, or as print on demand.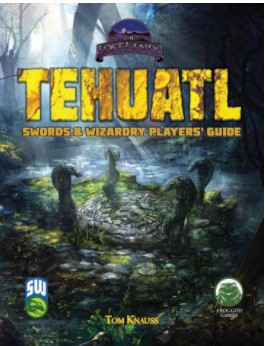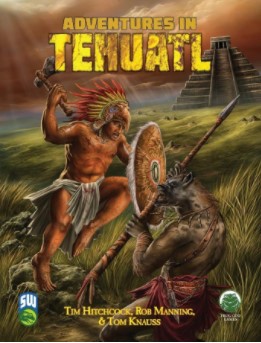 Tehuatl Player's Guide | Adventures in Tehuatl by Frog God Games
SYSTEM: Swords & Wizardry
PRODUCT TYPE: softcover supplement
RETAIL PRICE: $15/$35
DESCRIPTION: Tehuat Players Guide gives players and GM's spells, equipment, and magic items designed for Tehuatl in the World of the Lost Lands campaign setting. Adventures in Tehuatl includes five adventures that take the characters on a journey across the island of the same name. Although not part of a formal story arc or adventure path, when run in succession, the adventures can help PCs progress from aspiring heroes to renowned legends. The following adventures also include appendices containing new monsters, magic items, spells, hazards, and equipment. In The Reeducation of Coyotl the local calmecac has fallen into disarray as the noble scions seem to have imposed their own brand of chaos over the school under the direction of a malevolent master. In Gargoyle Pet Sematary the people's loyal, miniature pet gargoyles have run amok and turned against their owners, though their mischievous behavior is only the start of what horrors await the town's residents. PCs in Seven Year Harvest have to help a small tow that inadvertently killed a noble creature which has come back to haunt the residents. In Rider on the Storm the awakening of a long slumbering evil has transformed a teenage rite of passage into a horrific nightmare that threatens to spread throughout the land. PCs adventuring through The Daughter of the Drowned Serpent face the wicked child of an ancient foe who plots to return her father to his throne unless the PCs stop her terrible plan from unfolding.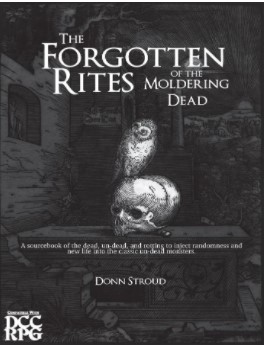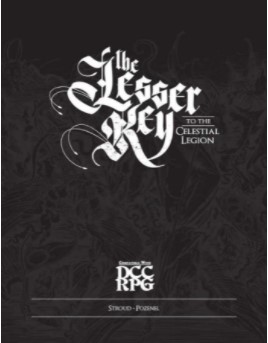 The Forgotten Rites of the Moldering Dead | The Lesser Key to the Celestial Legion by Exalted Funeral
SYSTEM: Dungeon Crawl Classics RPG
PRODUCT TYPE: softcover supplement
RETAIL PRICE: $20/$14
DESCRIPTION: The Forgotten Rites of the Moldering Dead is a sourcebook covering the dead, un-dead, and the rotting to create randomness and breathe new unlife into the classic undead monsters. Includes: almost 100 tables to liven up the undead, new undead and animals, tables to generate funeral marches and parades and for generating necromancy spell books, five new necromancy spells, tips on turning a wizard into a necromancer, a new class called the Un-dead Hunter, a demi-patron of the hunt, a 0 level funnel that reaches back through time, and a hexcrawl adventure. The Lesser Key to the Celestial Legion is a supplement that adds religious depth to fantasy RPG campaigns. Includes a collection of tables used to generate messengers of the gods. Further chapters include content for generating ways to observe a religion, relics, reliquaries, other duties of a cleric, and how to grow and maintain a religion.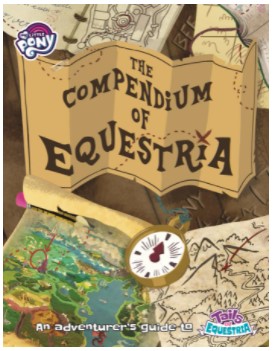 The Compendium of Equestria by River Horse
SYSTEM: Tails of Equestria
PRODUCT TYPE: hardcover supplement
RETAIL PRICE: $21.95
DESCRIPTION: Includes brand new creatures, characters, adventures, and items. Locations and the GM's Toolkit section help fill in details with deep and interesting settings and new features including talents, spells, and magical treasure. Players get new playable races, expanding the options presented in the Core Rulebook, Finally, it has the adventure: Flim, Flam, Alakazam! This can be used as a standalone story or as part of a longer campaign, and it allows use of the new content.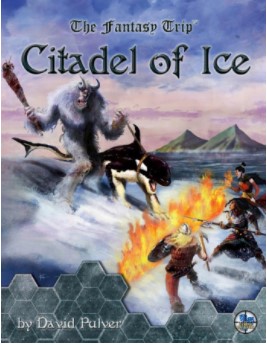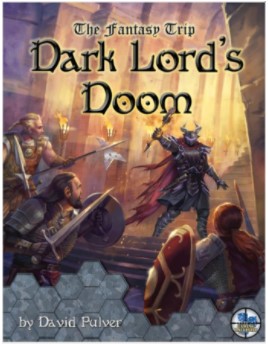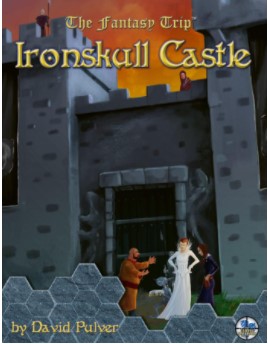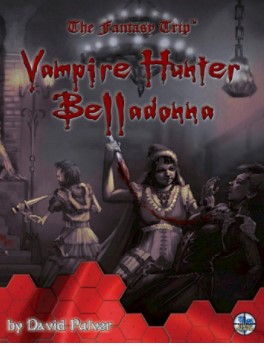 Citadel of Ice | Dark Lord's Doom | Ironskull Castle | Vampire Hunter Belladonna by Gaming Ballistic
SYSTEM: The Fantasy Trip
PRODUCT TYPE: adventure modules with 42 black and white print-them-yourself tokens for monsters and NPCs
RETAIL PRICE: $12/$20/$12/$20
DESCRIPTION: Citadel of Ice is a frozen labyrinth inside an iceberg that broke loose from the coast and is drifting in the ocean. It includes: a group of ice-themed monsters, a secret power lying hidden beneath the ice, competing factions fighting for dominance of the iceberg, and a floating tomb that is melting and threatening to take its treasure with it. Dark Lord's Doom focuses on a squad of soldiers fighting in an all-out war to defeat the evil Lord before it's too late. Saethor's Dark Legion was hired to keep order in a time of famine, betrayed and massacred the council that hired him, and seized power. He assimilated the Red Fang orcs and defeated the elves of Amberwood. Now, it is the kingdom's turn. Ironskull Castle is headquarters to Lady Raelle Ironskull, mercenary warlord turned magical arms dealer, mistress of Eldritch Arms. She commands an entire castle filled with nasty surprises, strange magic items, and interesting inhabitants. Lady Raelle can be used as a long-term evil overland and under her watch trouble never stops coming out of Ironskull Castle. Vampire Hunter Belladonna is a solo/programmed adventure in which you play Belladonna, the young maid and cook at Ironskull Castle while moonlighting as a vampire slayer wielding silver stakes and deadly poisons. Years ago, the sinister Lord Adrik Blackbird turned your best friend into a vampire and you had to stake them both. Now you journey through the villages and wilderness near Ironskull Castle hunting vampires and other monsters. During your quest, you uncover disturbing rumors of the rise of a new and terrifying master vampire and an arcane relic they desire. You won't need a Game Master. A system of branching paragraphs directs you from encounter to encounter. You resolve combat or other encounters using the TFT rules. Includes multiple new monsters and magic items.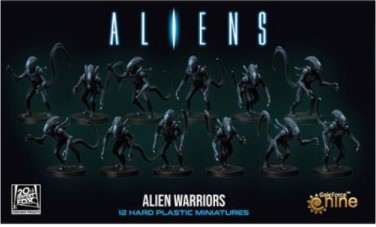 Aliens: Alien Warriors by Gale Force Nine
SYSTEM: Alien - The Roleplaying Game
PRODUCT TYPE: 12 unpainted 30 mm miniatures requiring preparation and assembly
RETAIL PRICE: $25
DESCRIPTION: Contains iconic elements from the 1986 film ALIENS. Includes three plastic sprues and instruction sheet to build 12 Alien Warriors.
Last edited: