First, I love the concept of the recharge mechanic, so for several months now my Saturday group has been using the Recharge mechanic for cantrips. In other words, if you cast a cantrip, to cast a cantrip on your next turn you have to roll a successful recharge (a 5 or 6 on the d6). It has been working very well and we've enjoyed using it because it avoids the
pew pew
aspect of cantrips in 5E (something we don't care for--if you like it, this isn't for you!)
Since then, I've been thinking about trying out a similar system for 1st and higher level spells as a way of replacing spell slots. The table below is just a first draft of the recharge number needed after casting a spell in order to use magic on your next turn.
For example, suppose your PC is a 7th level caster and you cast
invisibility
, a 2nd-level spell. Your recharge number is a 5. On your next (and subsequent) turn, you begin by rolling a d6. If you roll a 5 or 6, you can use magic on the turn. If you roll 4 or lower, you cannot; but you can try again on the following turn, and so forth, until you succeed.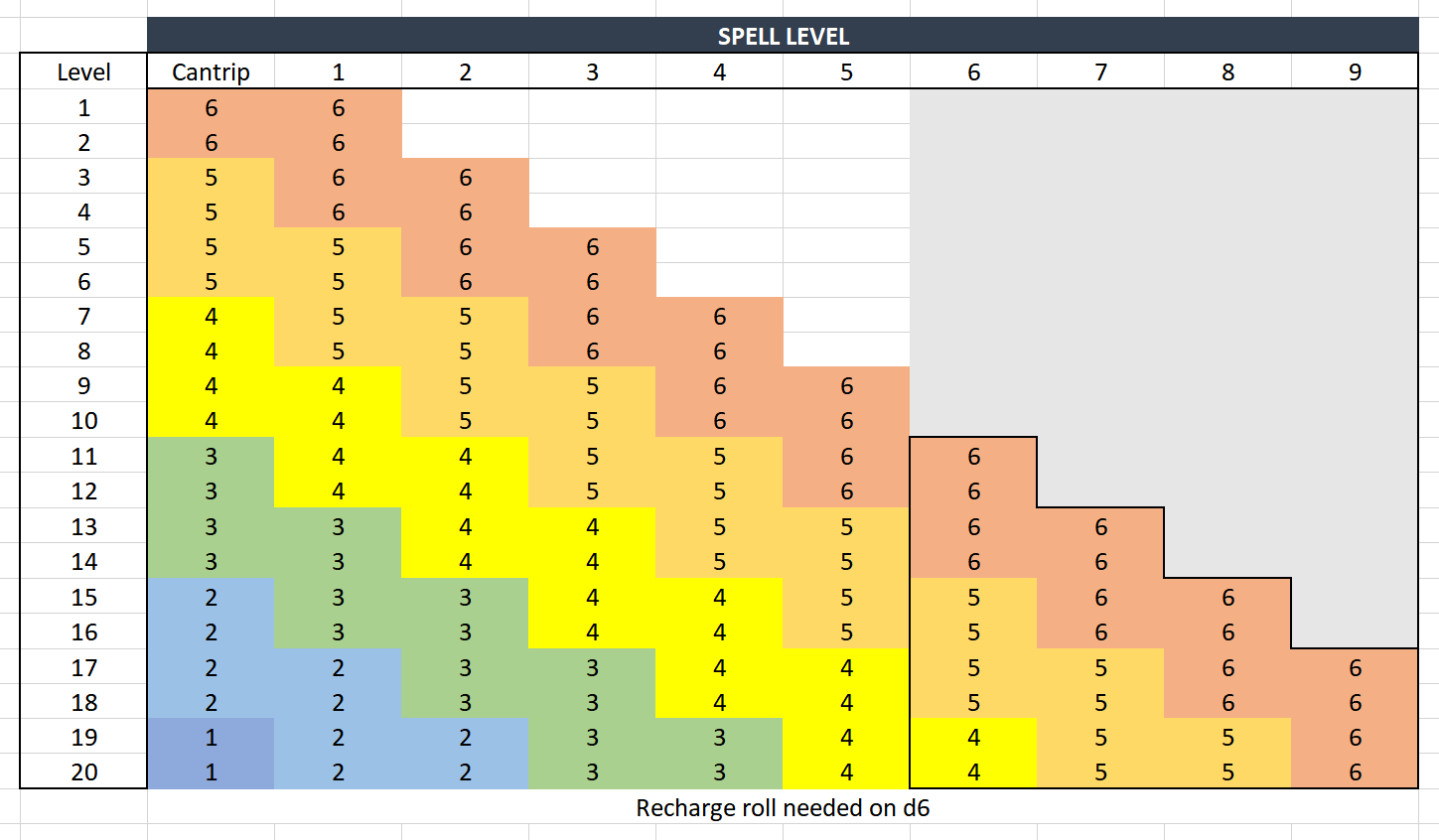 Some current options:
If you cast a spell of your tradition school, domain spells, etc. you make your recharge roll with advantage.
You can reduce the recharge number by 1 on subsequent attempts if you want to recover your magic sooner.
Casting spells of 6th level or higher are limited to once per long rest (akin to Mystic Arcanum).
If you roll a 1 on the recharge, you cannot cast any spells until you finish a short or long rest.
There are many pros and cons to such system, depending on what you want in your game. I am meeting tomorrow to discuss it with my group and get their thoughts, but I figured I would throw it out on the forum to get other thoughts.
I'm not tied to this idea yet in any real way, but think it (or a variant) might work. Feel free to leave any comments, concerns, or questions.
---
EDIT: Comments after talking to group members (2 out of 3 groups, last night's group didn't meet, so we'll see next week...)
Definitely thought either advantage for tradition, domain, patron, etc. or whatever would be good. It was suggested that perhaps if you have "no magic" due to a failed recharge, you could always cast those "extra spells" from domains, oaths, etc. without having to wait for a long rest. I like that I idea and said we could try it first and roll it back if it seemed too much.
They weren't so sold on reducing the recharge number to regain magic faster--the consensus is that is probably won't be needed since the point is to have less magic anyway. But once we try it out, they might change their minds. We'll see.
Perfectly happy with the only one 6th+ level spells per long rest. In fact, some are even for only one of any level above 5th. So, not one of each, but one total.
All the players I've had a chance to talk to are certainly up for trying it. They do have some concerns about the "no magic on a 1 until a rest" rule, but thought either gaining exhaustion or spending hit dice to replenish magic would be a nice way to try it and see how it works out.
Last edited: