5e is a million miles from doing anything like this... 4e tends to shunt smart fighter to being a Warlord or maybe a reflavored Swordmage (which is very much still an option) but i think there is a case for making it functional for a Intelligent Fighter/Defender.
In 4e out of the box you can build a Str / Wizdom / Int Fighter ... the int is important for keeping light ac/reflex defenses up but really wouldn't accomplish much else. Can we encourage it more can we make fast thinking and quick battlefield analysis the initiative instead of perception that the wary fighter does? and while that would be an enabler not sure it relates to the style.
Thibault's 'magic circle was a very effective style in terms of Defense
"
What made the Spanish Style of fencing so respected if not feared by contemporaries of that period, was it the attitude, the demeanor of the Spaniard, the precision of the attacks and parries, or was there something more?Consider that in a time frame where thousands died yearly from duels (in many cases, both parties of the duel), many Spanish trained fighters walked away without grievous or life-threatening injuries. "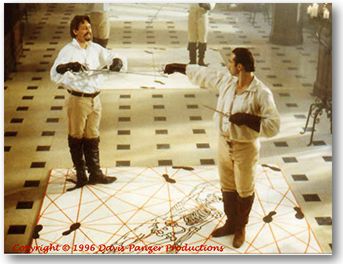 In that regards I am thinking a Fighter of this style could be gaining the benefit similar to the Barbarian light armored defenders ability (which I have proposed as a reasonable class feature where you trade in heavy armor proficiency) . While this would boost the function of the light armored defender it doesn't bolster the value of Intelligence.
*
The Spanish Circle
One Character that leaps to mind for the Spanish Circle is Zorro.
Any ideas?
Perhaps this is actually a rogue fighting style but the emphasis of winning unharmed kind of doesn't feel like it.
Last edited: