Last Guy in the Airlock
Supporter
This Land is My Land
A Guide to the Wisdom Ranger
by
Kobold Stew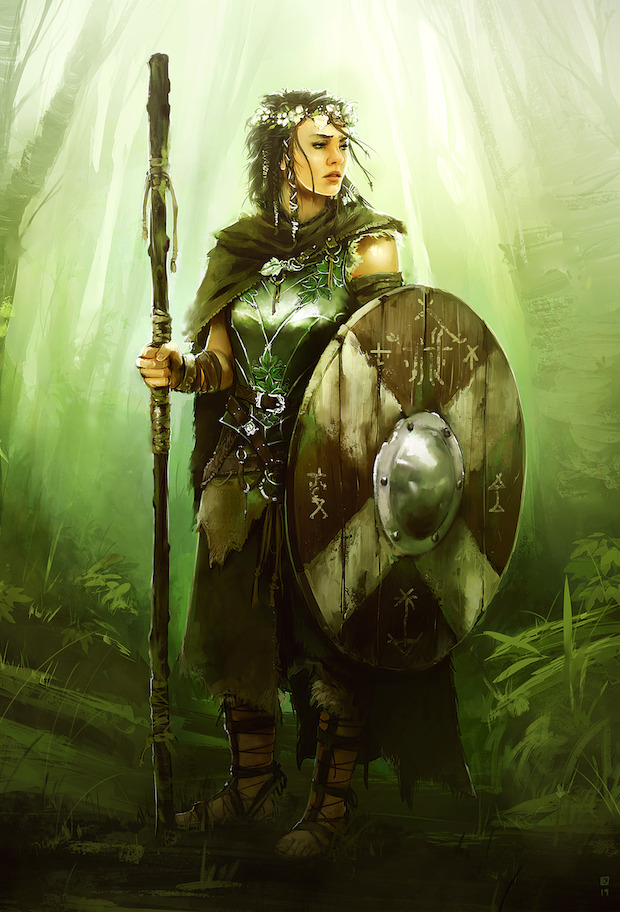 The purpose of this guide is to explore the practicalities of a wisdom-based ranger. The ranger does not have a lot of love in 5e, and while there are guides that focus on strength and dexterity builds, I want to explore if a Wisdom build is viable, and if so what it looks like; what is the role of spellcasting in such a build; and how it might play. The result is not optimized for dpr, but it is workable, and will give a Ranger with a different feel.
This guide is framed from the perspective that one already wants to build a character that does not key attacks off of either Strength or Dexterity. Why would you do that to yourself? Welcome to my world. As with any guide, the ideas presented here are mine, and fit my style of play. There are other ways to build rangers that can be optimized for damage.
The guide uses a basic colour scheme to indicate quality within the framework of the build being discussed. Some rankings would hold for any ranger, but some are distinctive for this build:
Gold
for the best of the best​
Sky Blue is a very strong choice for this build.​
Blue

i

s a good choice – you can make it work​
Black is viable but not a strong choice​
Purple
may be useful in some cases, but isn't helped by the build​
Red
should be avoided or is not needed; there are better choices available​
Sources used: PHB, XGTE, TCOE, VGTM, FTOD, and accepting all the optional rules within those books.
CONTENTS
1. The framework​
2. Getting a Wisdom Attack.​
3. Race/Lineage and Feats​
4. Skills, Background, and Class abilities​
5. Archetypes​
6. Spells​
7. Multiclassing​
8. Sample Builds​
9. Room to Grow.​
1. The Framework.
The premise of the build is that
Wisdom
is going to be your highest stat for your ranger. To make this work, you are going to want a 14 in
Dexterity
(to get the most out of medium armor), and, for a melee build, however much
Constitution
can be managed (because so many spells require concentration).
Strength
is useful for Athletics but it and
Intelligence
can both be dumped, as can
Charisma
(though some Charisma is useful for
Fey Wanderer
).
For a Wisdom-based character, damage can come from cantrips (weapon cantrips and attack cantrips) and leveled spells.
Shillelagh
is best for a melee build; it can take advantage of Extra Attack (level 5), archetype features that key off of weapon attacks, and spells such as Hunter's Mark. While the damage does not scale the way attack cantrips do, it does remain competitive. While Shillelagh can transform a club or a quarterstaff, the result is the same – a one-handed weapon that does 1d8+WIS damage. While the quarterstaff used this way can take advantage of the polearm master feat for an attack with the bonus action, and the additional damage is not the best use of a bonus action, and you do not get range with the attack (consider it only for Hunter, Gloomstalker, and Fey Wanderer archetypes; h/t
@RxBriggs
)
More challenging is a ranged build using the other weapon cantrip,
Magic Stone
: it is not clear if it can benefit from Extra attack (though I believe it can, since the attack is made with the Attack option even if it is thrown or slung, not with the Cast a Spell action), but features that require an attack "with a weapon" (such as Hunter's Mark) seems to require the magic stone to be launched by a sling (which then reduces the effective range):
This ruling
is still ambiguous, but states:
An attack made with magic stone is a spell attack, even if you hurl the stone with a sling. The attack doesn't qualify for anything that requires a weapon attack, but it does work with a feature that requires a ranged weapon if you use a sling.​
So launching it with a sling is "with a weapon" but throwing it is not. This has to be negotiated with your DM up front, but a range of 60' when thrown does not count "a weapon attack" (which would benefit from Sharpshooter, for example). Additionally, casting the spell as a bonus action only produces three stones, which means that after level 5 (when you have an Extra Attack), you will be casting this spell every second turn. For a ranged weapon wisdom build, a rogue with Sneak Attack using a sling is less fiddly, since it launches just a single piece of ammunition per turn.
It is also possible to build a wisdom ranger without using a weapon at all.
Ranged Attack cantrips
require a roll to hit and so shouldn't be used at melee range. Produce Flame works this way, and none of the cleric cantrips do. A bit more flexible are what I call
close-range attack cantrips
, which either require a melee attack (such as Primal Savagery or Thorn Whip) or require a save, and so can be used at range or at melee distance without disadvantage (e.g. Poison Spray, Frostbite). Neither of these benefit from Extra Attack (which requires the Attack action, not the Cast a Spell action); though damage scales for these attacks, with an extra die coming first at level 5, overall damage is slightly lower. Nevertheless, this is better for rangers with
multiple levels of multiclassing
, since the damage increases based on total level, and not only level in class.
A wisdom ranger will need at least one of the following options available to them through cantrips. This will determine your combat style more than anything else:
Shillelagh
Magic Stone with sling
Close-range attack cantrips
Ranged attack cantrips
The immediate assumption for a wisdom-based ranger is that spellcasting will be foregrounded. Options remain remarkably limited, however, both in terms of spells and slots available. Many Ranger spells require concentration, and so Constitution saves are going to be expected. The standard for Ranger spells by which to merit this is
Hunter's Mark
, which adds 1d6 damage with a weapon attack. Does a wisdom-based character offer practical variation from that?
Additionally, there are narrative elements, that can be framed in terms of creating a consistent or appealing character. This is subjective, but it is worth asking how a given character works in play, and in particular whether the character has clear options available in and out of combat; and in combat whether the character has clear options available for their action and bonus action.
Last edited: