Players are likely to get in one short rest per day. Maybe two.
It is easy to calculate how many long rests there are PER LEVEL.
Here are two graphs calculating the number of encounters PER LEVEL. They use different methodologies but with comparable results.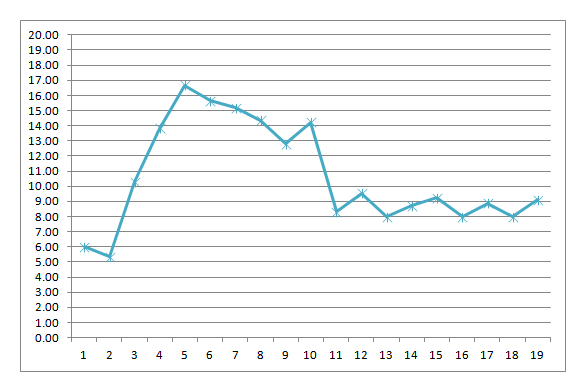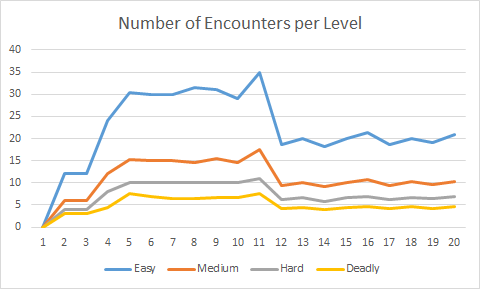 The DM can modify these numbers of encounters according to taste. If players enjoy certain levels stretch them out with more encounters.
My campaigns count the following number of encounters per level.
Tier 1-4
accelerates from four encounters during level 1 to reach level 2; seven encounters during level 2; ten encounters during level 3; and finally thirteen encounters during level 4 to reach the next tier.
Tier 5-8
plateaus at sixteen (!) encounters per level. The math is more like fifteen, but I like to stretch out this "sweet spot" slightly.
Tier 9-12
decelerates from sixteen encounters at level 9; thirteen encounters at levels 10 and 11; and finally ten encounters at level 12.
Tiers 13-16 and 17-20
then stabilize at ten encounters per level from then on.
The central tier is levels 5 to 8. My campaigns have sixteen encounters per level. But on average, the math has more like fifteen.
The official DMs Guide advises between six to eight encounters per long rest. So there are about seven encounters per long rest.
In other words, during this central
tier 5-8
, there are only
two long rests per level
. (15 / 7 = 2.143) (similarly: 16 / 7 = 2.286).
Maybe one of these levels might have an extra long rest during it. So it is forgivable if a DM wants to make things easier by granting three long rests per level. But I prefer to keep it strictly at only two long rests per level. A spellcasting nova is possible but players need to pay the price.
Two long rests per encounter makes the newbie tier 1-4 easier − and this is working as intended. Likewise, two long rests makes players more powerful at the upper tiers of 13-16 and 17-20 − and this is also working as intended.
Two long rests per level!
All rests are short rests. Except, twice per level a player can change one of these short rests into the benefits of a long rest.
Note. All rests are short rests. Each player can take a long rest whenever one wants. Decide when to change a short rest into a long rest. For example, everyone in the party sleeps for the night. All of the characters receive the benefit of a short rest. However. One player decides to switch it to the benefits of a long rest instead. So this player now only has one long rest left until the next level arrives. Notice a Wizard can only refresh all spell slots twice per level.
It is realistic to feel a deep renewal of energy that seems to come from nowhere. These experiences are uncommon but happen. The renewal can be from extensive relaxation to recharge, or oppositely a "second wind" in the midst of daunting challenges. To occasionally switch a short rest as the only way to gain the benefits of a long rest, is narratively verisimilitudinous.
(I would even switch the terms from "short rest" and "long rest" to "rests" and "refresh".)
There are so many benefits from only counting encounters until the next level, and only having two long rests per level.
The DM can tell stories where combat happens naturally according to the story. It doesnt matter if there are suddenly seven combat encounters in a single location, or the encounters are days or years apart. Whatever the story says happens is how it happens, there is no dubious mechanical pressure on the DM.
An encounter can be any kind of encounter, including nonlethal combat, social challenge, exploratory challenge, puzzle, etcetera. All of it counts equally toward the next level.
The class balance between short-rest classes and long-rest classes functions optimally.
Last edited: