So as to not derail the thread started by
@Cadence
, I would like to explore the idea of a class "focus", which would replace the combined ability modifier + proficiency bonus, as well as serve some other functions. This approach is somewhat similar to a "priority" system.
The categories are:
COMBAT:
modifies proficient attack rolls, secondary* is non-proficient attack rolls, as well as damage
DEFENSE
: modifies proficient saving throws, secondary* is non-proficient saves and AC
MAGIC
: modifies spell save DCs, secondary* is attack rolls (and damage?)
SKILLS
: modifies proficient checks, secondary* non-proficient checks
Each category would receive a rating of Better, Good, Average, or Poor, exclusively. I considered allowing ratings such as two Averages and two Goods, or two Betters, and two Poors, but I prefer the idea of forcing a distinct rating for each as those options would allow too many "middle grounds" and "min/maxed" PCs IMO.
Secondary bonuses are two ratings lower (see below), to a minimum of poor. So, if you have Better Combat, your Attack bonus is Best, but your Damage bonus is Average. This might change to just one rating lower, but I think two is erring on the better side of caution.
Note
: for AC, your focus bonus would replace your armor if it is better than the AC bonus you get (equal to the armor's AC value - 10) from wearing the armor. In our game, armor provide damage reduction regardless so is always useful.
Option
: for the first three categories, it makes sense to allow the player to choose a primary and secondary focus use. So, instead of COMBAT being attack rolls with damage secondary, you could reverse it to deal more damage, but have attack rolls secondary. MAGIC as spell attacks (and maybe damage) as the larger bonus, with the secondary being for Spell Save DCs works, too. With this option, non-proficient saves and checks would always be secondary.
The bonus progression would be:
The Best progression is reserved for special situations, such as a PC with Better Skills adding Expertise to a couple of them, and for exceptional creatures.
Below are the unique groupings and a first draft of the classes I associate with them. Obviously many people might place classes in a different place, so if you have an argument for a switch let me know.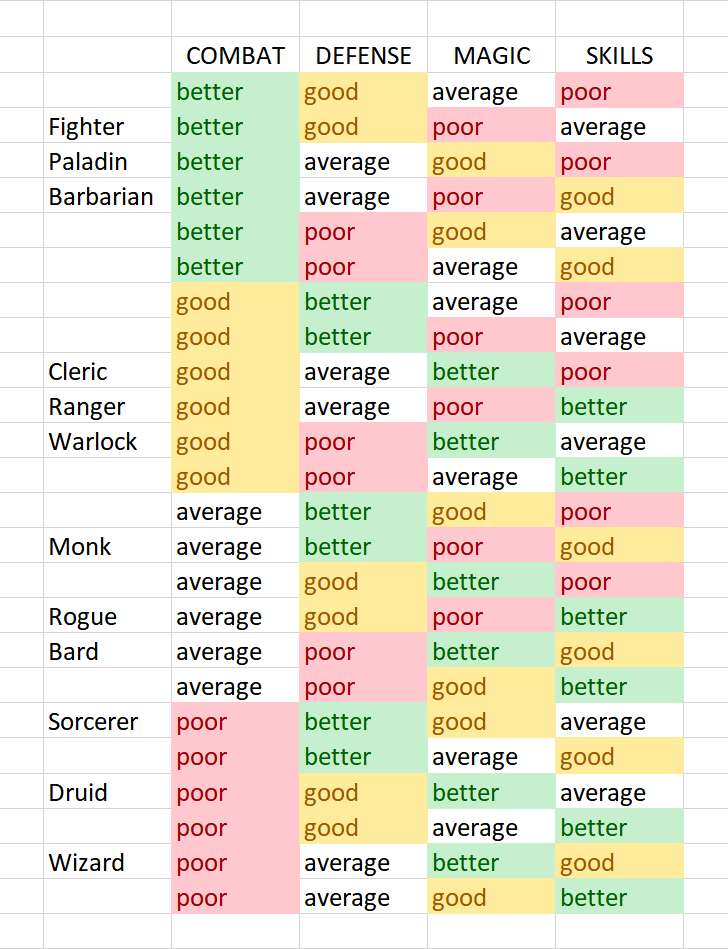 Finally, this is a (+) thread. I know many people like the simple, universal proficiency bonus, and I can respect that if you do. This is an idea I would like to explore with others who might also want to support such a system. I know it is a bit of a throw-back to prior editions, and if I went forward I would have a lot of work to do implementing it with creatures, etc. if I didn't want to just assume they were universally "average" at everything.
That's it for now. Thanks for reading and any contributions to the discussion.