Brian Colin's RPG work and sculpting always impress me. We've talked at shows,
I've interviewed him
, and he recently invited me to playtest his new RPG,
Vast Grimm
. In preparing for the game, we did an interview in which he talks about the
Mörk Borg
-ness of game, its inspiration, and why it's crowdfunding via
Gamefound
instead of
Kickstarter
.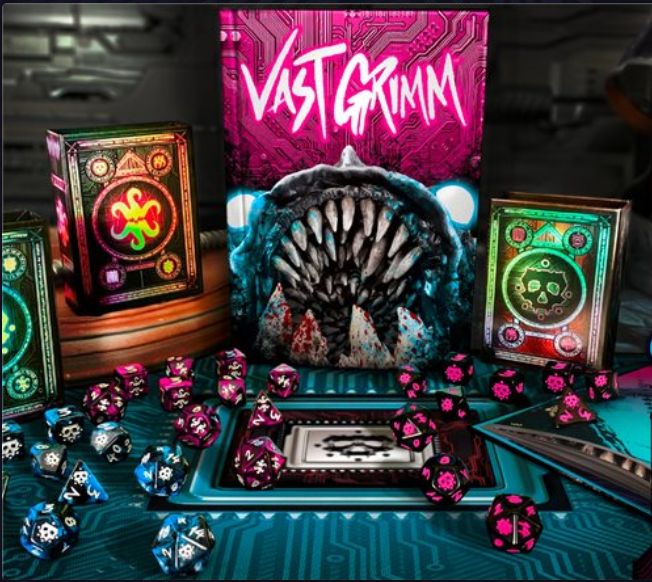 EGG EMBRY (EGG): Thanks for talking with me. You have a new project campaigning on Gamefound, what is it?
BRIAN COLIN (BRIAN)
:
Vast Grimm
is an infectious, sci-fi horror RPG that's compatible with
Mörk Borg
. And because
Infinite Black
is putting it out, there will be amazing
Elder Dice
to accompany it.
EGG: Mörk Borg is black metal grim dark distilled into a tabletop ruleset and incredibly popular as a fantasy engine. Your project is described as "brutal sci-fi horror". What about this engine lends itself to sci-fi?
BRIAN
: Honestly, I think their engine could be adapted to any genre. It was right after I played my first game of
Mörk Borg
that my friend and collaborator Ross Brandt ran that I was inspired to sculpt something nastier, and more gruesome than my normal creatures. When it was done I realized that it looked like it had to be in a sci-fi setting, and thus
Vast Grimm
was born.
EGG: When
we've talked in the past
, sculpting leads to games for you, which is awesome. To remake the game for sci-fi, what did you change?
BRIAN
: I really focused on the lore, locations, and classes to give it the sci-fi flavor. It's not heavy on the science side of things and leaves a ton up for interpretation. Players are traveling a universe infested with The Grimm, parasitically infected beings hell-bent on consuming all life. Setting the tone letting players and GMs take their game in the direction that's right for their group is one of the things I love about MB.
EGG: That's got a zombie vibe. Is that how you are retaining the black metal elements of this project, or are you going another direction?
BRIAN
: I grew up sporting a mohawk, listening to punk, so instead of the black metal I wanted it to have a punk-rock feel. The colors and design throughout the book were intended to evoke that mood and attitude.
EGG: This project is both a standalone game and compatible with Mörk Borg, correct? Why go both directions?
BRIAN
: When I started putting the game together I built it following
Mörk Borg
very closely. It completely uses their mechanics, for example
Vast Grimm
has torments which are the equivalent of
Mörk Borg's
miseries. Because of this, I wanted all of the monsters and classes to easily translate to anyone running
Mörk Borg
.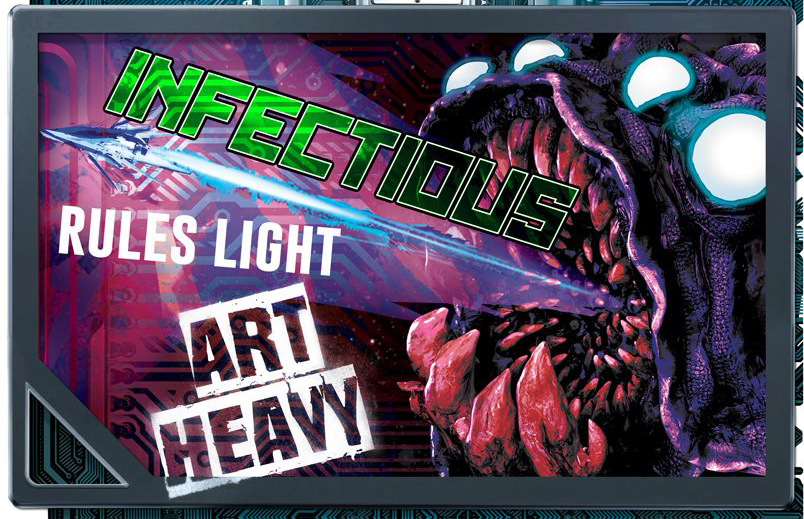 EGG: I know art's important to you so I have to ask, who is doing the artwork for this project?
BRIAN
: There are three main artists contributing to the book David LaRocca (founder of
Infinite Black
), Allen Panakal, and myself. There are a few additional pieces by Ross Brandt (who also wrote and did graphic design for about 25% of the book) and some spot illustrations by Latt Vines. I also designed about 75% of the page layout which leans much more artistic than any of the previous games I've worked on.
EGG: Nice. You have your own company, Creature Curation. What inspired you to partner with Infinite Black for this project?
BRIAN
: It seemed like a completely natural fit. They want everything that they produce to have an artistic edge to it, and
Infinite Black
is very horror-centric. On top of that, I became a full-time part of the
Infinite Black
team in January. At that point, Ross and I had already begun working on the writing of
Vast Grimm
and I had created some sculptures, but I knew with David's ideas and design sensibilities it would take it to another level. We also expect the game will really resonate with fans of
Infinite Black
.
EGG: Why did you decide to go with Gamefound?
BRIAN
: I had been looking into
Gamefound
as a possible pledge manager, just to see what they had to offer and discovered that they were in the beta phase of opening up their crowdfunding platform. It was intriguing to see a platform that was solely dedicated to gaming. When looking to the future and thinking through the growth we would like to see for
Infinite Black
, we wanted to know what options there are for multiple crowdfunding channels. If there are people using
Gamefound
, who might not be using
Kickstarter
, we want them to know about all the cool stuff we are making.
Vast Grimm
is also a departure from
Infinite Black's Elder Dice Kickstarters
. We will not have the sheer number of dice that they have in those campaigns. So this seemed like a good project to try something new. We also like being early adopters of things we think are cool. After chatting with the team behind
Gamefound
, they seemed like they would be good people to work with.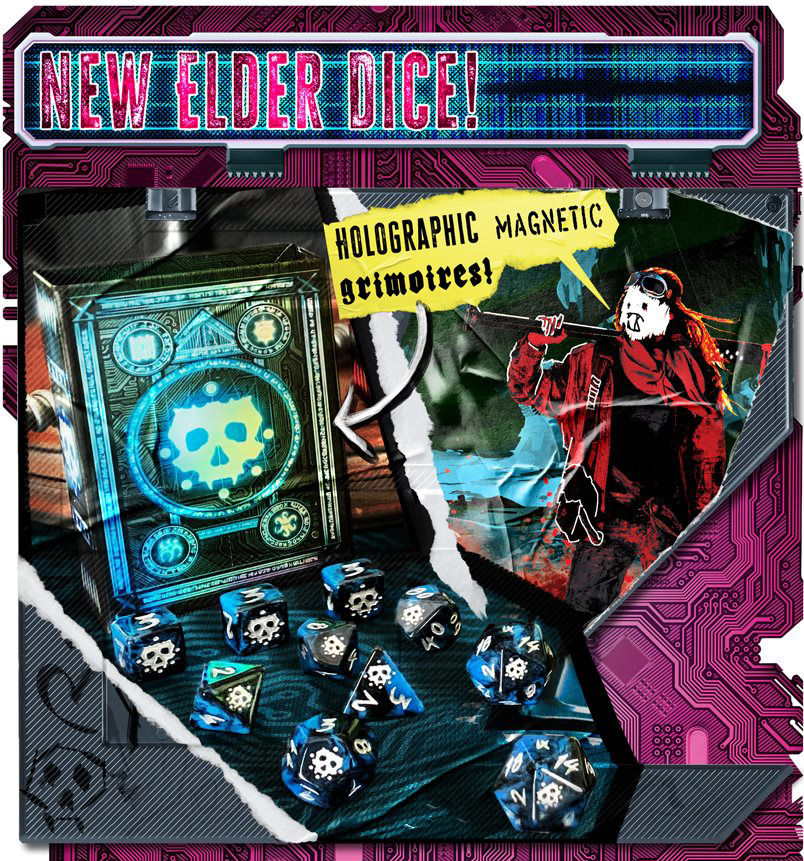 EGG: We've talked about some of the other projects that you've done including
Cardography
and
Revilo
for 5e. How did Revilo turn out?
BRIAN
:
Revilo
was great. It was a successful
Kickstarter
and we (Carey Drake, Isaac Skaggs, and myself) continued to create new content through
Patreon
up until April of this year. I'm taking a little break from that setting to recharge and let other creative ideas flow… but expect a
Return to Revilo
before long.
EGG: Beyond Vast Grimm, what else are you working on?
BRIAN
: At
Infinite Black
I do a little bit of everything from Project Management to Graphic Design. Between that and
Vast Grimm,
I've been keeping pretty busy there. Outside of work, I have started working on a new RPG engine that is rules-light where I can create all the worlds I want and change it up as I see fit. I'm building out my first setting for that as I develop the rules. It's called
Detrix
and is a bit of
Cabin in the Woods
meets
Stranger Things
meets
Supernatural
. An epic urban fantasy set in the mid-90s. I'm releasing this content as it is developed through
Patreon
. Prior to that, over the course of the pandemic I released my
RPG Squeeze Series 2
(blind box foam squishies), a plush RPG monster line, and I recently wrapped up a
Kickstarter
for
PolyDice
potions.
EGG: That is a nice amount of work. I appreciate you taking the time to answer my questions. Where can fans follow you online?
BRIAN
: I am terrible about being social online, but you can find me at
Twitter
[and]
Instagram
.
Infinite Black
at
Twitter
,
Instagram
,
[and]
Facebook
.
Creature Curation
at
Twitter
,
Instagram
,
[and]
Facebook
.
Vast Grimm
by Infinite Black
"Vast Grimm is a rules-light Infectious Sci-Fi Horror tabletop roleplaying game, compatible with Mörk Borg, featuring 3 new Elder Dice sets!"
Egg Embry participates in the OneBookShelf Affiliate Program and is an Amazon Associate. These programs provide advertising fees by linking to DriveThruRPG and Amazon.