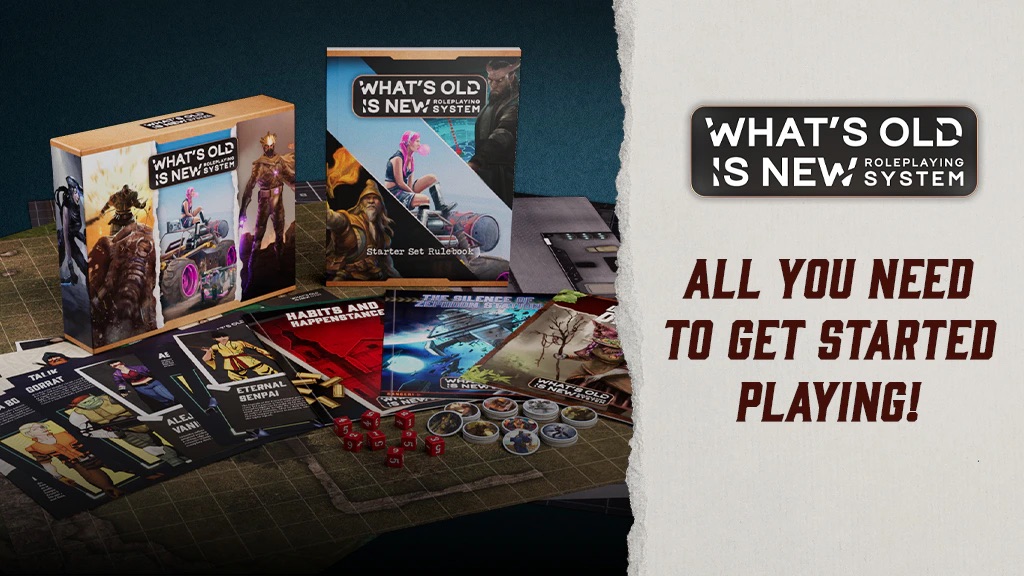 The all-new
What's OLD is NEW Starter Box: Fantasy/Modern/Sci-fi TTRPG
is now live!
A gorgeous boxed set for this flexible TTRPG with rulebook, adventures, characters, poster maps, tokens--and an open license!
Click here to pledge now!

What's OLD is NEW
, first released in 2016, is a tabletop roleplaying game designed for fantasy, modern, and sci-fi adventuring. It features d6 dice pools, lifepath character creation, a flexible magic system, and much more, with fully compatible rules tailored to each genre of play. It is well-supported with a wide range of additional rulebooks and adventures.
This all-new
What's OLD is NEW (WOIN) Starter Box
is perfect for those new to the game, or for existing GMs looking to introduce players to the system. The boxed set comes with:
A 68-page softcover rulebook (including a bestiary)
Three 20-page softcover adventures (one fantasy, one modern, one sci-fi)
Three double-sided poster-sized battlemaps
Over 60 cardboard tokens for characters and monsters
18 pregenerated character handouts
8 six-sided dice
VTT Asset Pack (tokens and maps)
OGL, CC, & ORC open licenses
Everything you need to play for just £24 (or about $30 USD).