The popularity of
Dungeons & Dragons
has helped establish a baseline genre of fantasy that makes the game easily accessible to those familiar with its tropes. But in D&D's early days, the idea of mixing sci-fi and fantasy was built into the game.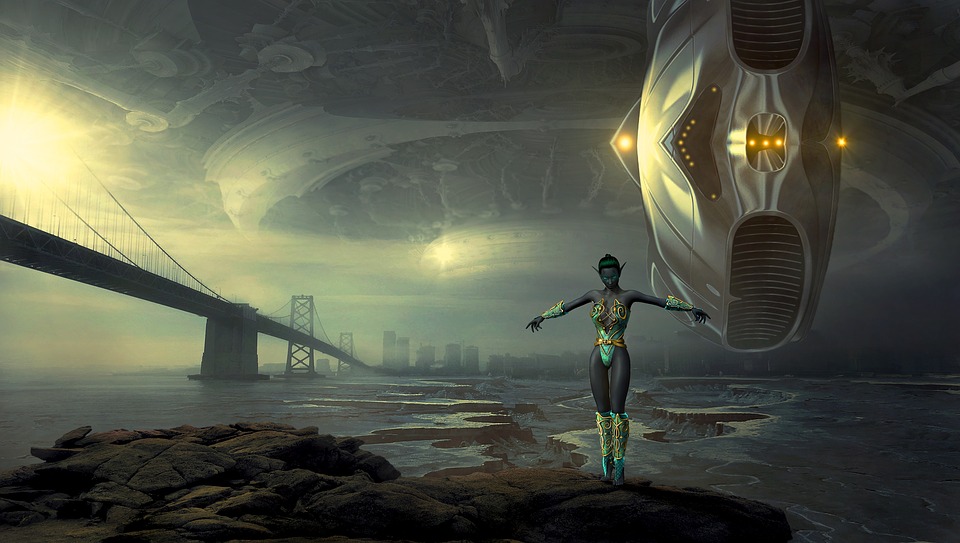 Picture
courtesy of Pixabay
.​
D&D's Inspiration
Co-creator of D&D, Gary Gygax, was fond of pointing out that the inspiration for D&D was more inspired by R.E. Howard's
Conan the Barbarian
series than J.R.R. Tolkien's
Lord of the Rings,
but that does a disservice to the list of authors he
identified in Appendix N
of the
Advanced Dungeons & Dragons Dungeon Master's Guide:
The most immediate influences upon AD&D were probably de Camp & Pratt, R. E. Howard, Fritz Leiber, Jack Vance, H. P. Lovecraft, and A. Merritt; but all of the above authors, as well as many not listed, certainly helped to shape the form of the game.
de Camp's
Lest Darkness Fall
is an alternate history science fiction novel. Leiber's Fafhrd & Gray Mouser meet "a German man named Karl Treuherz of Hagenbeck who is looking for his spaceship, which he uses to cross the boundaries between different worlds in his hunt for animals for a zoo" in
The Swords of Lankhmar
. Vance's works are set in
The Dying Earth,
where "magic has loose links to the science of old, and advanced mathematics is treated like arcane lore." A. Merritt's
Creep, Shadow!
is a pulpy adventure featuring:
...a witch that murders people with her animated dolls. It's got sketchy scientists, femme fatales, world travelling adventurer types, and even a hard boiled Depression-era Texan.
H.P. Lovecraft wrote more modern weird horror while R.E. Howard's Conan took place in a fantasy setting -- and yet the two borrowed themes from each other's works to blend into the Cthulhu Mythos we know today. Add all this up, and D&D was anything but "regular" fantasy. So how did we get here?
You've Got Martians in My D&D!
James Maliszewski
explains at Black Gate
:
However, I think it worth noting that, in his foreword of November 1, 1973, when Gary Gygax is explaining just what D&D is, he makes no mention of Tolkien. Instead, he references "Burroughs' Martian adventures," "Howard's Conan saga," "the de Camp & Pratt fantasies," and "Fritz Leiber's Fafhrd and the Gray Mouser." Most of the borrowings from Middle-earth occur in Volume 2 of the game, Monsters & Treasure, which only makes sense as many of Tolkien's creatures are easily dropped into almost any fantasy setting. Of course, Gygax does something similar with Burroughs; D&D's wilderness encounter tables include tharks, Martians of every hue, apts, banths, thoats, white apes, and more. I think this makes it readily apparent that, far from being the pre-eminent inspiration of the game, Middle-earth is one of many and not necessarily the greatest one.
The other co-creator of D&D, Dave Arneson, demonstrated his proclivity for mixing sci-fi with fantasy in the Original D&D set,
Supplement II,
Blackmoor
:
While this background provides no real details about the Blackmoor setting itself, it does explain that the high priest of the Temple of the Frog, an individual known as Stephen the Rock, is "an intelligent humanoid from another world/dimension." Furthermore, Stephen possesses several mysterious devices, such as an anti-gravity unit and an interstellar communicator. I found this information intriguing. I was of course already familiar with Gary Gygax's Expedition to the Barrier Peaks, as well as the "Mutants & Magic" section of the AD&D Dungeon Masters Guide, which provide guidelines for mixing science fiction and fantasy. But Supplement II was published in 1975, before any of this, which suggested to me that perhaps Arneson was perhaps the originator of this kind of "mixed genre" gaming.
There was the tantalizing possibility of D&D crossing genres, as evidenced by the
Gamma World
and
Boot Hill
crossover rules in the
AD&D Dungeon Master's Guide.
And of course, there was the
Expedition to the Barrier Peaks,
itself inspired by
Jim Ward's
Gamma World.
But it was not to be. Gygax frequently defended D&D's inclusion of Tolkien-esque creatures as a necessary sop to the popularity of the genre, but as Maliszewski points out, D&D eventually became its own genre, helping strongly demarcate fantasy vs. science fiction:
Prior to the success of Dungeons & Dragons, fantasy was a very broad genre, encompassing everything from Alice's Adventures in Wonderland to A Princess of Mars to Howard's Conan stories and more. The earliest players and designers of fantasy roleplaying games understood and accepted this, but, as these games gained popularity and moved beyond their original audience, they became much more self-referential and self-contained – a genre unto themselves – rather than drawing on the anarchic literature that inspired them.
The onus would be on other RPGs to deliver on the promise of a truly cross-genre universe with Palladium's
Rifts
being the foremost example. D&D would follow suit with its Planescape and Spelljammer settings that attempted to encompass all the other D&D universes, but even those settings generally stuck to fantasy as a baseline.
New mixed-genre stories have since spun out of that baseline assumption, regularly mixing technology with fantasy in a way that was fresh to fans of the
Thundarr the Barbarian
cartoon. Thanks to the Internet, cross-pollination between genres is a natural outgrowth of so many ideas mixing together, and that's reflected in our own D&D campaigns where aliens or robots might make a surprise appearance. With the
announcement by Goodman Games of the return of Expedition to the Barrier Peaks
, it looks like the megaverse still has some life in it yet.
Last edited: