D&D Beyond has released yet more stats! We've already seen the most common
adventures
,
classes by tier
, and
subclasses
. This time it's a look at popular multiclass combinations! They use "active characters" which are those not deleted or suspended, and which there is "some reasonable sense that maybe they're played". There was a LOT of data whizzing by very fast in the Twitch stream, so here it is broken down.
​
It turns out that 11% of level 2+ characters are multiclass and 27% of level 20 characters are multiclass. This varies by class, of course, with the fighter being the most common, with 33% multiclassed at levels 2+ and nearly 40% at level 20.
In the graphics here, the light blue is characters of level 2+, the dark blue is characters of level 20. The fact that you can take more than just two classes means that these won't add up to exactly 100%.
Fighter/Rogue is the most popular combo, followed by Barbarian/Fighter. Warlock/Bard is the least popular.

​
Up at level 20, the figures differ a little.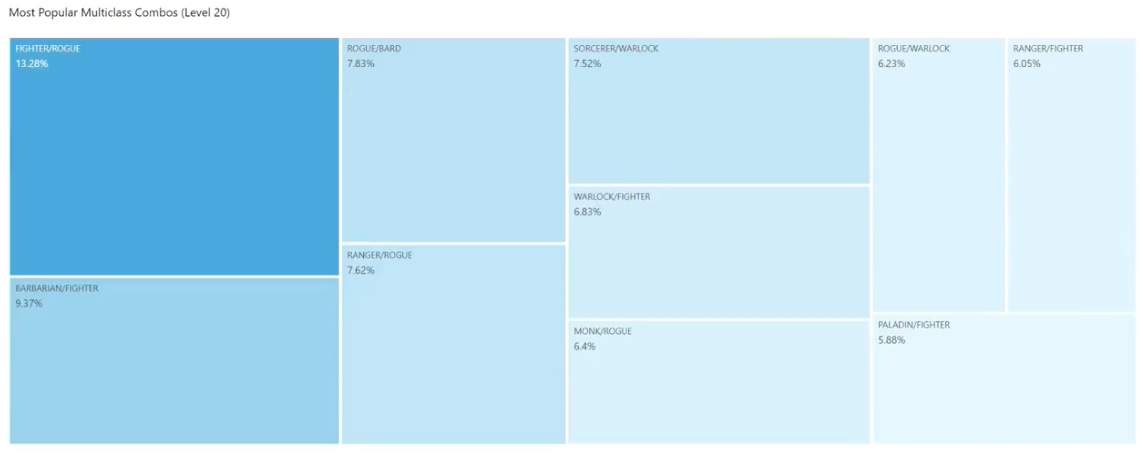 ​
Zooming in at the bard, you can see it broken down by level. Level 1 is a popular level as are 3 and 10. The most popular choices for a bard's multi class are the rogue and the warlock.
​
And here's the cleric by level. The most popular cleric combinations are fighter, wizard, and rogue.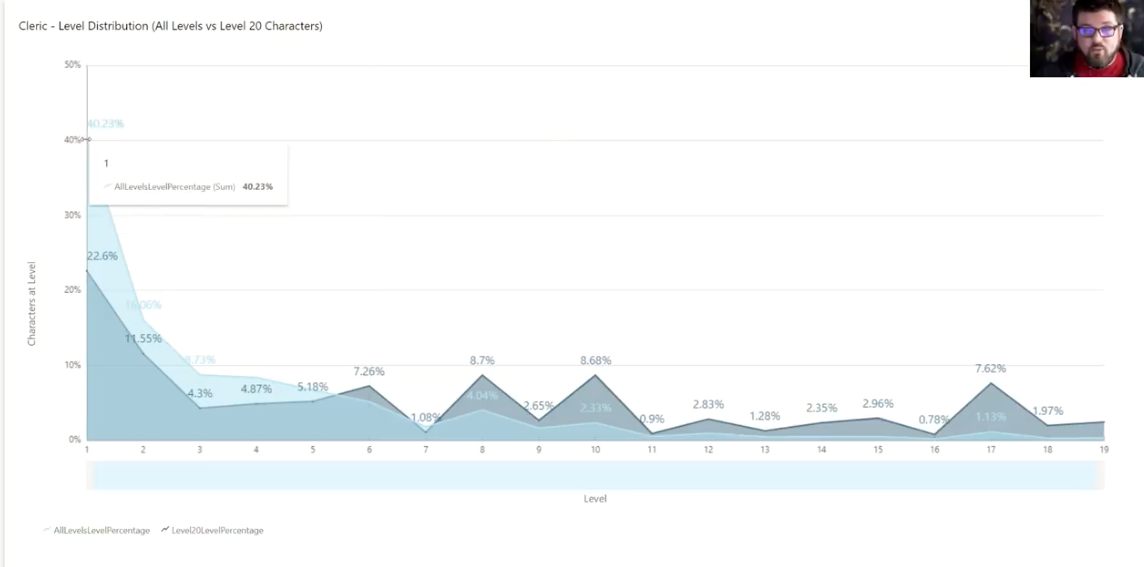 ​
Here are druids, one of the least popular multiclasses, with only 8% multiclass druids. There's a peak at 10th level. Barbarians, rangers, and clerics are popular combos.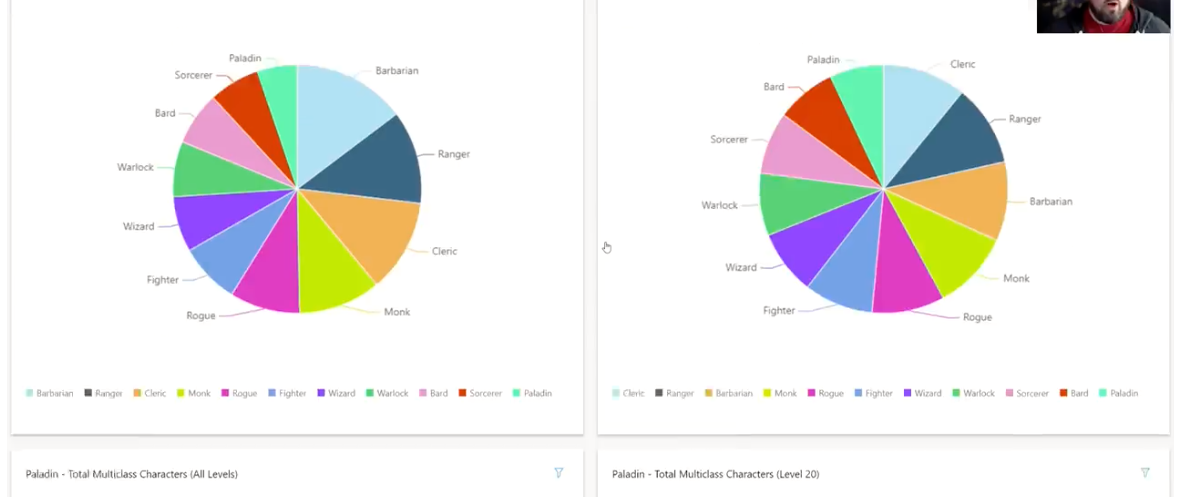 ​
Paladins. Levels 2 and 6 are popular. Popular combos are with warlock, fighter, and sorcerer.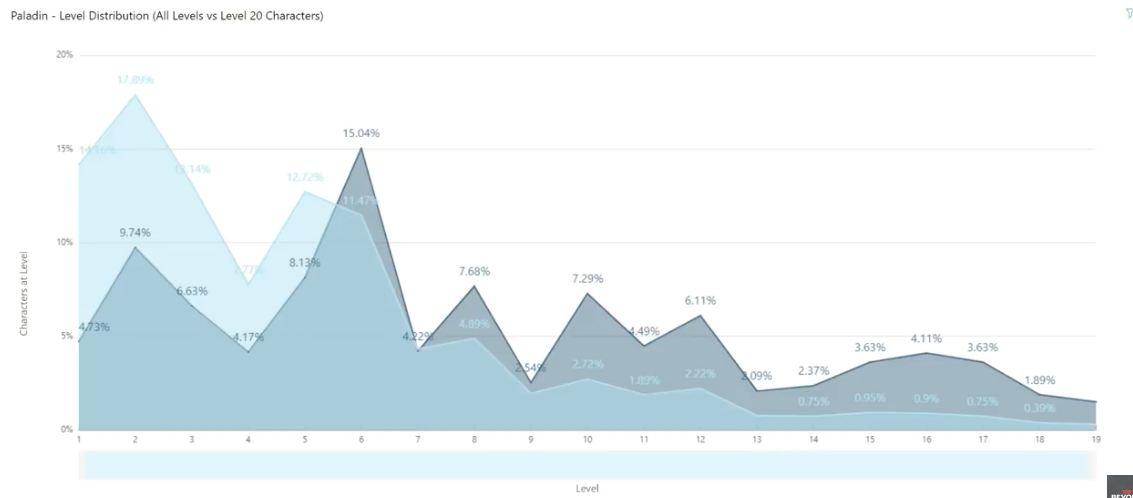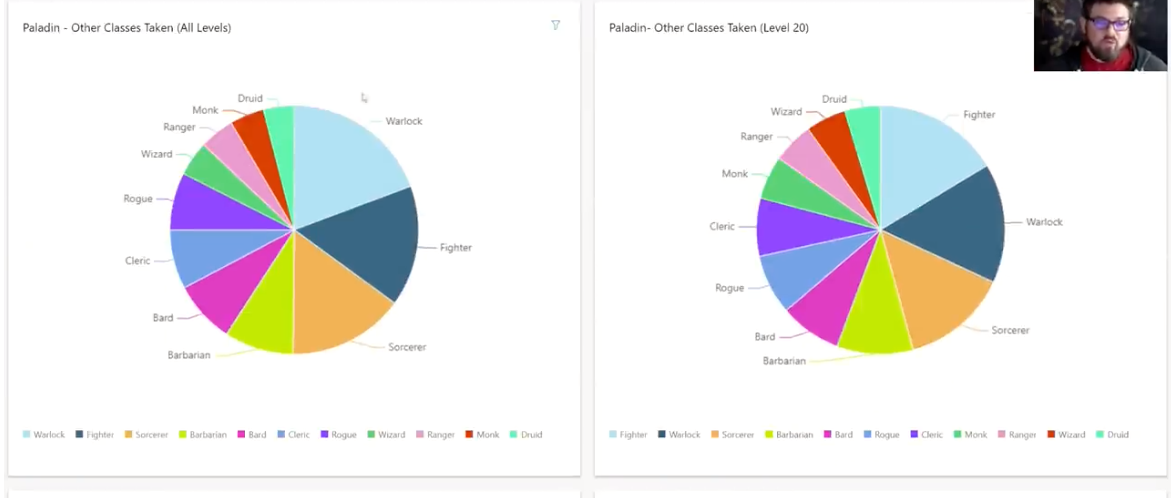 ​
Next up is the ranger. Popular multiclasses are rogue, fighter, and druid.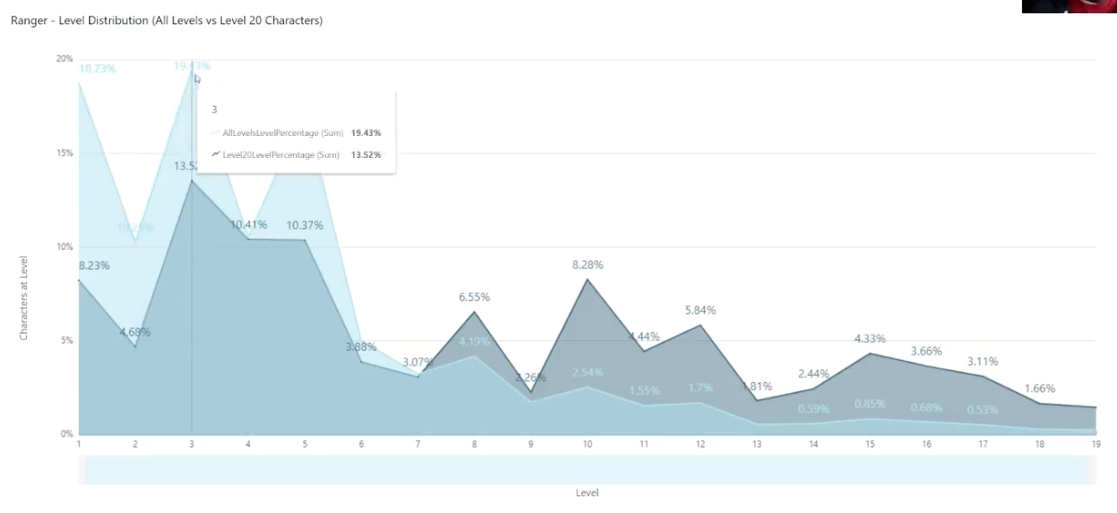 ​
Monk is next. Level 17 is a milestone, and it multiclasses with rogue, fighter, and barbarian most.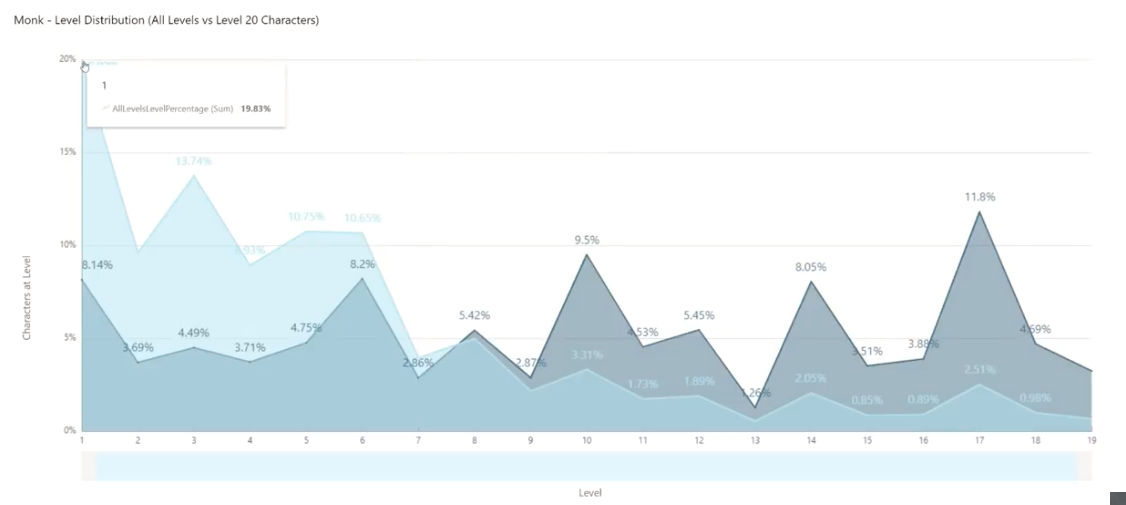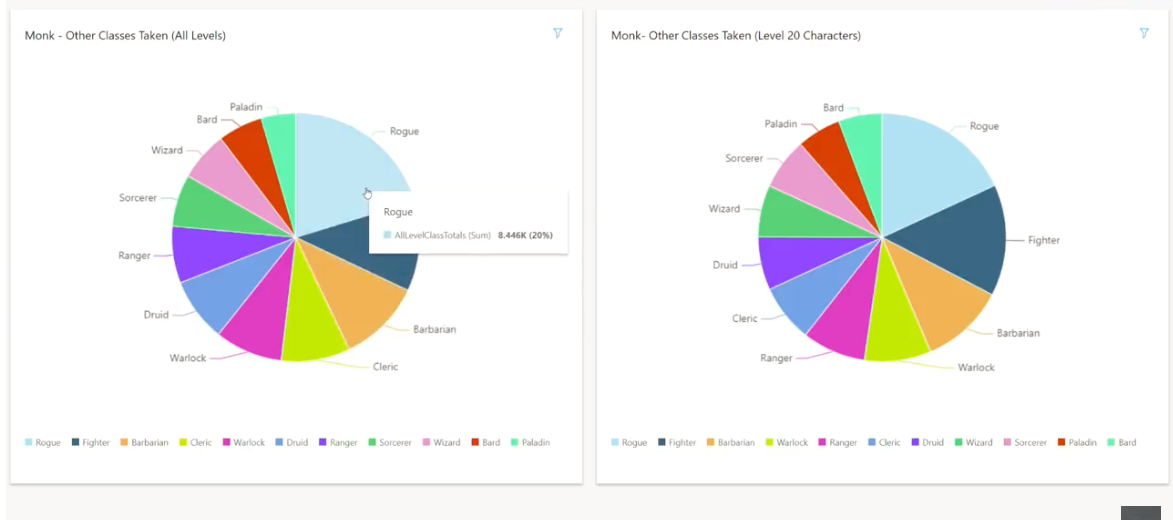 ​
Sorcerer. Warlock, paladin, and fighters are common multiclasses.

​
And then we have the warlock. A very popular choice for muliticlassing, with 23-25% of warlock characters doing so. Sorcerer, fighter, rogue are the popular multiclasses.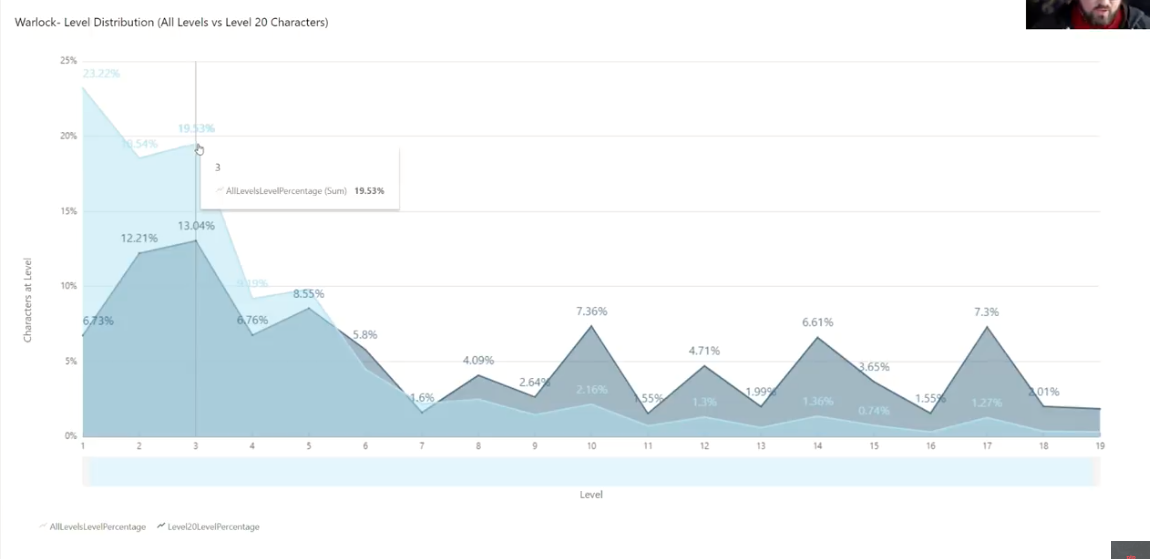 ​
The wizard has a peak at 10th level. They tend to multiclass with warlocks, paladins, and fighters.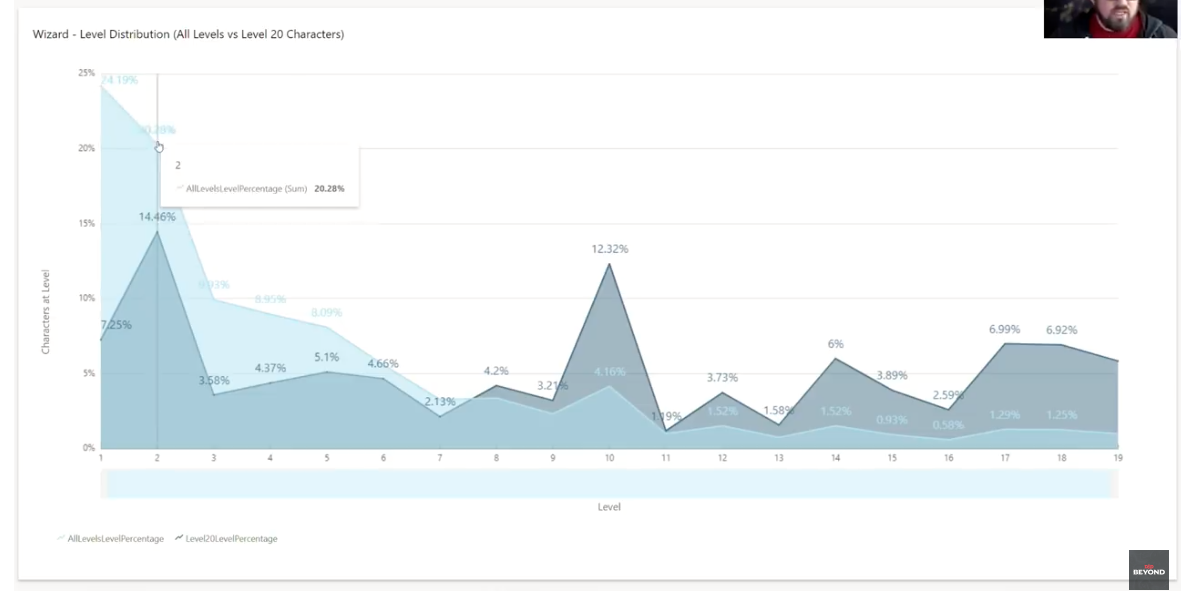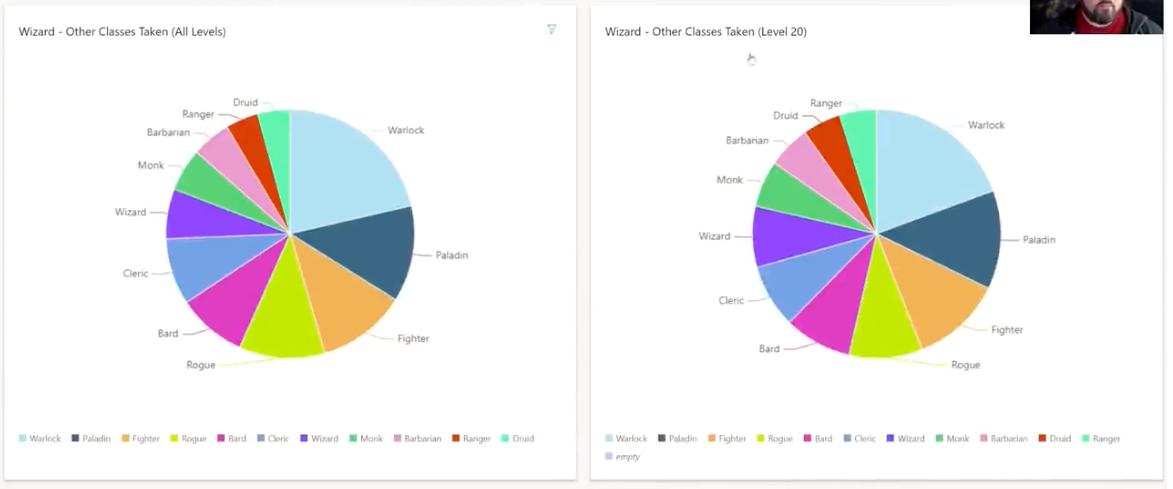 ​
For the barbarian, we have mainly a low level dip, and lots of fighter multiclasses, followed by druid, rogue and monk.
​
This one is the fighter. Very popular for multiclassers, with 33% of characters, and nearly 40% at level 20. Warlock, paladin and... fighter? are popular multiclasses.
​
And then we have the rogue! Almost as popular as the fighter (32%). The popular mutliclass choices here are warlock, paladin, and fighter.
​