Well, since I am the first one up and waiting for everyone else before we can have breakfast and open presents, here I am at 7 AM LOL!
Given the discussions in the other threads about martials vs. casters, I decided to tackle the idea of a slower spell progression for casters, which I think would pull back enough to maybe narrow the gap, while not gimping casters completely.
A point was made in the other thread about
dimension door
mimicking a "superheroic leap/movement" concept, and how the spell is acquired at 4th level (and also usable 3 or more times per long rest by 10th level really), which is only tier 2. So how can a martial PC really compete, even on a limited use scale, with such magic?
Here are my thoughts (ripe for the haters to yell "No way, man, don't gimp my wizard!"
):
1) Decrease auto-acquired spells to 1 per level after 1st and only begin the game with 3-4 instead of 6.
2) Return to prepared spells requiring "Prepared Use per Slot" instead of "Any Prepared per Slot".
3) Slow down acquisition of higher level spells. See "NEW Slots per Spell Level" below.
4) Reduce spell slots.
5) Keep high-level (6th+) spell slots limited to 1/ spell level, keeping it on par with
Mystic Arcanum
(which should also be delayed to match the slower spell progression of other casters).
The revised spell progression would have the following adjustments: (EDIT: type error at 15th level, 6th levels spells would be slowed by 4 levels, not 5.)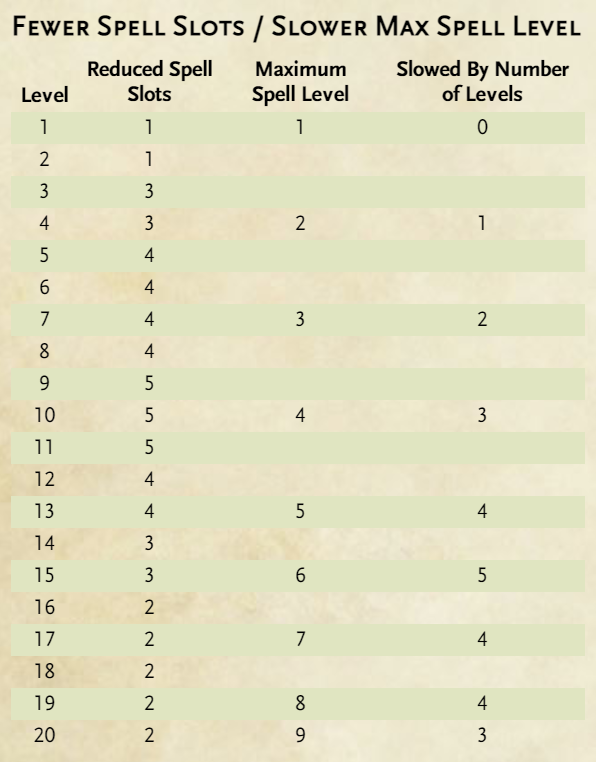 And the RAW spell progression alongside the NEW spell progression suggested:
Personally, the only drawback as I see it is this would promote cantrip spamming, which I am
NOT
a fan of, so there is that.
But, for the people who feel there is too much of a gap in power-levels between casters and martials, it would narrow that some, I would think.
Hope everyone enjoys their holidays, however you celebrate them! But, the others are up so it is time for breakfast and presents. Cheers!
Last edited: