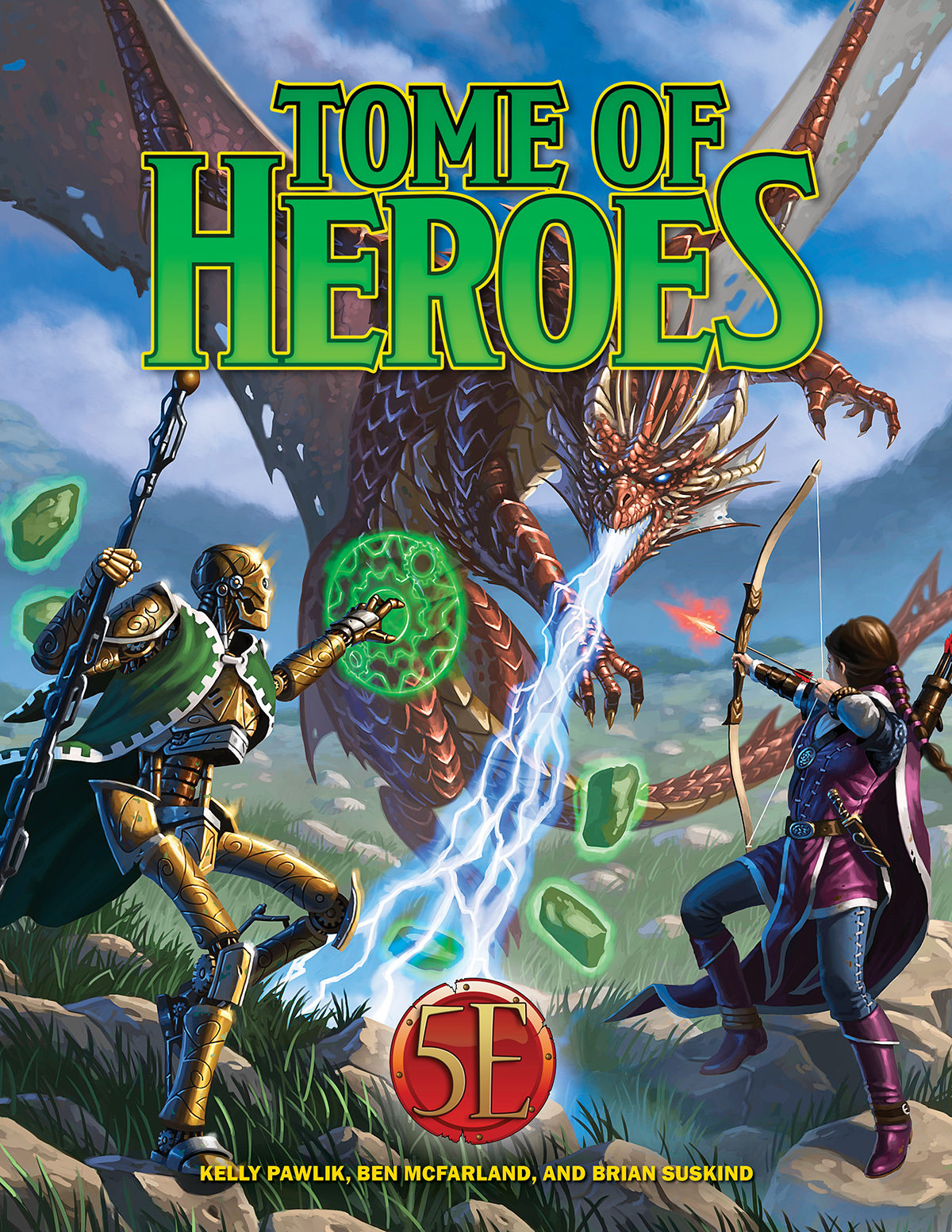 It must be a perilous time to be a third party
Dungeons & Dragons
company. The
One D&D
discussion quickly sucked all the air out of the room. Even though the next iteration of
D&D
is two years away, I've seen a few people declare they aren't buying any more
D&D
books of any kind until they see how the new version turns out. That's unfortunate, because Kobold Press continues to turn out some excellent support for 5e. It recently came out with
Tome of Heroes
, its long awaited player's options book. I received a review copy to see what designers Celeste Conowich, Jeff Lee, Sarah Madsen, Ben McFarland, Kelly Pawlik and Brian Suskind did with races, classes and other essential character elements. Are these options truly heroic? Let's play to find out.
The book kicks off with a look at races. There are over 20 in the book. Some of them will be familiar to those who already know about the company's Midgard setting, but they are generally presented as neutral here. The options are built in the traditional manner with specific bonuses assigned to specific stats, but it seems fairly easy to pop those away for tables who prefer the floating bonuses of
Tasha's Cauldron of Everything
. The book presents some fine options, including new takes on cat people and warforged style constructs. I thought the darakhul offered some interesting options, as these eaters of the dead choose a benefit from what they were before they were turned undead. There are also options for the
Player's Handbook
races, such as urban halflings or sea dwarves. There are other exotic options such as mushroomfolk or half-humanoid, half-deer that would fit in with a woodsy setting.
Another similarity to
Tasha's
comes in the class options.
Tasha's
had plenty of class options with a psychic theme while here, the theme is gunpowder. Yes, if you want firearms in your
D&D
world,
Tome of Heroes
is an excellent resource. Not only can you play a gunslinger that's part ranger and part bounty hunter, you can play a sorcerous gun mage that can use mage hand to wield enough pistols to make John Woo cry. There are other fun paths as well, like the circle of bees for druids or the investigator college for bards. Many of these options feel like they would fit right in
Eberron
, or any world that's going for a more steampunk aesthetic.
The adventuring gear also leans into more exotic weaponry. Beyond firearms there are high capacity crossbows, double axes and the kind of things that inject a bit of high fantasy into any game. Many of these weapons interact with the combat options outlined in the book which give martial characters a bit more to do than grind through hit points. My favorite things in this section were a few small items that walked the line between Elven technology and small magic items. For example, there's a leaf that clips onto clothing that can expand into a ghille-suit style camouflage for sneaking around the forest. There isn't much in the way of magic gear in this book. Most of that came out in Vault of Magic which debuted earlier this year.
Backgrounds and feats tend toward highlighting characters who may have fallen into adventuring rather than classic occupations like soldier or sailor. There are some classic fantasy ones, like the character who doesn't remember their past or the hero who is destined to do something historic.There are also backgrounds like servant or diplomat that bring a bit more weight to social characters with their abilities. I also enjoyed the retired adventurer background for players who want to play that fighter who is three days from retirement, or perhaps bring a character from an earlier edition back to the table for one last adventure.
My favorite part of the book is devoted to downtime activities. There are a lot of ideas in here that stem from all the stuff that players do instead of the usual premise of a
D&D
game. These include things like creating art, raising a monster farm, running a criminal empire or even building a manor to use as a home base. These activities vary in complexity but it's nice to see them in print for groups who get into the game beyond just exploring dungeons and battling monsters. These systems also offer a way for players to burn through those gold stockpiles while generating new plots to move the game forward.
Tome of Heroes
offers some great options for both players and Dungeon Masters to add to their D&D game.