Tactical Studies Rules - The Original Game Wizards
Actually once you step,outside the dnd/srd/d20 bubble it seems like very many games abandoned these six in favore of more or less.
Yeah, I've seen and played games with more (as many as 12!) and less (as few as 3) but you still run into the same issues. The problem isn't with the core six, they work
very
well IMO offering enough to make them distinct. Other games have different labels and organize abilities differently, but really it is just a new version of the same thing.
Here is a set I developed for a game I made about 20 years ago.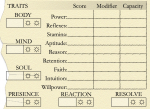 Your BODY trait has three scores: Power, Reflexes, and Stamina
MIND is Aptitude, Reason, and Retention
SOUL is Faith, Intuition, and Willpower
These are crossed to create your other three traits:
PRESENCE is Power, Aptitude, and Faith
REACTION is Reflexes, Reason, and Intuition
RESOLVE is Stamina, Retention, and Willpower
You generate the nine scores, and use those to determine your six traits. But, like one of the main goals of 5E I decided as accurate as the system is, it is too complex and cumbersome. Looks sort of similar to your idea, huh? But we eventually abandoned the nine abilities to focus on the six traits.