The archetype's big claim to fame is a fancy spellbook & a magic quill, but the quill comes before the book on tcoe 77 so I'll start there
That highlighted part about not needing ink does nothing for PHB114(copying a spell into the book)
"For each level of the spell, the process takes 2 hours and costs 50 gp. The cost represents material components you expend as you experiment with the spell to master it, as well as the fine inks you need to record it. Once you have spent ".
In factthe UA version had a phrase that suggests the tcoe one intentionally does not alter the price as it also had the doesn't require ink in addition to
"The gold and time you must spend to copy a spell into your spellbook are halved if you use the quill for the transcription. "
.
Before getting to the spellbook you start out with a solution in search of the specific problem where you have the magic inks & such and more importantly a spellbook/scroll/etc you can scribe a new spell from and desperately need to scribe that to your spellbook before you can take a long rest so you can change your prepared spells (phb114 preparing & casting spells). That probably sounds ridiculously contrived, I can't even claim credit for it & you can watch someone trying to talk it up with that exact situation
here
. Notably the other person in that video was talking about how it costs gold to learn & spells are hard to find immediately before that "hold them off" that forgets a long rest is required to swap prepared spells...
Wizard archetypes usually cut the cost to scribe in half & give a useful ability tied to that school, Order of scribes gets a solution in search of a problem that requires changing how the class prepares spells & no cost reduction so the book needs to be especially nice. It has three different bullet points.. so if we go by bullet points alone it might make up for things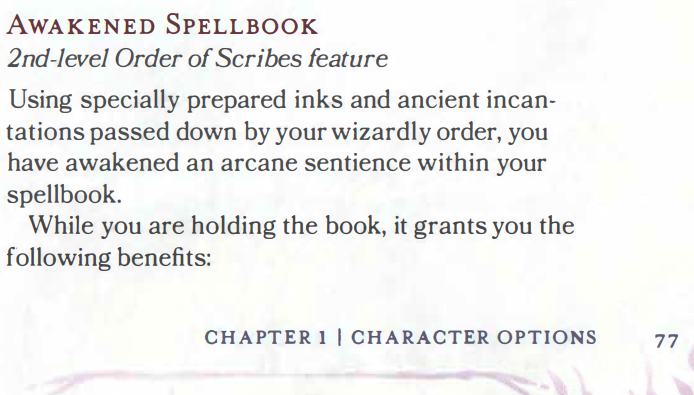 Point 1 on the spellbook is....
bad
. Using your spellbook as a focus is something that literally provides no improvement over any regular focus items so it might as well say "you can wear a hat". I'm going to take the next two points out of order & tackle the simpler third point that allows you to cast a ritual spell as an action
once
per long rest. Unfortunately, no matter how much wotc desperately wants to believe that ritual spells are a fully fleshed out & powerful tool across the entire level spread,
they
largely end at 3rd & at their best are little more than a promising proof of concept never completed so we've got a bullet point that amounts to
Well there we have the erroneous 20 minutes. That contrived situation depends on...
Having a spell you don't have scribed to your spellbook in some other spellbook or a scroll you for some reason can't use but can scribe
desperately needing to scribe it but not being able to wait 2hr/spell level
Having the special inks & such to scribe that spell amounting to 50gp/spell level of that spell with you in the field. Apparently you knew that this would be required so brought them with you instead of just ding it before you left?
Scribing the spell you seem to have known you would need to scribe but didn't quickly scribe earlier
Having tiny hut in your spellbook
spending ten rather than twenty minutes to ritually cast tiny hut
taking a long rest
hoping that the baddies on the other side of that door he noted can't dispel the hut so you can finish a long rest but not wait for the hut to drop
Sometime between 2 & 18 minutes after the hut ends prepare the spell you just scribed.
That just leaves the second point "When you cast a wizard spell with a spell slot, you can temporarily replace its damage type with a type that appears in another spell in your spellbook, which magically alters the spell's formula for this casting only. The latter spell must be of the same level as the spell slot you expend. "sounds a lot like free energy substitution on any spell so must be pretty useful for getting around 5e's excessive use of energy resist/immune tags...
Until you look at it in the context of how the wizard class works
... In that same video from earlier at a
different timestamp
Kenreck clearly lays out the first two problems with this trap of an ability. "I wish as a dungeon master I was a little bit
more
stringent on wizards to give them that feeling of having to study having to work for the spells I think that's kinda part of the buyin of being a wizard & I certainly feel like I have failed in the past to provide that kinda like
'it costs gold to like you know learn a spell and it's hard to find spells"
. So with the video and rarity of spellboks/lack of sufficient gold to use them in the hardcover adventures cleared up it just leaves the last major flaw in the second trap bullet point.... You can't just have any spell in your spellbook with the desired element, it needs to be of the same level your casting at so prepare to use a lot of those 2 spells/level on damage spells of the same level unless you win the jackpot lottery & find a lot of those "hard to find" spells that "cost gold to learn"
With 5e moving away from &
inverting
LFQW
the 1st/2nd edition targeting of spellbooks is pretty universally seen as "a dick move" on the GM's part so I wont go into the value of easily replacing the book like that if you get disintegrated/fall in lava/etc since those are unusual events for any character & not a something that an archetype should hang its hat on.
Manifest mind seem like an interesting ability shure... but is it?.. Proficiency bonus times per long rest you can manifest it as
That sounds
familiar
.... Maybe someone could
find
a spell that does similar, I can't imagine what such a f
amiliar
sounding spell would be called if someone were to
find
it though. It has 3x the range of find familiar, isn't limited to touch range spells but restricted to prof bonus/long rest uses, is harder to kill than a familiar, & doesn't cost ten gold to cast like find familiar does... which is critical for you as "it costs gold to learn spellls" as kenrick explained in the video.
At level 10 you basically get a couple low level warlock slots that recharge on long rest & require you to prepare spells into beforehand with the ability to scribe two (and only two) s1st or 2nd level spells that cast as 2nd & 3rd level spells respectively. Luckily you get this when there is like a 90% chance that
the game has already ended or is about to end
rather than at a lwer level when a couple extra second or third level spells might really shine.
Finally at 14 when gentle repose, revivify, reincarnation, raise dead, & resurrection along with god knows how many healing spells & abilities are all available you gain an ability to burn up those expensive hard to find spells for a few long rests instead of taking damage on an attack.