I know this is a 5e thread, but a question about "why play a cleric" led me to think back to my first experience of D&D (Mentzer red box), and think about how my attitudes to classes have been influenced from that first exposure, and specifically the visual cues the rules gave my 10 year old brain.
I like clerics. I'm fond of fighters. I'm not a fan of wizards (magic-users), and prefer humans (my gnomophilia started with AD&D).
I wondered why. And then I re-read the red box, and it became obvious.
The Cleric
Dynamic, kinda hot, ready for battle, action-packed pose. Still my favourite class.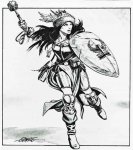 The Fighter
A little staid, but says "grizzled vet". My first ever PC was a fighter.

The Thief
Looks like a rapist, quite frankly. Never appealed. Still doesn't, even with Sneak Attack.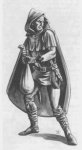 The Dwarf
"You lookin' at me, Jimmy?" - my second favourite 'class' (though now I don't tend to combine dwarf+cleric, strangely enough).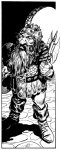 The Elf and the Halfling
Subtext: not important enough to warrant their own solo pics. Halfling: too much time spent eating pies; Elf: too much time spent getting ready in the bathroom. Never been fussed about either race.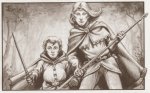 The Magic-User
Didn't even get a pic, bar one tiny roundel showing an old geezer and the back of a cowl casting Phantasmal Force. Never played a wizard to this day.

These archetype images say quite a lot - to me, the most dynamic image was (and is) the cleric: everyone else seems strangely static and flat.
Anyone else find their favourite classes/races are still tied to their first visual interactions?
And if so, which do you think are the most evocative class images from the 5e PHB? For me, I'd say the Fighter and Paladin.