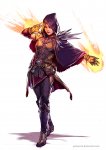 If brute force doesn't work, you're not using enough.
[sblock=color code]
Goldenrod
: A truely stand out option.
Cyan
: A top choice.
Blue
: A good choice.
Black (no color): Passible, but not special.
Violet
: Situation, most of the time you should pass on this, but there are corner cases that can really make this good.
Red
: Grade F, avoid. At best you just wasted your choice, but it might actually hurt you.
[/sblock]
Pros
Best buffer in the game with twinned metamagic bypassing concentration.
Great novas.
Ability and unique ways to use spells.
Possibly the strongest class at high levels, since it can sacrificing low level slots for SP.
Dominates on short days.
Cons
Limited number of known spells, can be a bit spammy.
No rituals, hurts their overall utility.
Weak at low levels, with very few sorcerer points.
Doesn't have the stamina for long days.
Stats:
Str
: You are your own weapon, so you never learned to swing a maul. Multi-classing should look at dex and booming blade, which scales by character level.
Con
: Good for everyone, but more so for sorcerer's who have a lot of concentration spells. If you're focused on
buffing
, this is more important than Cha.
Dex
:you're have no armor, not even light, so you want this. Going first is also a rather important. Can also use booming blade.
Int
: Nope.
Wis: Any leftover points go here so you don't get charmed as easily.
Cha
: Only affects your spell DC's, which is very important for
control spells
, less so for half-damage-on-miss spells, and not at all for buffs.
Races
: Anything that boosts Cha/Dex/Con, which makes
half-elf
an obvious choice. Otherwise you are looking for defensive and/or utility features, such as the mobility offered by a
winged
tiefling
, THP from a
Variant Human
with inspiring leader, or possibly the save bonus from
gnomes
. If your party lacks a front line,
mountain dwarf's armor
can be great, more so for wild who likes to move a bit closer to the fray, or just dip for it.
Feature
:
Con
/
Cha
saves: Con saves really help you hold onto your concentration. Cha is probably the worst, with near nothing using it.
Spell Casting
: Full spells takes up most of the sorcerer's power budget. The number of spells you know are very limited, only knowing 1-2 of each spell level. So choose wisely, and make sure it meshes with your metamagic. You can't twin burning hands or empower feather fall.
Font of Magic
: Pretty
useless when you get it
, but as you level you want to sacrifice your low level spells for SP, allowing you to empower your high level ones. Just note that you lose points when you convert, and you might need a level 1 slot for something, so don't rush to use it.
Metamagic
: Finally, after 2 short levels of being a crappy wizard, you get access to the
wizard subclass
thing that really make a sorcerer a sorcerer. You only have 2 for most of your levels, so choose carefully.
Twinned (1-9SP)

: Double a spell's effect. Great for both controls spells like suggestion and buffs like greater invisibility. A bit

pricey for

high level

spells

like finger of death. Cheaper than a quickened firebolt.

Careful (1SP)

: For AoE control spells, particularly zones (web, stinking cloud) since the protection last the entire durration. Also can be helpful for some blasting (fireball). Good when you have a front line that likes to run in and get surrounded, or as a wild sorcerer who does the same. These tend to take concentration, as do twinned buffs, so you might not want both careful and twinned.

Subtle (1SP)

: An underrated metamagic, that's great for ambushes and RP opportunities. Particularly if you have

stealth (prodigy feat)

. Sneak up on an enemy, and drop a non-flashy spell (cloud of daggers, circle of death, enemies abound, immolation, etc..) without breaking hidden. Forcing them to waste their actions searching for you while they take damage. Or go with a major image and control it while standing in the middle of a crowd. It can also be used to

prevent counterspell

and

ignore silence

.

Quicken (2SP)

: Using 2SP for an extra xd10 firebolt is a bit on the pricey side especially at low levels. But it can also use your action to disengage, dodge, dash, hide, help, use the healer feat, or anything else that takes an action, which can be a life saver. Better for multclassing, since you can make a quicken+multiattack, or

agonising

blast

, though even then you might want it as your third pick, when eldrich blast has scaled.

Empowered (1SP)

: Not a good choice at level 3, but a possible pick up at 10 or 17, as you get more AoE damage. Improving as you roll more dice, but it still cost 1 SP. Slightly better for damage per SP than quicken firebolts since this can't miss, but lacks quickens overall versatility. It's also the only metamagic that can stack, for a twinned empowered finger of death.

Heightened (3SP)

: A bit pricey, but it greatly increases the chance of a control spell sticking, but only 1 roll on 1 target. Not the whole group you cast hypnotic pattern, or second rolls at hold person. Though that does leave

suggestion

,

levitate

,

disintegrate

, and

banishment

. And the cost doesn't scale like Twinned.

Extended (1SP)

: It's hard to make good use of this in most scenarios. As 1 minute spell are usually long enough for 1 battle, but 2 minutes won't be long enough for 2. Though doubling a 10-minute spell might be good for a dungeon crawl where enemies are relatively close. One big exception is if you manage to get

aura

of

vitality

, since that gives most of its benefits out of battle.

Distant (1 SP)

: It's really hard to justify this in one of your precious metamagic slot, even if your DM really favors open space.
Sorcerer Restoration
: 40% more SP (with 2 short rests), is a good reason to stay a full sorcerer 20.
Origins:
Draconic
: The defensive option, with simple, but useful, passive abilities. Better in parties with less of a front line and less healing, also just flat better than wild at
lower levels
. Fire is the clear winner, with others being a bit short on spell choice.
[sblock]
Draconic Resilience
: A solid boost to defense, which really helps sure up your weaknesses.
Elemental Affinity
: A big damage boost at this level, especially for AoE spells, though it
doesn't scale
. Non-fire elements can be seriously lacking in spells, so ask your DM if you can switch damage types (i.e. firebolt-> frostbolt). Resistance is hard to use, since you need to cast a fire spell to get fire resist, and enemies who throw fire at you will generally resist your spell. Though it lasts an hour without concentration, so it can be helpful if you know your enemy in advance, such as tossing a fire bolt before you enter a red dragon cave.
Dragon Wings
: Flying has some good utility can keep you safe from melee. Just avoid going too high. Also, make sure you have feather fall.
Draconic Presence: A bigger version of fear + careful metamagic, which is not a bad way to start off a battle, but not necessarily the best use of SP either.
[/sblock]
Wild
: The offensive option with a lot of free, if random, spells. Only
occasionally in an unfriendly
way. I'm rating under the assumption that the DM will play along and surge all the time, if he
never surges
, half this sub-class features are useless (
bend luck
is great, but not enough). The wild has extra quadratic scaling, since the more spells you cast, the more free surges you get, making it even more powerful at
higher levels
.
Better in parties who have good defense/support, in particular with a paladin 6 who boosts saving throws, or a life cleric that can help recover from bad luck.
[sblock]
A few notes about surges.
Most of the time it helps (

46% Good

, 18% Mixed,

14% Bad

, 22% RP/Neutral).
Being close to enemies and away from allies boosts your odds of getting something good, but only a little (~6%). Helpful, but not worth dying over.
It's not an action, slot, SP cost, or anything else. Just a completely free effect.
They happen AFTER you cast the spell. No risk of silencing your spell. Though you could possibly disrupt your concentration.
No metamagic. Careful won't help.
They are not concentrate. So they won't stop your twinned haste, but you also can't end them early.
Make sure your allies know to punch you if you turn into a sheep, and protect you if you turn into a pot. Neither will break concentration.
Magic Surge
: A very low chance of anything happening, particularly at low levels when you only have a few slots per day. Even at high levels, this might only happen once per day.
Tides of Chaos
: Advantage on lots of things. Don't spam this at
low
level
as bad surge could TPK your party until level 5 or so. Becomes amazing with
controlled chaos,
with a massive amount of advantage and also a massive amount of free effects.
Bend Luck
: A versatile ability with great range and capable of both helping and hindering, and unlikely to be wasted. Best used for saving throws for control spells, like suggestion, though an assassin would also appreciate you helping her land her attack, or to finish off the big bad. Sorcerers aren't likely to have many competing reactions, except shield.
Controlled Chaos
: Improves your surges, and nearly eliminates the chances of a bad one.
71% good
,
27% mixed/RP
(your choice),
2% bad
. So go wild.
Spell Bombardment: A minimal damage boost at this level, about 3 damage. Fireball (+2.7), Finger of death (+2.7), fire storm (+2.8), chain lightning (+3.3), meteor swarm(+3.4). At least it works for any spell, and once per turn (not round). So it works a bit better for repeate and off-turn damage spells, like firewall (+4.4) or vitriolic sphere (+4.4). It has some synergy with
empowered
metamagic
, but that only increases it to about +3.8 damage per spell.
[/sblock]
Storm: Extra mobility and damage, but close range effects aren't the best for squishy sorcerers. Make sure to get some defense, (Con, Inspiring Leader, Mirror Image, Stone Skin, Mountain Dwarf, Tortle, dipping Cleric or Fighter 1) and possibly an ally healer to back you up. Cha matters a bit less with 1/2 damage spells and the auto-damage feature, so you have some room.
[sblock]
Wind Speaker
: Not much.
Tempestuous Magic
: Some extra mobility is helpful, particularly with Heart of the Storm. Though it competes with
quicken
.
Heart of the storm:
Short
range
and a
limited-but-not-bad spell selection
makes this difficult to use well on a squishy caster. At least you're rewarded with
good scaling damage
if you can manage to pull it off. Note that the damage is independent of spell level, so a level 1 thunderwave is still useful at level 20, though still might be worth scrapping for the SP.
Storm guide
: Nice for a freebie.
Storms fury: Good damage that almost makes you want to be hit. Best used with resistance (quicken+blade ward) and THP (inspiring leader).
Wind soul
: Great utility that you can share.
[/sblock]
Divine Soul
: Acces to a few choice cleric spells. Though each one you take is one less sorcerer spell, and you don't have much room. So it's not quite as good as it seems.
[sblock]
Divine Magic
: 1 known additional spell. And let's you
get clerics spells in place of sorcerer spells, not additiona to.
, sorcerer spells with cleric spells. Good choices include guidance (cantrip), 1 or 2 heal spells, command, bless (until you get greater invisibility), conjure celestial (extend), revivify (can be twinned), and spiritual weapon (no concentration). Possibly spiritual guardian if you get armor. Though that list is 7-8 of your 16 known spells. There isn't much else that clerics do better than sorcerers.
Favored by the Gods
: Nice boost.
Empowered Healing
: Few healings spell roll lots of dice. So this won't add much. But it can be nice if you roll a bunch of 1's.
Otherworldly Wings
: Flying is nice.
Unearthly Recovery: Some extra HP.
[/sblock]
Shadow Magic
: Nice mix of defense and control. Darkvision makes variant humans the defacto shadow sorcerer.
[sblock]
Eyes of the Dark
: Disadvantage to be hit, and advantage for firebolts is a strong start. Though you can't quicken this, so the action cost keeps it down.
Later levels
you're usually better off concentrating on something else to help allies (twin greater invisibility).
Strength of the Grave: Not dying is good, but it's not very reliable, particularly
at higher levels
.
Hound of Ill Omen
: A better heightened plus a conjure animal. Not only does it work each round of
hold person
, the wolf can dish out a modest amount of damage (17 with a crit) as well as take a some hits (though possibly only 1 at higher level). Note that you can have multiple hounds at once.
Shadow Walk
: Huge distance lets you cast and run. Use minor illusion to set up places of dim light.
Umbriel Form: Powerful, but expensive. So it won't see too much use.
[/sblock]
Last edited: