DIVINE INTERVENTION: ULLER CHOOSES HIS CHAMPION!
Sylvar said:

"Uller turn your eyes upon your champion, look at my current condition. Another, lesser god has dared to curse your chosen. I implore you, come to my aid once again."
As Sylvar speaks these words, there is a loud, thunderous clap, that reverberates throughout the hallway. It is followed instantly by a flash of light, which momentarily blinds all onlookers.
[sblock=A Forward To The Post, For My Players; Please Read]
GM:

Dying Curse is a pact between a powerful being (like a deity, or major fiend) and a willing subject. What it allows the subject to do, is to designate, at the time of the subject's death, the person or persons whom the being should act against. It is not a spell, per se. It is more of a declaration. It's like telling the being, "Hey, this guy killed me. Go attack him."

As such, there normally isn't a saving throw for this sort of thing; it's almost impossible to resist the will of a deity.

However, when Sylvar asked, I told him that I would allow a Fort Save, at Lolth's DC (34), and if he could make it, he could resist the curse.

I also stated that a critical failure (natural 1 on the die) would be treated like a spell critical, and the transformation would be instantaneous, instead of taking 9 days to manifest.



Since the save was to resist the power of a deity (Lolth),

I decided that, in the event that Sylvar could roll the

natural 20

required to make the save, that Uller would intervene on his behalf, and save him from the curse. As you can see from the picture below, Sylvar pulled it off. Thus, the fantastic events that I am about to describe came about. These moments are rare in any D&D campaign, so I invite all of you to enjoy this boon, and to take full advantage of it. Sylvar's success will end up benefiting the entire party, as you will soon discover.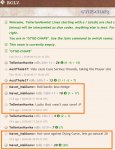 ​
[/sblock]
When everyone's vision clears, they notice a tall, winged, angelic-looking figure, which appears to be a handsome, blonde-haired man, with pure white wings, wearing silvery, chainmail armor, and carrying a massive, two-handed sword on his back. His wings seem to glow, with a silvery light, and you notice a yellowish, glowing aura, emanating from his head. Everyone has heard of such beings, but none of the party had ever thought that they'd ever see one: you are looking at a
Solar
, a divine messenger, an agent of power, a lieutenant, who serves a given deity directly.
The winged, angelic warrior looks at Sylvar, and smiles.
"Your destiny was foretold. My master is joyous that you have finally embraced his calling.To that end, he will help you and your comrades, all of whom have done a great deed this day."
With a wave of his hand, the Solar heals the party's wounds, drives away their fatigue and exhaustion, and refreshes their minds. Collin is included in that healing and refreshment.
| | |
| --- | --- |
| GM: | The party regains all memorized spells. |
Looking to Sylvar with a grim sense of urgency, he says,
"The Drow Wizard has escaped you. Even now, he rushes to warn the Orcs of your incursion. The might of the Pomarj Army will be at your doorstep in less than 10 minutes. And mounted scouts, riding Manticores, will arrive in less than 8 minutes. If you have the will to fight, I have given you the opportunity to be at your best when you do so. But were I you, I would leave and regroup; the blow you have dealt to the dark alliance this day will set them back several months in their planning. If you stay, be warned that 16 Trolls lie in wait in the steading's cellar, one of whom is a great war chief, and another, his brother, a great shaman. They are, even now, digging in and making barricades. They are very much on alert, therefore, leaving is probably the best course. However, Lord Uller rewards the brave, and thus, I shall not offer discouragement against another battle this day; but know that such a battle would be epic in scope, long in duration, and fraught with peril and attrition."
After a moment's pause, he continues,
"If you choose to leave, there is a better place to rest than your former campsite; ask Collin for the hospitality of his mother, and he shall grant it to you quite willingly. Kraven was a great enemy of Collin's family, and dispatching him was a great service to Collin's mother."
Sylvar blinks, having been caught unawares.
~Who in the blazes is Collin?~
he muses, inwardly.
Lastly, he points out,
"As a parting gift, all of the items you were planning to take from the ground level of this place are now within the confines of your magical pit, including the contents of Vulka's and Delliak's hidden treasure chests. There is still more treasure below, in the cellar, but you will need to wrest the master key from the

Troll Lord's

grasp, if you hope to claim it. You now have 10 minutes or so before the Orcs are upon you. Uller wishes you well, in whichever endeavor you decide to pursue. Know that sometime within the next year, you must visit his temple in The Great Kundarian Seameast, in the city of Dane. There will you undergo the purification ritual. In the meantime, know that Uller has invested you with special powers, powers which you will begin to discover over the next few weeks. Use these powers in fulfillment of his greater glory. You are the chosen one, the one among Frey's people, who is destined to unite the three shattered tribes. Your life shall be long, and your glories great."
With that, the Solar is gone, as if he were never there to begin with. There is no thunder clap, or flash of light. He is simply and suddenly gone from your sight. The whole party gets a strange sensation, a sense of knowledge, that tells them that although the Solar spoke to them over the course of several minutes, only a moment of real time has passed.
Sylvar notices that he is once again in his proper clothes, wearing his Elven Chainmail, which is now un-blemished. Sylvar is now once again his proper height and weight.
Those among the party who were not in the Eastern Hallway when the Solar appeared suddenly have the knowledge of his appearance bestowed upon them, and there is no confusion; it is plainly a divine act, a gift of knowledge, which should simply be accepted, and not questioned.
GM:

Dewydd, Tam, and Collin all witness the following directly:

1] Dewydd's wounds are completely healed.
2] Collin's wounds are completely healed.
3] The equipment on the dead Ogres and Giants suddenly vanishes. (They are still wearing their ratty, sub-standard clothing.)

Hill Giant #4, who cannot charge because of having to turn the corner and pass through the doorway, nevertheless advances on Dewydd's position, standing over his freshly-fallen commander's body with a look of ire. Without saying a word, he attacks!
GM:

Calling 5 pts. of Power Attack.
Dewydd's current AC: 24.
Attack Roll: (27) Hits; 31 Damage.

The Giant brings his massive blade down upon Dewydd, who is almost able to step out of the way; instead of taking the full brunt of the blade squarely on the neck, as the Giant had intended, he instead takes a nasty wound to his right arm, as he is in the process of twisting away from the blow.
Dewydd, who was relieved a moment ago to be unwounded, grimaces as he receives the nasty gash.
~Ah well, it was fun while it lasted~
he muses.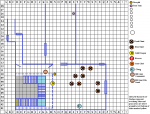 ​

THIS IS THE START OF ROUND 10! The Haste effect has now worn off! Tam's invisibility has now worn off! Respen, it's your turn! What do you do?

[sblock=Initiative Order / DM Housekeeping]

Initiative Order: 10th Round: Respen:

25


Nelvandra:

21a



The Drow:

21c


The Troll:

21d


The Beautiful Giantess:

21e



Dewydd:

20a

[31 Damage]


Koralynn Copperstrike (D1 / K):

20b


Tam-Tam:

19a


Lathir:

19b1


Dire Ape:

19b2


Sylvar:

19c



Duncan: 17b
Ebony:

17c


Lenny: 17d
Trav:

17e



Dire Wolves:

17f



Thallok:

16c



Hill Giant Guests (The Two Prone Brothers) (9 and 18):

16d


Hill Giant Guests (Dying / Bleeding Out) (12,15):

16e


Hill Giant Guests (Surrendered) (10,13):

16f



"Collin" The Gold Dragon:

16h



Remaining Hill Giant Commander (#3) [Bleeding Out]:

15a


Kleborn:

15b



Valoran The Axe:

10a


Vale:

10b



Remaining Hill Giant Guard (#4):

0

(DEAD LAST)

Prince Kraven =

Dead

Snoggrella (M1)=

Dead

Greenmuggella (M2)=

Dead

Ogre Chef (Ogre #1) =

Dead

Ogre Sous Chef (Ogre #2) =

Dead

Ogre Sous Chef (#3) =

Dead

Ogre #4 =

Dead

Ogre #6 =

Dead

Ogre #7 =

Dead

Ogre #8 =

Dead

Tiny =

Dead

Tim =

Dead

Bison =

Dead

The Drider =

Dead

Nosnra =

Dead

Vulka =

STASIS

Delliak =

Dead

Darris =

Dead

Elder Kanor (S1)=

Dead

Elder Kurok (S2)=

Dead Forever

Elder Kragg (S3)=

Dead Forever

H1 =

Dead

H2 =

Dead

H3 =

Dying (-5)

H4 =

Moderately Wounded

(44)

Half Move 24 Hrs; Current Move Rate: 45 ft. (Potion)

H5 =

Dead

H6 =

Dead Forever

H7 =

Dead

H8 =

Dead

H9 =

Severely Wounded

(71)

Half Move 24 Hrs

[Surrendered]

H10 =

Moderately Wounded

(46)

Half Move 24 Hrs

[Surrendered]

H11 =

Dead

H12 =

Dead

H13 =

Moderately Wounded

(67)

[Surrendered]

H14 =

Dead

H15 =

Dying (-8)

H17 =

Dead

H18 =

Severely Wounded

(63)

[Surrendered]

H19 =

Dead

H20 =

Dead

H21 =

Dead

H22 =

Dead

[/sblock]

[sblock=Remaining Durations of The Party's Buff Spells

This total is as of the 10th Round of combat:
Dewydd's Buffs:
Abjurant Armor [+8] 10 hours [6,000 Rounds] = 5,973 Rounds Remaining
Alter Self 50 minutes. [500 Rounds] = 473 Rounds Remaining
Shield [+8] 12 minutes. [120 Rounds] = 93 Rounds Remaining
Protection from Evil 10 minutes. [100 Rounds] = 73 Rounds Remaining
Blur 5 minutes. [50 Rounds] = 23 Rounds Remaining
Sheltered Vitality 6 minutes. [60 Rounds] = 49 Rounds Remaining
Interfaith Blessing (Everyone) 6 minutes. [60 Rounds] = 33 Rounds Remaining
Bull's Strength (Lathir) 11 Minutes. [110 Rounds] = 83 Rounds Remaining
Cat's Grace (Lathir) 11 Minutes. [110 Rounds] = 97 Rounds Remaining
Shield (Nel) 4 Minutes. [40 Rounds] = 29 Rounds Remaining.
[/sblock]
[sblock=DM Notes To Himself]
Doing Things In Room #17:
Dire Wolves
Doing Things In Room #1:
"Collin" The Gold Dragon, H4, Dewydd
Dewydd's AC until his next turn: 24. (Heedless Charge)
The Dungeon Master said:
It seems that I messed up; Sylvar shouldn't have the Elven Arrows on him. So I will say that the arrows had been split differently; instead of two quivers, Tam-Tam is only carrying one; that makes sense anyway, since he's a little guy.
Elven Arrows Remaining (Tam): [16] Fired so far: 9 (7 remaining); have not checked for retrieval.
Elven Arrows Remaining (Thallok): [20] Fired so far: 0
Elven Arrows Remaining (Kleborn): [20] Fired so far: 0
Elven Arrows Remaining (Sylvar): [20] Fired so far: 9 (11 remaining); have not checked for retrieval.
LINK TO LOOT LIST:
CLICK HERE
[/sblock]
Last edited: