Goodman Games
announced some months ago
that it would be producing 5th Edition updates of classic D&D adventures, and the first is now
ready for pre-order
:
Into the Borderlands
, a 384-page hardcover reprinting two classic adventures and also updating them to D&D 5E. The book slated for a May release.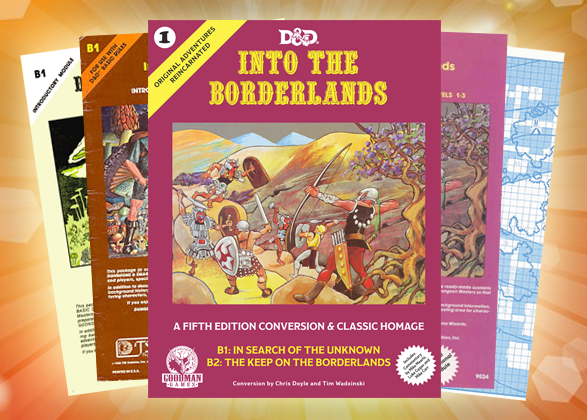 ​
Original Adventures Reincarnated: Into the Borderlands is now available for pre-order! This 384-page hardcover reprints the classic Dungeons and Dragons modules B1: In Search of the Unknown and B2: The Keep on the Borderlands, in both their original format and updated for Fifth Edition Dungeons and Dragons. And there is even a full-color 16-page cover gallery insert!

The expected release date for Into the Borderlands is May, but we are hoping (cross your fingers!) to have some early-release copies available at Gary Con in March!

Inside this book you will find high-quality scans from multiple printings of the original first edition adventure modules, plus commentary by such gaming luminaries as Luke Gygax and Mike Mearls. Full fifth edition conversions of both adventures are included, as well as brand new additional adventure locations to further expand and develop the Borderlands. This is a fully playable mini-campaign to start off your new fifth edition adventures, with a distinct old-school vibe.
The originals were 16 pages each (edit - correction; B1 was 32 pages and B2 was 28 pages). This 284-page hardcover includes TWO reprinting of each of the two original modules plus the 5E conversions, which take up more space. The two reprinting include differences like different stat block formats, and different interior art. Goodman Games says
"We don't believe this is repeating the same thing, and these reprints are particularly interesting if you are a student of gaming history."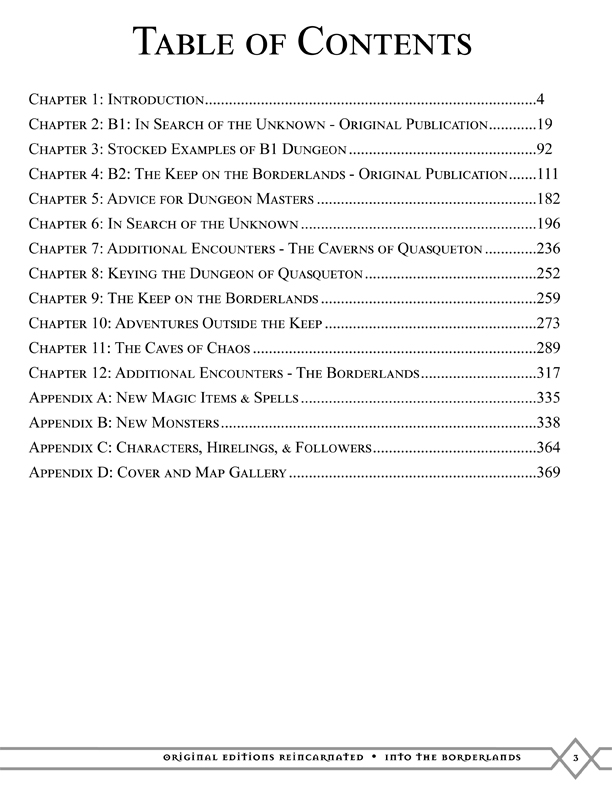 ​
The conversion to 5E is a "direct conversion", remaining consistent with the 1E originals; so there will be the same number of monsters in each location, and so on.
"It's up to the DM to mitigate this, or the PCs to use wise tactics (some described by Mr. Gygax himself, decades ago), or to use the age-old practice of "run away to fight another day." The original B2 was itself not balanced in regard to encounters. There was nothing (aside from a few vague rumors) to prevent a party of 1st-level PCs from wandering into the upper caves, and facing down dozens of undead in one room (for example)."
[FONT=&amp]Save[/FONT][FONT=&amp]Save[/FONT]
[FONT=&quot]Save[/FONT][FONT=&quot]Save[/FONT]​
Last edited by a moderator: