=== Charity, Human Female ===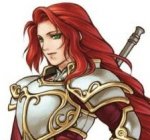 "It's like a fish,"
Charity mutters, looking it over as she takes a cautious step forward, cocking her glaive into a ready position, water dripping off her from her trudge through the pool. Speaking in an uncharacteristic tone, she demands,
"OK, bud, what's your deal?"
[sblock=ooc]
Step forward one square to S,-4. Ready glaive to strike if skeleton does anything threatening. Further, put him in threatened square if he does anything that provokes AOO.
Religion roll to see if Charity can remember what sort of undead-like creature to expect if a skeleton shows some sort of sapience:
Round 4: Religion Roll about Skeleton: 1D20+5 = [9]+5 = 14

If he does trigger my readied action or AOO:
Round 4: Potential readied attack on Skeleton: 1D20+3 = [15]+3 = 18
1D10+3 = [3]+3 = 6

[/sblock]
[sblock=Charity Mini Stats]
Charity
AC:
16 (15 flat-footed, 11 touch)
HP:
14/14
CMB:

+3

CMD:

14




Fort:

+3

Reflex:

+2

Will:

+3




Perception:

+6




Initiative:

+1






Current Weapon in Hand:

Glaive




Current Conditions in Effect:

Torch lit




Spells Remaining (1st):

0






Items not currently in possession:

Chakram (on ground), Torch (on ground)




Items depleted:

Healing kit: 2 uses


[/sblock]
Last edited: