The new season of Thematic Toolkit releases has begun! To kick off season 2, we've got berserker/herald/warlock as the three classes covered. The theme this month is law, justice, and punishment.
Berserkers can become an Executioner who make dealing death into a terrifying spectacle!
Heralds can become Vindicators, tireless hunters of those who have done great wrongs!
Warlocks can become Adjudicators, adherents to some form of higher law that governs reality itself!
And of course there are synergy feats to cover all three two-class combinations of berserker, herald, and warlock that are fully generic and work well with these arechetypes or any others you may want to use.
The extra for this bigger release is a pair of new backgrounds—Hangman and Judge—to help make characters deeply connected to the world of law and justice. $6, and available right now!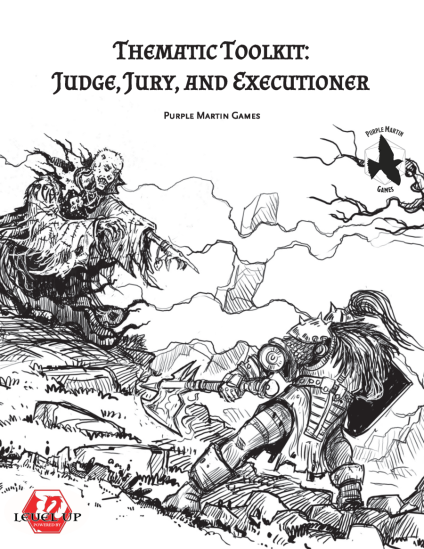 Thematic Toolkit: Judge, Jury, and Executioner (A5E) - The second season of the Thematic Toolkit line begins with another three-archetype release!This month's theme is law, ju
www.drivethrurpg.com