Hello everyone, Darryl here with this week's gaming news! A new
Dungeons & Dragons
video game announced,
Werewolf: The Apocalypse 5e
gets a new home, DriveThruRPG bans a publisher for "slanderous actions", and more!
In case you missed it on EN World this week…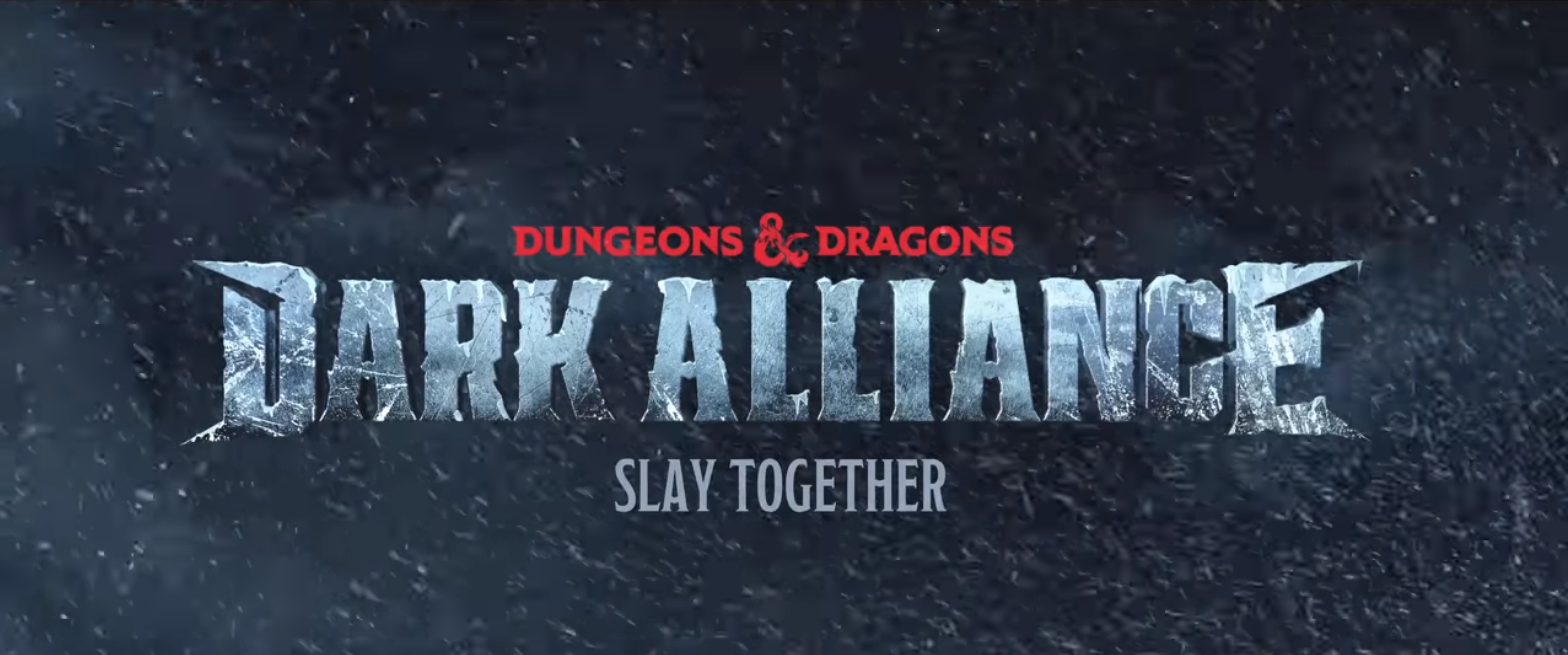 At last night's Game Awards, we got our first look at the new D&D game from Tuque Games, Dungeons & Dragons: Dark Alliance
. For those who don't remember, back in the early 2000s, the
Baldur's Gate
line of games was incredibly popular but a console port just wasn't possible. So Snowblind Studios along with Black Isle created a series of hack-and-slash action-RPG games for the Playstation 2, Xbox, and Gamecube. Now, Tuque Games is reviving the series for a new cooperative four-player game, this time set in Icewind Dale and putting you in the roles of Drizzt Do'Urden, Catti-brie, Wulfgar, and Bruenor. Wizards of the Coast announced it had acquired Tuque Games this past October.
Dungeons & Dragons: Dark Alliances
is scheduled for a 2020 release.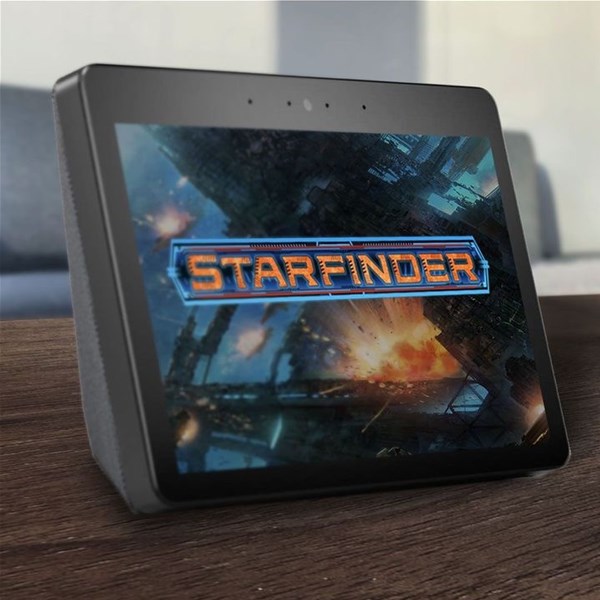 If you're ever in the mood to play
Starfinder
but don't have a group,
you can now play Starfinder with Alexa-enabled devices
. The first adventure in the series is "Starfinder: Scoundrels in the Spike" seeking out someone deep in the lowest levels of Absalom Station who is causing havoc. The adventure is written by James L. Sutter and the adventure is a full production with sound effects and professional voice acting with multiple story paths based on your decisions. The Alexa skill will be available on October 16 by saying "Alexa, play Starfinder" near any Alexa-enabled device.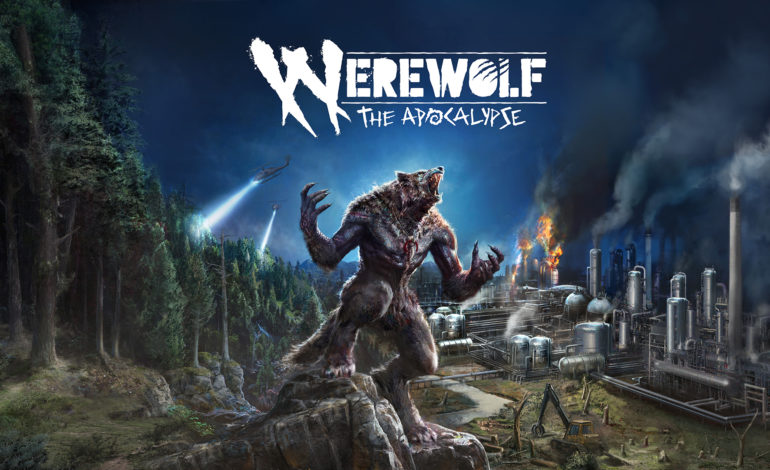 Hunters Entertainment, publishers of Outbreak: Undead and Kids on Bikes, announced they have obtained the license to create Werewolf: The Apocalypse 5th Edition
. From the press release: "
Werewolf
is about how we help/hinder each other to survive against great odds," said Ivan Van Norman, partner and producer of Hunters Entertainment. "This game was the first campaign I ever GM'ed, and I believe its stories are more relevant and impactful now than they've ever been - which is why we're excited to bring it back to fans old and new."
The new edition of the game is set for release in 2021.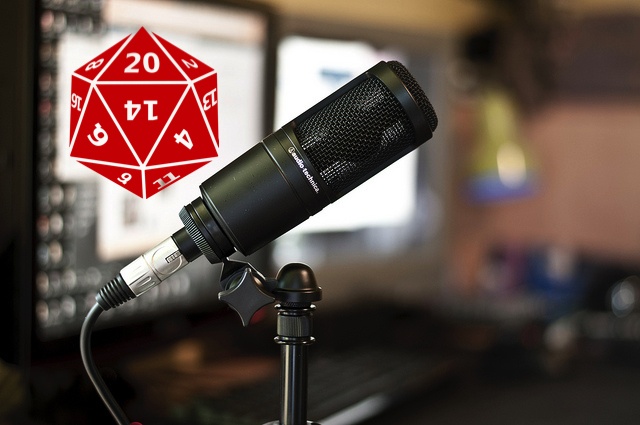 It's time once again to nominate your favorite podcasts of 2019
! Nominations will run until Tuesday, December 17 for the two categories of roleplaying game podcasts: Talk and Actual Play. And just like last year, there are some rules. The main focus of the podcast must be tabletop roleplaying games. You can't nominate yourself. Provide a link to the podcast's webpage (not a podcast network page, the podcast itself). Only podcasts are allowed (no Twitch streams, video series, TV shows, YouTube channels, etc.) And the podcast must have released at least three new episodes in 2019. Last year's winners,
The Good Friends of Jackson Elias
for Talk and
The Adventure Zone
for Actual Play, will not be eligible this year (podcasts are ongoing and it's only fair to win once). Oh, and again, make sure you nominate your favorite by the deadline of Dec 17 or else you can't complain why it wasn't on the poll.

OneBookShelf, the parent company of DriveThruRPG,
banned a publisher from the service following an explosive controversy on social media this weekend
. The publisher, Transfelinism, published a micro-RPG called "Police Procedure", a hack of
Lasers and Feelings
about police brutality by putting the players in the shoes of overly-authoritarian police officers. Multiple reports about the game violating DriveThruRPG's Terms of Service came in and, as DriveThru's staff was at this past weekend's PAX Unplugged convention, they were unable to give the game a proper review for content. DriveThru removed the game from sale temporarily in order to properly review the game after the convention.
At this point,
Transfelinism claimed in a blog post they had been censored
and posted a screenshot of the publisher's information page stating "This publisher has been banned by moderators for hate speech against an oppressed minority: the police".
According to a statement from DriveThruRPG on Twitter
, this change was made by Transfelinism themselves by using the Publisher Hub – Header editing tool for all DriveThru publishers. In a full statement on Monday,
OneBookShelf released a full statement on their Blogspot page which culminated with the statement
: "We do not want to work with any creator who uses our platform to falsify reports against others, nor do we want to maintain a relationship with anyone who undermines the integrity of public discussion in the hobby. As a result of this publisher's slanderous actions against us, we have decided to stop doing any business with the publisher." Transfelinism has not posted any further responses to the incident.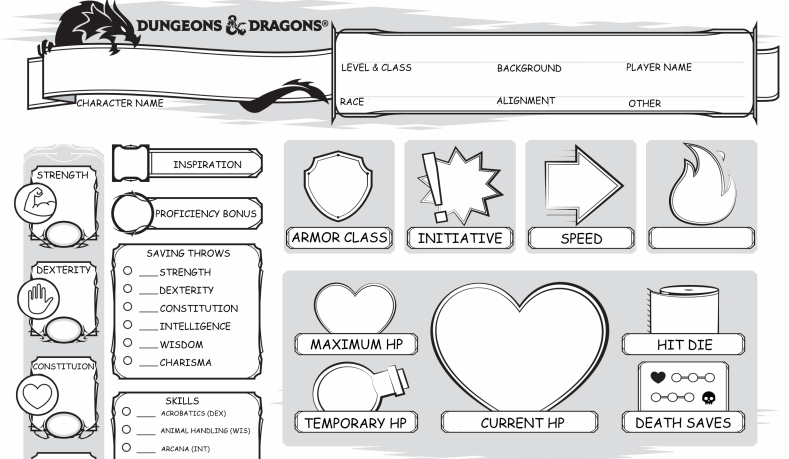 Two Reddit users – inuyasharuls and Axelle123 –
released a Dungeons & Dragons 5e character sheet specifically designed to increase readability for people with dyslexia
. The sheet makes use of both illustrative symbols for attributes as well as the Comic Sans font, which is much maligned in design circles but has been shown to ease reading and comprehension by some people with dyslexia. The three-page sheet also has an alternative front page that uses different colored text to differentiate attributes both on their listing and in the skills section for their associated attributes.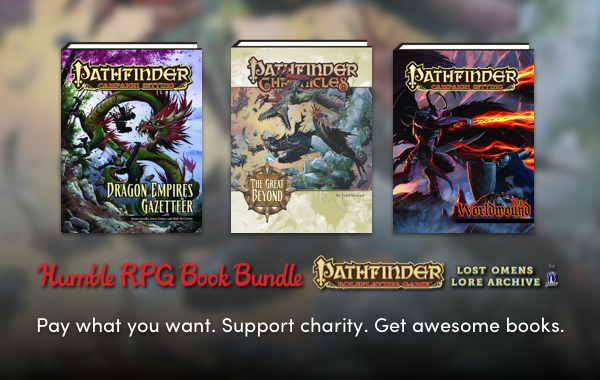 Humble has two roleplaying game bundles live right now.
The Orcus 5e Holiday Horde bundle of 5e OGL adventures and sourcebooks is in its final week
. You can pick up $475 worth of DRM-free PDFs in three tiers of $1, $9, and $18 including digital assets and assets designed specifically for Fantasy Grounds. This bundle runs until Wednesday, December 18. Also,
launched this week is the Pathfinder Roleplaying Game Lost Omens Lore Archive
. Yes, this is a different Pathfinder bundle from the previous one as this bundle features a collection of Pathfinder setting books for both 1st Edition and 2nd Edition (with most of them useful regardless of what edition you play) including the Inner Sea, Mwangi Expanse, Absalom, Cheliax, and more. This bundle runs until Monday, December 30.

The urban fantasy/superhero RPG City of Mist has an introductory boxed set up on Kickstarter
. The setting is based on the concept that fairy tales and myths are real and live in The City, looking to make their way in the world. The game has its own system based on rolling 2d6 modified by your character's skills and powers from their Mythos. The PDF starter set is available for $15 and the physical copy for $28, along with multiple pledge levels to add on the core rulebooks for the game in either PDF or physical versions. This Kickstarter is fully funded and runs until Thursday, December 19.
Speaking of D&D video games, Larian Studios (the video game developers behind
Baldur's Gate III
) have partnered with Lynnvander Studios to bring
their original video game RPG to the tabletop with Divinity Original Sin The Board Game
. The game plays like a CRPG with the one to four players working together to tackle quests and advance the story through exploration and combat with an ongoing campaign. Not only that, but you can submit the choices you made in the game to Lynnvander Studios using a one-time code and have your choices impact the overall game world in the future. The game is available for $120 with a premium edition with upgraded components for $165 and the expanded edition with two additional sets of side quests for $220. This Kickstarter is well into the seven-figure range and still has a few stretch goals left to unlock before it funds on Friday, December 20.
Something that's always been sorely missing with miniatures is something that every dungeon seems to be littered with (especially after the party is done) – bodies.
Fatal Fantasy looks to remedy that with a collection of metal miniatures of corpses of a variety of creatures and beings in a fantasy campaign
. Vampires, orcs, knights, thieves, dwarves, trolls, horses, halflings, men-at-arms, and more. A £20 (about US$27) pledge gets you the Humans, Dwarves, and Halflings set of six miniatures (Dwarf, Crushed Knight, Dreg & Treasure, Halfling & Horse, 2 Dregs, and Men-at-Arms) or the Monsters & Creatures Set (Vampire, Orc, Lizard Beast, Troll, Rat-men, and Minotaur) while £36 (about US$48) gets you the full set of twelve. Oh, and more miniatures than that have been added via stretch goals already. But if you want in you need to hurry as this Kickstarter will fund on Monday, December 16.
That's all from me for this week! Don't forget
to support our Patreon
to bring you more gaming news content. If you have any news to submit, email us at
news@enworldnews.com
, and you can get
more discussion of the week's news on Morrus' Unofficial Tabletop RPG Talk
every week. You can
follow me on Twitch where I have a sporadic fundraising stream of The Outer Worlds planned throughout the week,
subscribe to Gamer's Tavern on YouTube for videos on gaming history, RPG reviews, and gaming Let's Plays
, or you can listen to
the archives of the Gamer's Tavern podcast
. Until next time, may all your hits be crits!
Note: Links to Amazon, Humble Store, Humble Bundle, and/or DriveThru may contain affiliate links with the proceeds going to the author of this column.