Hello everyone, Darryl here with this week's gaming news. New D&D book officially announced, new
Dragonlance
novel coming this summer, the sea shanty trend comes to RPGs, and more!
Don't forget, you can get all the news every week with
Morrus' Unofficial Tabletop RPG Talk
! This week, Morrus and Peter are joined by Chris Birch (Publisher and Founder at Modiphius) and Andrew Peregrine (Dune Line Manager) to talk about the
Dune
RPG.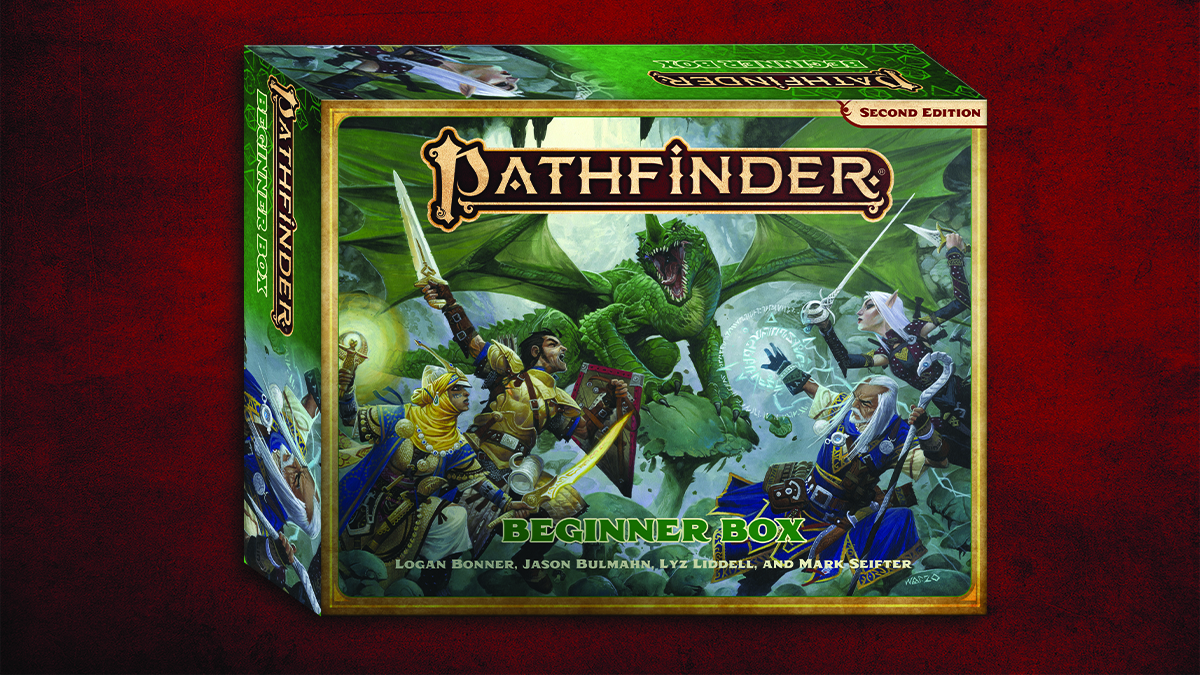 In case you missed it elsewhere on EN World this week…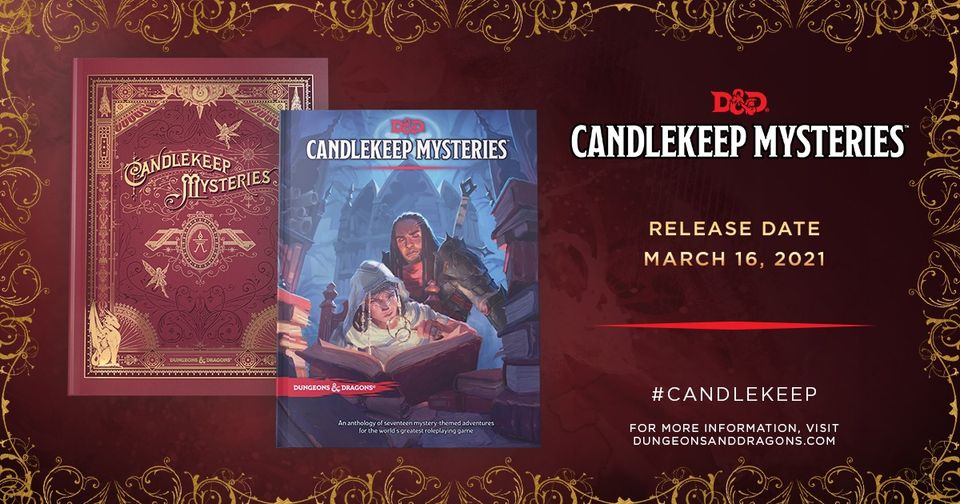 It is official: The next book for Dungeons & Dragons is Candlekeep Mysteries
. This book will feature seventeen mystery-focused adventures from designers Graeme Barber, Kelly Lynne D'angelo, Alison Huang, Mark Hulmes, Jennifer Kretchmer, Daniel Kwan, Adam Lee, Ari Levitch, Sarah Madsen, Christopher Perkins, Michael Polkinghorn, Taymoor Rehman, Derek Ruiz, Kienna Shaw, Brandes Stoddard, Amy Vorpahl, and Toni Winslow-Brill. The adventures range from level 1 to 16 and can be run as a full campaign, a series of one-shots, or dropped into an existing campaign.
So far, we know what three of those adventures will be
. "The Anopic Being" by Jennifer Kretchmer is a 3D dungeon crawl full of elevators and ramps. "Zikran's Zephyrean Tome" by Taylor Rehman features a genie in a book in Candlekeep that asks the party to free it in exchange for a wish. "Kandlekeep Dekonstruktion" by Amy Vorpahl (Amy, I want you to know my spellcheck hates you for that) is a comedic adventure about a stolen book featuring the blueprints of Candlekeep and mechanical creatures called Skitterwidgets (which have babies called Kittiewidgets). Oh, and
per an interview with D&D Beyond, it appears that Amy Vorpahl managed to sneak a bit of Spelljammer into her adventure
.
Details of the book leaked a day before the official announcement through Penguin Random House's product page
. The book will come in two covers as is standard for new D&D releases, a mass-market cover and a limited edition cover only available from game stores, and both editions will include a poster map of Candlekeep.
You can pre-order it now in advance of the March 16, 2021, scheduled release for a retail price of $49.95
.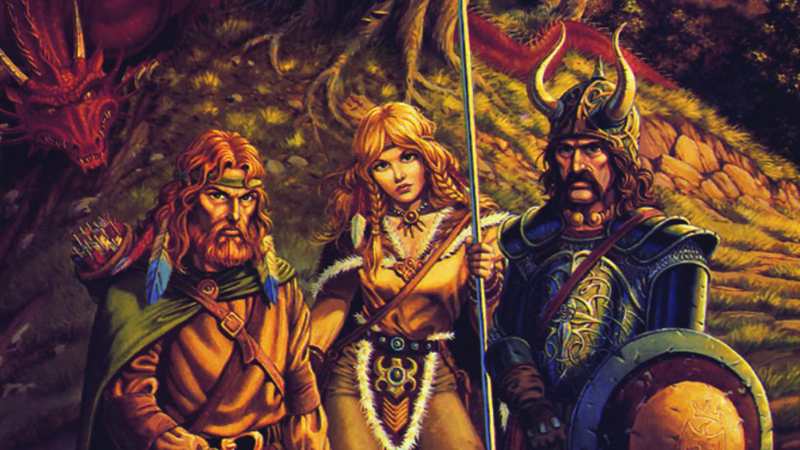 If that wasn't enough
Dungeons & Dragons
news for you,
it appears we have confirmation that the Dragonlance novels by Margaret Weis and Tracy Hickman are back on track for publication
. While no details have been officially announced, we can piece together from various sources a fairly clear picture:
Dragons of Deceit
will be a 304-page novel by Margaret Weis and Tracy Hickman released on July 29, 2021.
The Amazon UK has a placeholder page for "Dragonlance 1 Paperback"
with the listed page count, and the lawsuit filing last year listed the titles of the books in question as
Dragons of Deceit
,
Dragons of Fate
, and a yet-to-be-titled third book in the trilogy. There are a few inconsistencies, though, particularly a 304-page novel is rather short for both the fantasy genre and for
Dragonlance
specifically, and a release of this caliber would typically come out first as a hardcover rather than a paperback.
If you're looking for a bit of classic Krynn,
a digital version of The World of Krynn Trail Map is available on DriveThruRPG for free
, along with the
second map of the "Known World" (aka Mystara) The Eastern Countries Trail Map
.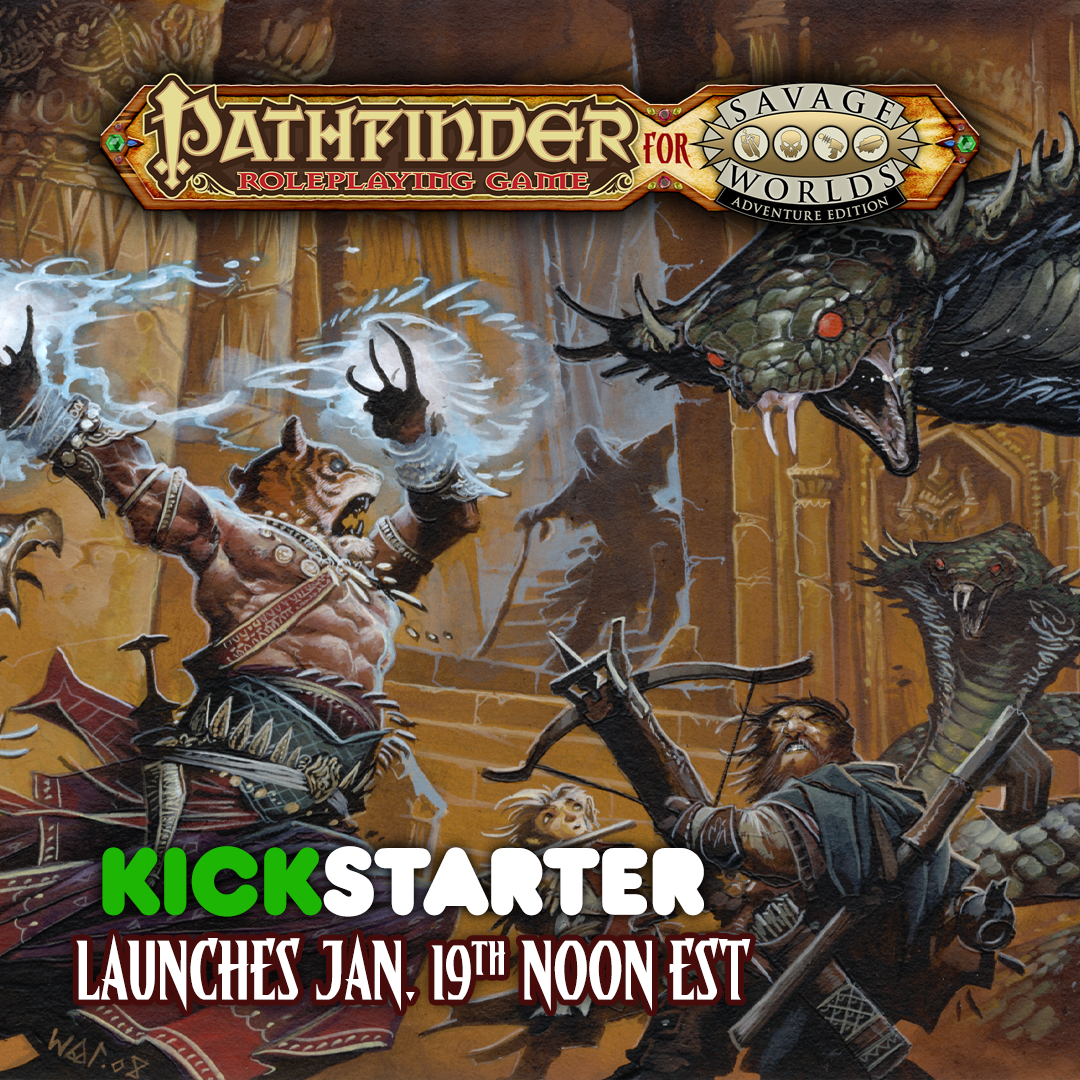 We now have an official date for the Kickstarter for Pathfinder for Savage Worlds: Tuesday, January 19
. As you'd expect, a core rulebook will be available during the Kickstarter but that's not all. A boxed set has been promised with the "usual
Savage Worlds
accessories", which is likely a GM screen, dice, maps, and bennie tokens based on previous box sets from Pinnacle Entertainment Group. There will also be another boxed set, the entire six-book
Rise of the Runelords
adventure path with "other deluxe accessories". For more information,
keep an eye on this weekend's episode of Morrus' Unofficial Tabletop RPG Talk
where Chris Warner and Mike Barbeau from Pinnacle Entertainment Group will be guests on the show to talk more about the project.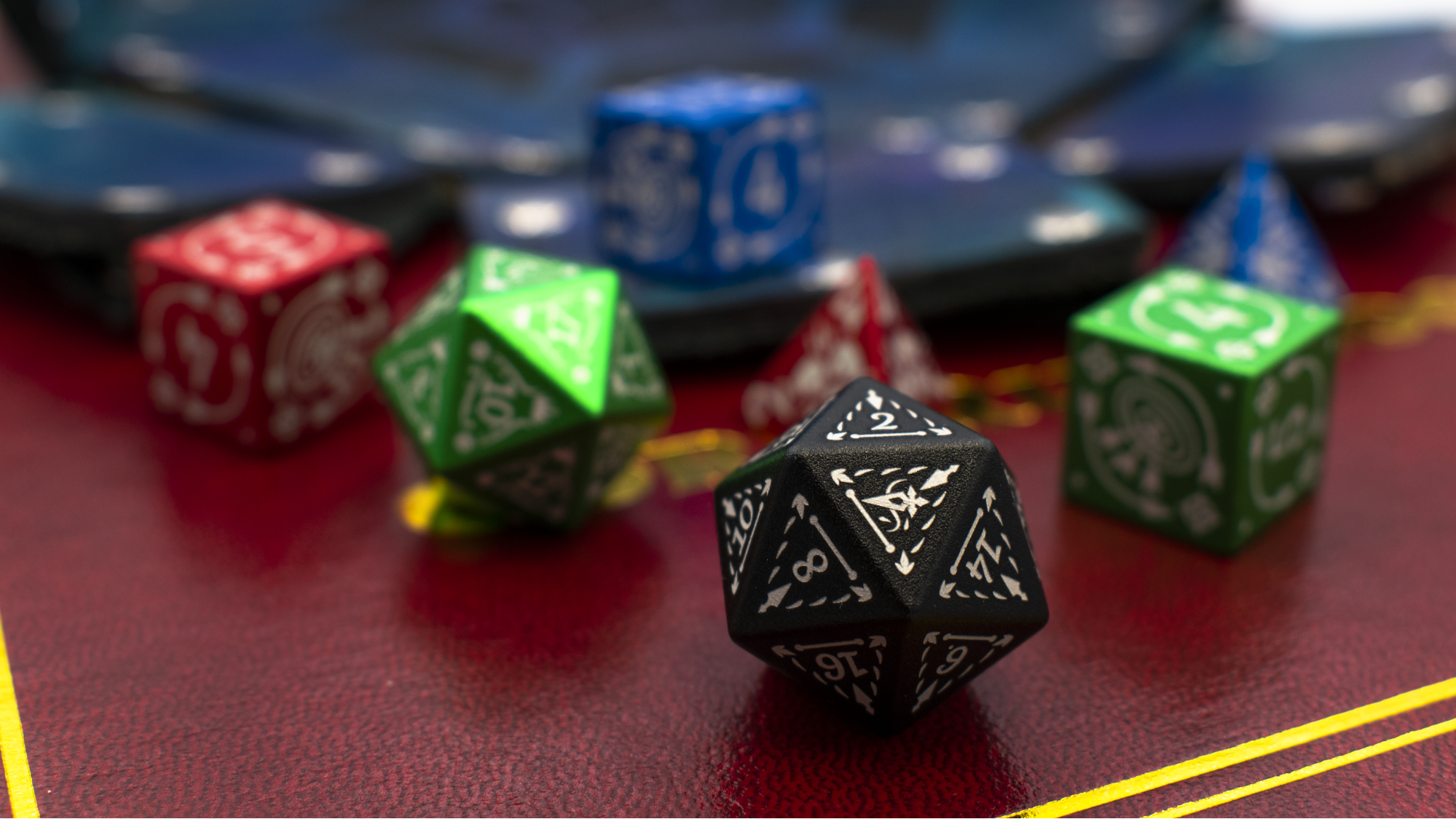 Paizo announced a partnership with Level Up Dice to create a new line of curated dice for Pathfinder, currently on Kickstarter now
.
The goal is to create customized dice sets specifically for your character, made of high-quality aluminum with designs specific to your character. The dice have themed number designs based on class, weapon type, damage type, spell, and other options, then you choose what colors you want for each dice. The combinations make for over 8000 different dice options, allowing you to create the perfect dice set for your character. This way, your dice reflect your character with no extra dice sizes you don't need or mismatched dice pilfered from other sets to make up for sneak attack or magic missile. The pledges can be a bit confusing as you're reserving your spot in a release wave and purchasing the dice through add-ons. Your $10 pledge secures your spot in Wave 1 (August 2021) or Wave 2 (September 2021), then the dice themselves are add-ons so you pay the difference plus shipping - $10 for a d4 or d6, $15 for a d8 or d10, $20 for a d12 or d20, and $45 for an oversized 35mm d20. This Kickstarter is fully funded and runs until Thursday, February 11.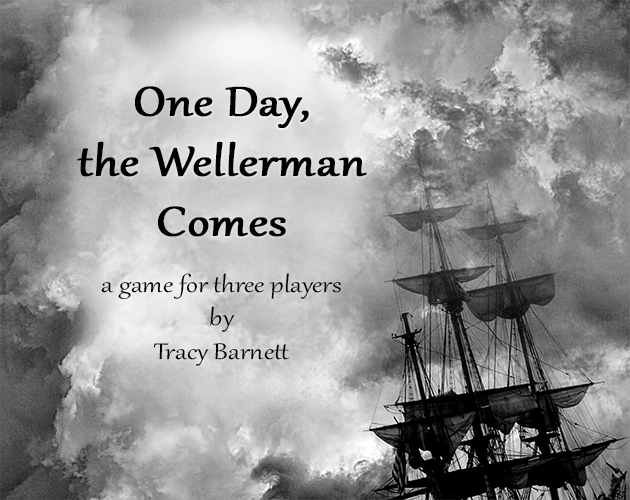 If you've spent any time on social media recently, you've probably seen the ever-expanding sea shanty video that originated on TikTok. It started with one man, Scottish musician Nathan Evanss, who
recorded himself singing the classic sea shanty "The Wellerman" by himself providing rhythm by thumping the back of his guitar
. One of the things about TikTok is that the platform allows you to create duets with other users,
which Luke Taylor from Pennsylvania did by adding the bass harmony to the original song
.
And it kept growing
.
And growing
.
And growing
.
And growing
.
No, I didn't just use this column to work through my personal obsession with this viral trend (that's just a bonus), as designer Tracy Barnett put together a roleplaying game
One Day, The Wellerman Comes
that places you in the role of sailors south of New Zealand wistfully longing for home. Each player has three stats for their resources (sugar and tea and rum) used as both in-game and as narrative currency.
The PDF is available on Itch.io for $7
, and
there is an ever-growing Twitter thread from Barnett as they have created more and more hacks for the system
.
The Game Manufacturer's Association (GAMA) announced that the Origins Game Fair for 2021 has been pushed back to this fall
. Originally scheduled to take place from June 16 to June 20 in Columbus, Ohio, the event will now take place from September 30 to October 3. The delay is, of course, because of COVID-19 and current estimations of vaccine availability in the United States. GAMA warns that there may be additional safety measures enforced depending on state regulations on gatherings, including but not limited to mandatory masks, social distancing, temperature checks, and other restrictions. Exhibitor and sponsor information for the convention will be made available on February 16.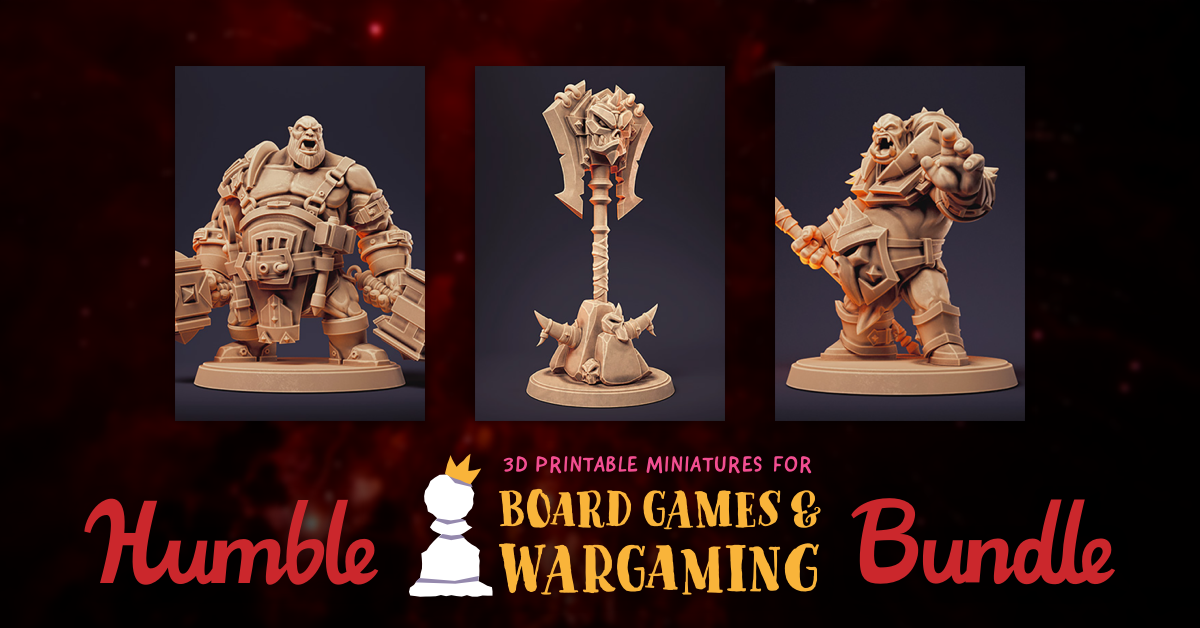 Humble Bundle's 3D Printable Miniatures for Board Games & Wargaming bundle is still going on
. This bundle features more than 30 printer-ready files for monsters, heroes, and terrain for your 3D printers. This bundle benefits No Kid Hungry Connection, Extra Life, and St. Jude's Children's Research Hospital and runs until Wednesday, January 13.
This month's Humble Choice subscription features two games of interest to tabletop gamers, Warhammer Chaosbane and Vampire: The Masquerade: Shadows of New York
. The Basic level is $14.99 and gets you your choice of three of the games available this month, while the Premium level of $19.99 normally gets you nine games but this month only gives you access to all twelve Choice games for the month. The games are yours to keep even if you cancel your subscription. This month's choices benefit the Montreal Children's Hospital Foundation and are available until February 5.
That's all from me for this week! Don't forget
to support our Patreon
to bring you more gaming news content. If you have any news to submit, email us at
news@enpublishingrpg.com
, and you can get
more discussion of the week's news on Morrus' Unofficial Tabletop RPG Talk
every week. You can
follow me on Twitch where I'll be streaming as soon as I can sort out a tech issue,
subscribe to Gamer's Tavern on YouTube for videos on gaming history, RPG reviews, and gaming Let's Plays
, or you can listen to
the archives of the Gamer's Tavern podcast
. Until next time, may all your hits be crits!
Note: Links to Amazon, Humble Store, Humble Bundle, and/or DriveThru may contain affiliate links with the proceeds going to the author of this column.