Hello everyone, Darryl here with this week's gaming news! Gale Force 9 sues Wizards of the Coast, D&D Comic Relief II,
Diablo
and
Warcraft
designers form a tabletop game company, and more!
Don't forget you can get all the week's gaming news with
Morrus' Unofficial Tabletop RPG Talk
! This week, Morrus and Peter are joined by Jason Bulmahn from Paizo to talk about
Pathfinder 2e
,
Maul
, and more!
You can also find out the latest in RPG Kickstarters with
Our Favourite Game in All the World, Guess the Kickstarter From Just the Name and Nothing Else
. For the latest in RPG crowdfunding projects,
check out Egg Embry's RPG Crowdfunding News every week
.
In case you missed it elsewhere on EN World this week:
Gale Force 9 filed a lawsuit this week against Wizards of the Coast citing breach of contract
. Gale Force 9 is best known for their roleplaying accessories and, since 2017, has held the exclusive license to translate and localize
Dungeons & Dragons 5e
products for other languages. The lawsuit claims that Wizards of the Coast sought to end their licensing deal a year before its expiration and, when Gale Force 9 declined, Wizards of the Coast stated that they would not approve any releases for the remaining duration of the contract. Particularly of note, Gale Force 9 claims that some products that were approved in English were denied approval in other languages.
In the filing, GF9 admits that Wizards of the Coast claimed breach of contract first as a subcontractor, Black Book Editions FR (BBE) who localizes D&D for the French market, published material from "certain Dungeons & Dragons books" under their own brand, "Heroes & Dragons" outside the license agreement. However, by terms of the license, GF9 was allowed to remedy the breach within a specific time. GF9 terminated the license with BBE and purchased all remaining stock of
Heroes & Dragons
to be destroyed. WotC also requested that BBE sign an acknowledgment that it had improperly used WotC's intellectual property, but BBE refused to sign the admission of liability.
Another dispute came up when WotC claimed the Korean localization, performed by another subcontractor TRPG Club, was of "a poor quality". GF9 offered to withdraw the products from the market, but WotC directed them to keep selling them but to not renew the contract with TRPG Club or submit additional products from them for approval.
So while Gale Force 9 admits there were breaches of the contract with Wizards of the Coast, they claim in the lawsuit that they cured those breaches within the terms of the license as approved by Wizards of the Coast and that any remaining breaches of the license contract are the fault of Black Book Editions and out of the control of Gale Force 9. Wizards of the Coast has not responded to the lawsuit at this time.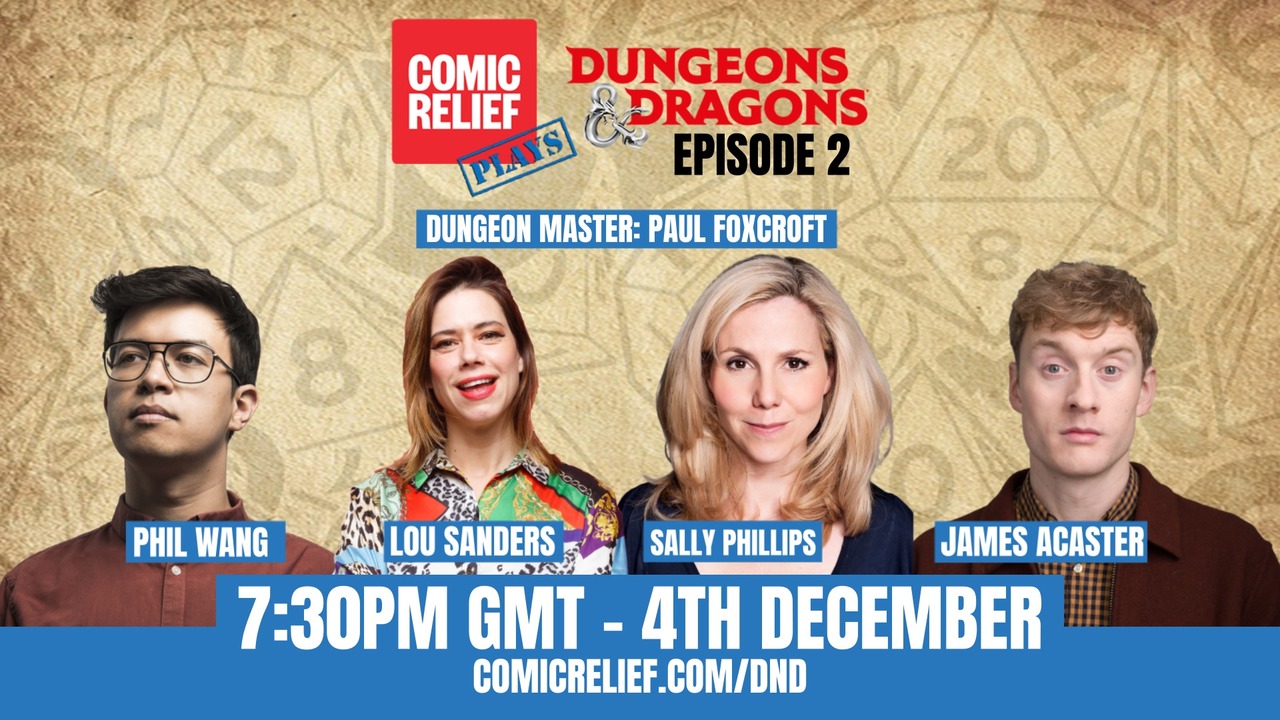 Comic Relief announced a second Dungeons & Dragons live stream for charity
. For those who don't keep track of British television, Comic Relief (operating in the US as Red Nose Day) is a charity organization who does periodic celebrity fundraising events, most notably the Children In Need telethon (which you may know as the source of those
Doctor Who
shorts). The live stream features players Phil Wang, Lou Sanders, Sally Phillips, and James Acaster with dungeonmaster Paul Foxcroft. Viewers will have a chance to alter the events of the game as they unfold via donations and polls,
some of which are already live on the stream's Tiltify site
. The live stream will take place on December 4 at 7:30 PM GMT (2:30 PM Eastern, 11:30 AM Pacific) with proceeds going toward COVID-19 relief efforts.
Nominations are open for your favorite RPG podcasts of 2020
. There are a few rules. First, it must be a podcast and not a video. The podcast must have released at least three new episodes in 2020. The main focus of the podcast must be tabletop roleplaying games. Finally, you cannot nominate your own podcast. Nominations are open for two categories, RPG Talk (discussion about roleplaying games) and Actual Play (recordings of RPG play sessions). To nominate your favorite podcast,
reply to the EN World thread linked here
with the name of the podcast, which category they belong to, why you feel they should be nominated, and a link to the podcast's website. Only one nomination per category per person, and nominations will be open until Sunday, November 29.
Green Ronin Publishing released a new quickstart for the Blue Rose romantic fantasy RPG
. The
Blue Rose
is inspired by the works of Mercedes Lackey, Diane Duane, Tamora Price, and others pioneering the genre of romantic fantasy and focuses on love, passion, heroism, magic, and nature. This free PDF features a streamlined version of the Adventure Game Engine (AGE) rules and everything needed to get started in the Kingdom of Aldis. The quickstart features a brand new adventure, "The Rhy Wolf's Woe", which sends the players after a pair of lost youths, a rhy-wolf and the human she has psychically bonded with. The 55-page introductory PDF is available from Drive Thru RPG at the link above
as well as from the Green Ronin online store
.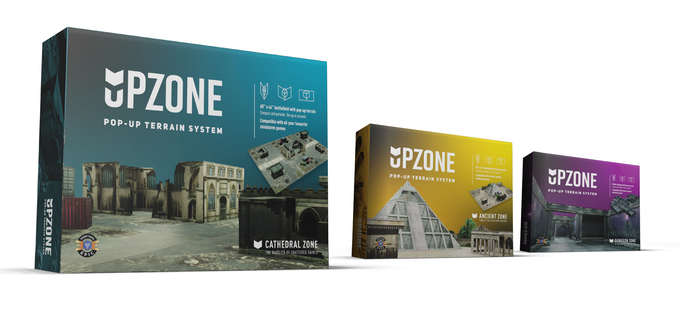 Have you ever seen an idea so simple you kick yourself for not thinking of it first?
That was my reaction to UPZONE, a new Kickstarter from Everything Epic that combines pop-up books with miniature terrain
. Each book features a 3D cardstock model that pops up when the book is opened and neatly folds away for storage when closed. Three "zone packs" are available through the Kickstarter, the Cathedral Zone which features a modern ruins, the Dungeon Zone which can create a variety of 3D dungeon maps, and the Ancient Zone with a massive pyramid centerpiece and other classical structures. The terrains can be mixed-and-matched so you can replace the modern shipping containers of the Cathedral Zone with the trees or cemetary from the Ancient Zone to create a fantasy ruined temple. One zone is available for a $100 pledge, two for $195, or all three for $290 plus stretch goals and other bonuses. This Kickstarter is fully funded and runs until Thursday, December 3.
Asmodee announced a restructuring of its Star Wars license and is moving the three miniature games from Fantasy Flight Games to another subsidiary, Atomic Mass Games
. The three miniature lines,
Star Wars: X-Wing, Star Wars: Legion,
and
Star Wars: Armada
will be developed by Atomic Mass Games, with Simone Elliott moving from Fantasy Flight to Atomic Games as Head of Studio while Will Shick will take over as Head of Product Development. This will not affect other
Star Wars
licensed products such as the tabletop roleplaying game or the board or card games.
Two former Blizzard executives have launched a new tabletop gaming company called Warchief Gaming
. From the press release:
Today, two former VPs of Blizzard Entertainment, Chris Metzen, Senior Vice President of Story and Franchise Development, and Mike Gilmartin, Vice President of Quality Assurance, announced the creation of Warchief Gaming. Previously a tabletop gaming club founded two years ago by the longtime friends, Warchief Gaming is making the leap from a tabletop gaming destination to a brand-new development studio focused on creating tabletop games and telling stories across all media types. The members-only club will remain operational and will be located at the company's headquarters in Orange County, CA.
No products have yet been announced from the company, but Metzen and Gilmartin's credits include
Warcraft, StarCraft, Diablo, SimCity,
and the remastered collection of Gold Box
Dungeons & Dragons
games. They have also tapped Ryan Collins to be Lead Project Developer, whose credits include
Hearthstone, Marvel Heroes,
and
HeroClix
.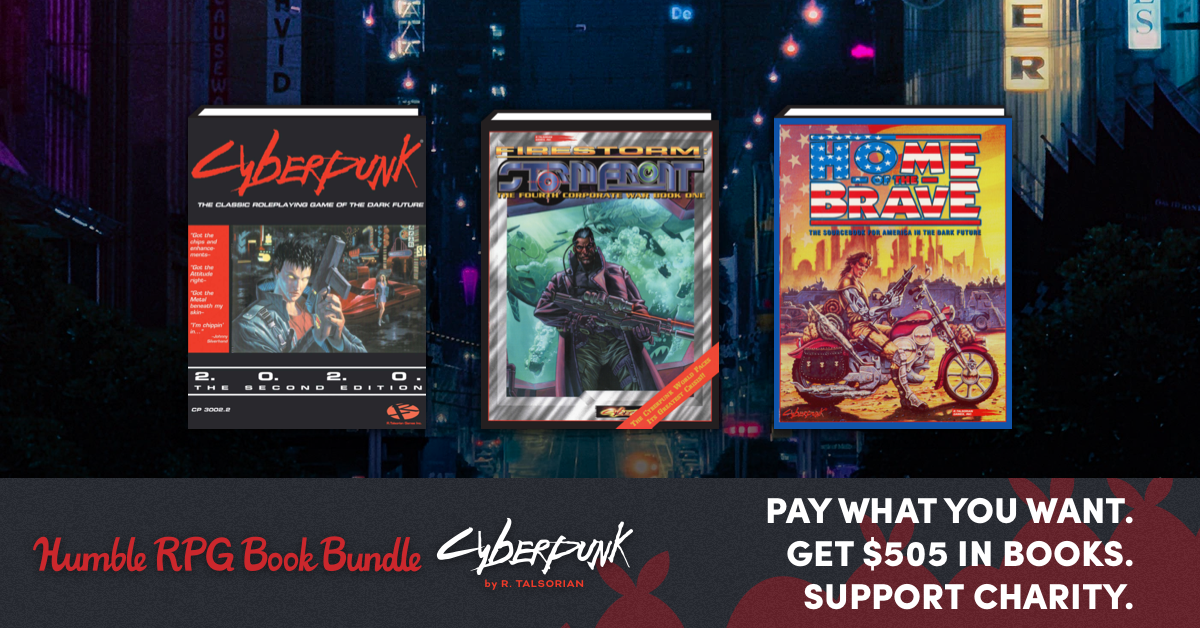 For those just getting into the Cyberpunk RPG, Humble and R. Talsorian Games have the perfect catch-up with their Cyberpunk Bundle
. Whether you want to jump into the original
Cyberpunk 2020
or just want background and lore for your
Cyberpunk RED
games, this bundle has plenty of reading material including all four
Chromebooks
, the GM advice book
Listen Up You Primitive Screwheads
, setting books for everything from Night City to Europe to deep space and more. The top-tier pledge level of $15 gets you all 30 products including the
Cyberpunk RED Jumpstart Kit
. This bundle benefits Able Gamers and runs until Wednesday, December 16.
If sword-and-sorcery fantasy is more your thing, the Conan: Adventures in an Age Undreamed Of bundle
is still live featuring twenty products from the Modiphius game line. This bundle benefits Worldbuilders and runs until Wednesday, December 2. And for those of you who live stream or record your games and are worried about the recent DMCA takedowns and other copyright issues with music (or you just want some cool background music for your game night),
Humble has the Big Royalty Free Music Bundle with over 400 tracks of royalty-free music you can legally use in your streams, videos, and podcasts
. This bundle benefits The V Foundation and Prevent Cancer Foundation and runs until Wednesday, December 9.
That's all from me for this week! Don't forget
to support our Patreon
to bring you more gaming news content. If you have any news to submit, email us at
news@enpublishingrpg.com
, and you can get
more discussion of the week's news on Morrus' Unofficial Tabletop RPG Talk
every week. You can
follow me on Twitch where I'll be streaming as soon as I get a proper night's sleep,
subscribe to Gamer's Tavern on YouTube for videos on gaming history, RPG reviews, and gaming Let's Plays
, or you can listen to
the archives of the Gamer's Tavern podcast
. Until next time, may all your hits be crits!
Note: Links to Amazon, Humble Store, Humble Bundle, and/or DriveThru may contain affiliate links with the proceeds going to the author of this column.