Notorious Liquefactionist
Welcome to part SIX in the art appreciation series- One Piece of Art! Prior columns can be found here:
Part I (Classes)
Part II (Monsters)
Part III (Magic Items)
Part IV (Races)
Part V (Places)
Today's topic ... Maps! This one is a little different, SO PLEASE READ!
What D&D Map Do You Absolutely Love?
Now, for purposes of this thread, a necessary disclaimer. Please construe "map" to mean, well, a map. It could be a map of a dungeon. It could be the map of a country or a campaign setting. It could be a treasure map located in a module or AP. It could be some type of impressionistic "map" - the D&D equivalent of the "World according to New Yorkers." But it needs to be, well, a map of some kind.
Now, with that out of the way ... please note the following rules for the thread-
1. ONE map. You shall count to one. If you do two, you've gone two ... um, too far. Three is just way out. And zero means you forgot to post a map.
2. It has to be a map you love, and please explain why! Maybe you think it just looks cool. Maybe you love the way it has secret doors in it. Maybe you think it's the ur-Dungeon. Maybe you love the isometric perspective. Whatever! It's your love, don't make me put a label on it.
3. Explain the art source (incl. artist if known), the map, and why you chose it. Please!
First, I am going to retire a map to the Hall of Fame. That's right. The following map is just so good, so iconic, that we don't get to pick it.
If you know me at all, you already know what is coming.
That's right. The earliest generations of D&D players will always have THIS MAP. It's like the Babe Ruth of maps- sure, maybe later maps have improved on it, but it was so far ahead of its time that it's crazy to think about now. A giant, gorgeous, color map (and big, too!) begging for exploration. It set a gold standard for physical products that, alas, is rarely met today.
Oh yeah ...
Artist
: Darlene
Source
: Greyhawk Folio (1980), Boxed Set (1983)
Map Depicts
: Greyhawk
Also? #GREYHAWKCONFIRMED!
Ahem. Okay, so other than the Hall of Fame choice
As I started the thread, I will go first. And I'm going to start with something that isn't
the best
, but might be the most iconic for me ....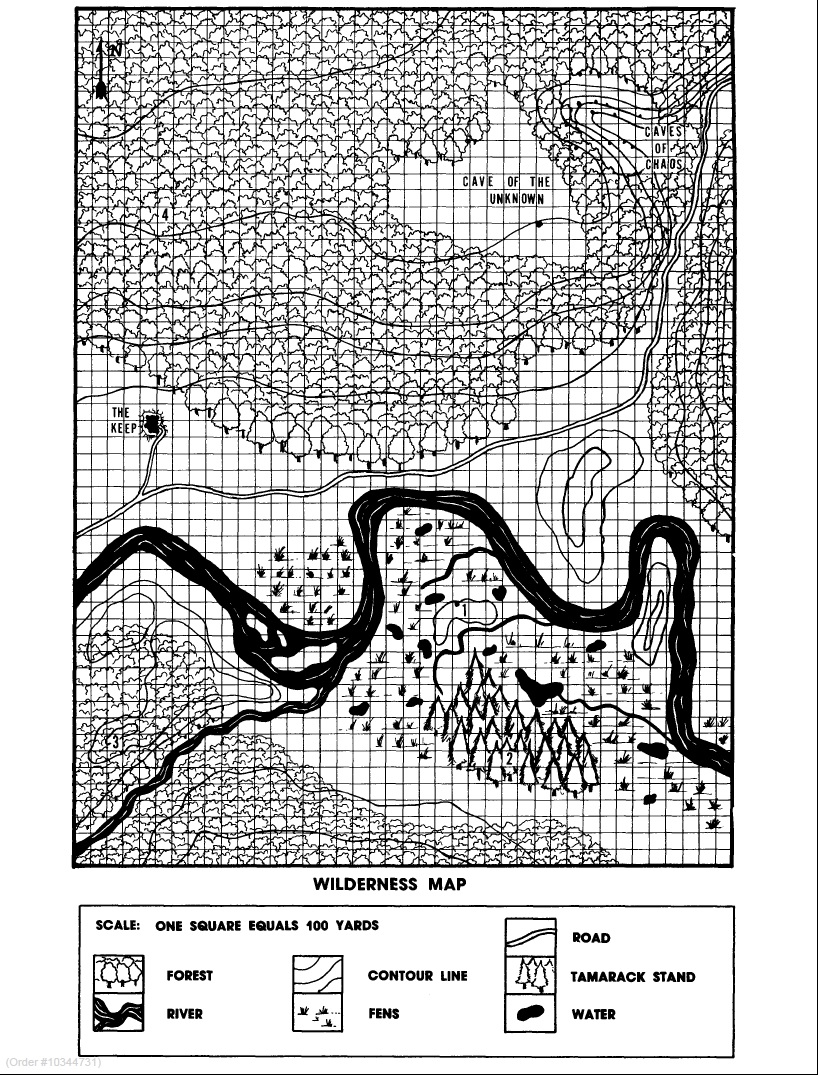 Artist
: David S. LaForce
Source
: B2 Keep on the Borderlands (1979)
Map Depicts
: Wilderness around the titular Keep
Now, why this map? Why not, you know, the
Caves of Chaos?
Because it's not the dungeon that gave people their taste of what "OSR" meant- it's this. A home base to operate out of (the Keep). A wilderness to explore that had stuff, but wasn't overwhelming. An area to truly adventure in (Caves of Chaos). And another to expand on (Caves of the Unknown).
The early B modules (B1, B2, B3) were actually written with OD&D in mind; it wasn't until B4 that a module was written specifically under the B/X ruleset. And in each, you see that emphasis. And this map, to me, is a perfect example of that.
Last edited: