Notorious Liquefactionist
Welcome to part FIVE in the art appreciation series- One Piece of Art! Prior columns can be found here:
Part I (Classes)
Part II (Monsters)
Part III (Magic Items)
Part IV (Races)
Today's topic ... LANDSCAPES! I was going to do still lifes, but NO FRUIT FOR YOU!
What D&D Art inspired you to love a place?
Now, for purposes of this thread, a necessary disclaimer. Please construe "place" to art that, while it may have figures, action, or whatever is primarily about the PLACE. This is meant to be welcoming, so please feel free to construe this geneously.
Now, with that out of the way ... please note the following rules for the thread-
1. ONE piece of art. You shall count to one. If you do two, you've gone two ... um, too far. Three is just way out. And zero means you forgot to comment.
2. It has to have inspired you to "love" a particular place. Now, love in
in this context
is totally up to you. Maybe the art inspired you to love D&D in general. Maybe it inspired you to want to play in a particular setting. Maybe that piece of art always shaped how you view that place --- it's the UR-ARCTIC or UR-DESERT. Maybe you travel to Moab every year because you want to capture that fantasy desert feeling. Whatever, man, I'm not going to define your love! Feel free to explain why this particular piece of art (depicting a PLACE) is so meaningful to you.
3. Explain the art source (incl. artist if known), the magic item, and why you chose it. Please!
4. NO MAPS.
Is this a hint for a future post? HA HA! Maybe.
As I started the thread, I will go first. As always, I like to go a little idiosyncratic....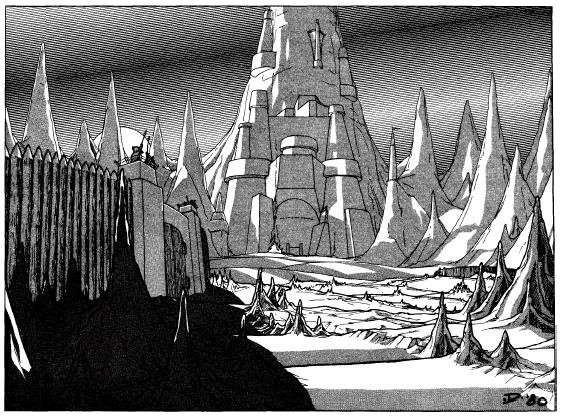 Artist
: Jeff Dee
Source
: Q1 Queen of the Demonweb Pits
Place
: Maldev
For those of you who don't know, I have a ... thing ... about the early "Gygaxian" multiverse in D&D.

It's been a year, so I'm collecting and sorting my past essays on this thread. Mostly because I realize I was about to start writing something I wrote about last year! There are roughly organized by topic, but not by date. HERE IS THE SECOND PART!!!! (Mostly RPG History, Pop Culture, and Jon...

www.enworld.org
And this image is to blame. In Q1 you had the option to go to all of these amazing worlds ... to visit the evil elves of Caer Sidi. Perchance to dream in the Nightmare World of Vald Tolenkov.
...and maybe, just maybe, to defend Maldev, the last kingdom of the mountain dwarves, from the onslaught of Lolth's forces. Something about this alien world pictured, with peaks that are just ... too ... pointed ... made the baleful exhaustion of the defenders of the last kingdom of the dwarves .... that much more real.
One sentence. One picture. A lifetime of adventure.
Last edited: