North of Baldur's Gate along the Winding Winer River sits the hamlet of Dundor Springs. A small settlement baerly forty years old that was once just a lay over spot for traveler's heading north. They would camp at the springs and in the morning decided to continue along the road north to Waterdeep or brave the Troll Hills and thus cut their journey short by two days. (Being chased by trolls does shorten a journey.)
Everyone now sits around a circlar table inside The Merri Riot Inn, the largest building in Dundor Springs, while Lord Mayor Duncan Merriweather stands before all of you his arms crossed behind his back.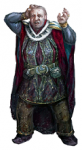 ​
"Well, where to begin,"
he starts as he begins pacing looking at the floor boards.
"There is this ogre you see, Blogg. Blogg the Bold as he is now known. Almost a year ago he came smashing his way into town, and there was nothing we could do to stop him, until old Helean asked him what he wanted."
The mayor chuckles to himself remembering the sight of the old bent woman scolding the towering ogre.
Pulling himself back to the here and now he continues
,"Well, he didn't know what he wanted so we offered him ale from the brewery and a couple sheep from our flocks. He seemed happy with it and left. Since then every month or five weeks depending on the weather, he returns for his ale and sheep. He has asked for other things also, knives, ladles, cooking pots and the like, nothing that can't be replaced easily enough."
He stops the pacing and his face grows serious.
"But all that ended yesterday,"
he says awe and anger mixing in his voice.
"Blogg came down from his lair three weeks early and demanded not only ale and sheep, but townsfolk as well!"
Visibly the mayor shakes in disgust at what an ogre might want with the townsfolk.
"We didn't comply with the last part, and he lashed out in a bestial fury. He clubbed a nearby gnome merchant, tossed him into his cart, and snatched Dallya up over his shoulder before heading off with everything."
"It has been a whole day, and who knows what has happened to them both. We need help here,"
he says with pleading eyes.
Legends are Made, not Born!
by Chris Doyle
Time to make yours!
[sblock=Party]
Badger
human wizard lvl-1
Hassan Verduk
human paladin lvl-1
Milady de Winter
human fighter lvl-1
Leilara
half-elf bard lvl-1
Snorri Silverstream
dwarf cleric lvl-1
[/sblock]
OOC
RG
Discussion
Last edited: